Which is the hottest Canary Island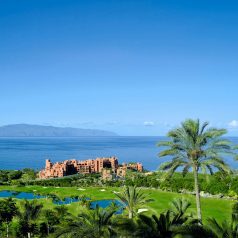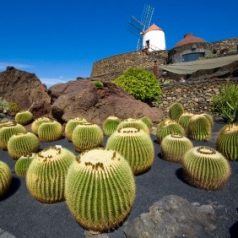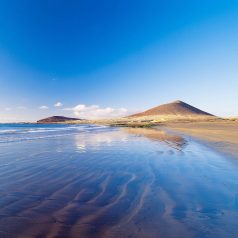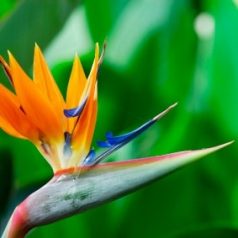 By Kate Lee
The seven Canary Islands – a sub-tropical Spanish outpost – are located in the Atlantic Ocean 80 miles west of Morocco. Known as the 'islands of eternal spring', they enjoy an excellent year-round climate: summers are dry and warm with temperatures in the high 20°Cs and up to 10 hours of daily sunshine. Temperatures can rise above 30°C but you won't experience the stifling heat and humidity of a Mediterranean heatwave.
In winter, the climate in the Canaries is comparable to summer in Western Europe. Temperatures are mild at 18-22°C, with 6 hours of sunshine a day. Perfect for sightseeing and relaxing beside a pool. But which is the hottest Canary Island?
For the best chance of hot weather in winter, you should think more about where to stay on one island rather than which island to choose. The northwest coast of each island tends to be the coolest and wettest because it's more exposed to Atlantic trade winds. At higher altitudes the climate can also be unpredictable and much cooler.
The southeast coasts tend to be warmer and sunnier. This is because the islands are mostly mountainous, so the trade winds dump cloud and rain on the north and west coasts before they reach the south-east.
However, the islands do have some distinct variations between them in weather due to their location and topography, so you should take these into account when choosing the right Canary Island for your holiday.
Quick links
Tenerife – Gran Canaria – Fuerteventura – Lanzarote – Smaller islands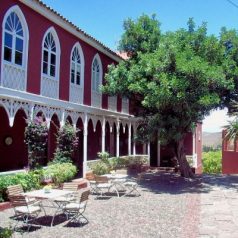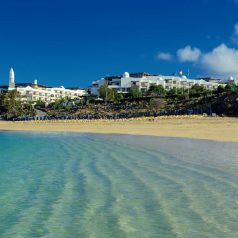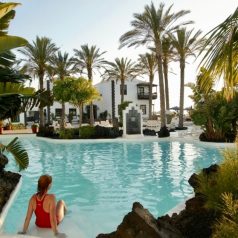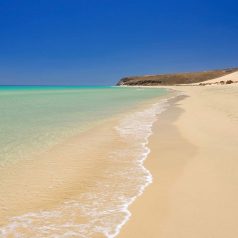 Tenerife
Tenerife is the largest of the Canary Islands. It is home to Mount Teide, the highest point in Spain. Even in winter, temperatures rarely fall below 18°C and in summer can climb to 30°C. Like the other islands, there is a clear difference between the weather in the south and the north. The southwest coast and, in particular, the resorts of Playa Las Americas, Costa Adeje and Los Cristianos are best for sun seekers as they enjoy up to 10 hours of sunshine a day. However, many visitors prefer the unspoilt and more authentic north of the island, away from the busy tourist resorts. See the best hotels in Tenerife including the family-friendly Ritz-Carlton, Abama. There's also a selection of boutique hotels.
Gran Canaria
Unlike on Tenerife, there is little seasonal variation in the weather on Gran Canaria. Temperatures rarely drop below 24°C throughout the year. Resorts in the South such as Playa del Inglés, Arguineguin and Puerto de Mogán can expect 10 hours of sunshine a day and temperatures of 28°C. Even in winter southern resorts reach 22°C with 6 hours of sunshine a day. However, like the other islands, there is more regional temperature variation across the island because of the central mountain ranges. See the best places to stay in Gran Canaria along with some charming boutique hotels.
Fuerteventura
Temperatures in Fuerteventura rarely fall below the low 20°Cs, even in winter. However, summer temperatures tend not to be as hot as other islands with averages of 24°C. This is due to breezy weather.
"The name Fuerteventura means strong winds in Spanish," says Thorsten Fiberkorn, of the Canaries specialist, Cachet Travel. "Winds can travel more freely across the island because it is flatter, with fewer mountains. These weather conditions make Fuerteventura perfect for windsurfers."
Due to the flatter landscape, there is less regional climatic variation than on other islands. Fuerteventura is also sheltered by Lanzarote, which lies less than 10 miles to the north. This means northern resorts such as Corralejo are just as popular as southern resorts for sun seekers. See the best places to stay in Fuerteventura.
Lanzarote
Lanzarote tends to be the hottest and most arid of the Canaries, as it is closest to the Sahara desert and because it is one of the lowest lying islands. The Sahara can bring high temperatures and fine sand to Lanzarote, causing occasional heatwaves. Like Fuerteventura, Lanzarote is relatively flat which means there is little regional variation in weather conditions. However the South and south western regions such as Playa Blanca, Puerto del Carmen, Playa Honda and La Hoya are sunnier and drier because of two small mountain ranges. Average temperatures in the south are 21-25°C, with highs of 28°C in summer. You can rent a villa with private pool in Lanzarote or stay at a charming boutique hotel.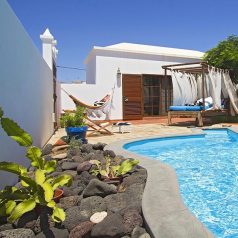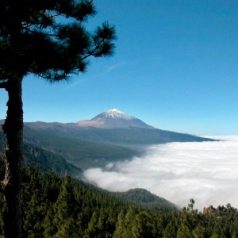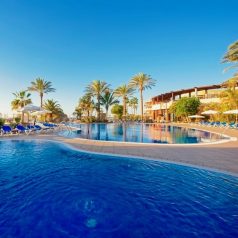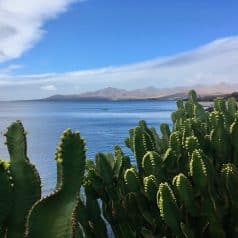 El Hierro, La Palma and La Gomera
The small islands of El Hierro, La Palma and La Gomera lie furthest from Morocco. They tend to be cooler and less busy. Temperatures in mountainous regions can fall to around 14°C and may be misty, with greater rainfall and far less sunshine. However temperatures in winter are still around 18°C, and may rise up to the high-20s in summer along the southern coast with 7 hours of sunshine and low rainfall. These islands are perfect for hiking holidays, water sports and for those who prefer peace and quiet. Even though these islands are generally not the hottest in the Canaries, they are stunning to visit.
Walking in the Canaries
You can take an independent walking holiday in the Canaries with Inntravel and have your luggage transported each day to the next overnight stop. See options in Gran Canaria, Lanzarote and La Graciosa and Fuerteventura.
Alternatively, you can join a group walking trip with Ramblers Walking Holidays which has inspiring itineraries in Gran Canaria, Lanzarote, Tenerife, La Gomera and La Palma.
Find the hottest Canary Islands by month: January, February, March, April, May, June, July, August, September, October, November, December.
Last updated: 9 August 2022
Save 40% on your next holiday
* Did you know you can save up to 40% on holiday prices? See our latest travel deals and enter your email address below to get updates every fortnight.