Where to go on holiday in October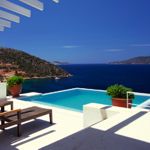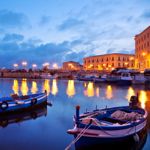 By Mark Hodson, Sunday Times Travel Writer and Editor of 101 Holidays
October is a great month to travel – the weather in the UK becomes distinctly unreliable and the nights begin to close in. It's a popular month for European city breaks, and a chance to catch the last of the sunshine in the Mediterranean – at bargain prices. Not forgetting some great long-haul trip opportunities.
These are my suggestions for where to go on holiday in October. If you are travelling with children, see our expert guide to family holidays in October half term. If you're travelling alone, check out the best singles holidays in October. Note: all the travel companies featured are personally recommended by our editors.

Quick links
Mediterranean beaches – Short breaks – Long haul – UK holidays
Mediterranean beach holidays in October
If you want to be sure of catching the last of the Mediterranean sun in October, travel early in the month or head south. You can expect fine weather throughout October on the Aegean coast of Turkey – where you'll find some lovely boutique hotels and classy self-catering options such as the Korsan Suites. In Greece, Crete is a great bet for warm temperatures and sunshine. Try one of these stylish hotels and houses.
Puglia in the south of Italy stays warm for much longer than the north of the country. It has wonderful beaches and charming accommodation, and you'll have the place to yourself because Italians rarely go on holiday outside the month of August.
Malta is one of the best holiday destinations in October – it's far enough south to enjoy glorious sunshine long into autumn, but it's cool enough to make it comfortable when touring the island's fascinating historical sites. See the latest offers. If you want somewhere quieter and more atmospheric, try neighbouring Gozo.
Corfu is a great destination for villa holidays, along with its sleepy neighbour Paxos. For luxury hotels at low prices, try Kos. Also, the French island of Corsica has some lovely villas with pools, apartments and hotels and special offers in October.
If you want to splash out, try the Verdura Golf & Spa Resort in Sicily, while foodies should check out this gastronomic tour of Sicily. Families will enjoy the stylish Sani Resort in mainland Greece.
And if you want guaranteed sunshine and high temperatures, it's only a 3-hour flight from the UK to Marrakech where you can expect average temperatures of 27ºC and eight hours of daily sunshine. You can explore the coast at Essaouira, and go trekking in the snow-peaked Atlas Mountains with a local guide.
Four hours flying time from the UK, the Canaries offer temperatures of 24°C and eight hours of sun in October. I recommend Tenerife and Lanzarote and the small unspoilt island of La Palma. If that's too rustic for your tastes, check out the Abama Golf & Spa Resort in Tenerife.
If ocean cruising appeals, but don't like the idea of ships the size of shopping malls, check out Star Clippers which has some tall-ship departures in October including this cruise around the Greek Cyclades.
Short breaks in October
If you're interested in a city break, October is a perfect time to travel. Airfares are off their summer peaks, mild temperatures are good for sightseeing and there are fewer crowds. Venice is the classic example. It gets horribly overcrowded in the peak months yet is more atmospheric and friendly in the autumn – and you can get there with a luxury trip on the Venice Simplon-Orient-Express.
In Eastern Europe, Budapest is great value, beautiful and only a two-hour flight from the UK. The first half of October is better, with 20ºC and six hours of sun. If you want something really special, you can also get to Budapest on the Orient Express (as well as Verona and Vienna).
In Croatia, Dubrovnik is a perfect spot to catch some late autumn sunshine (20ºC, 7 hours of sun). Or head to neighbouring, pocket-sized Montenegro which is good value and has pretty beaches, historic towns, mountains and charming places to stay.
Other great destinations in October include Sorrento on the Neopolitan coast of Italy, the art treasures of Florence (which will be much less busy than in summer) and Palma, the oft-overlooked capital of Mallorca.
Rome is a good bet at this time of year, as is Lisbon if you enjoy food, contemporary art and pottering around narrow streets. Seville – the home of tapas and flamenco – is baking hot in summer, but perfect in October (27ºC and 7 hours of sun).
Foodies can join a group of like-minded enthusiasts on one of the expert-led gastronomic breaks from Martin Randall Travel. I also like this selection of food and wine breaks in Spain.
If you enjoy a beer-fuelled party, head to Oktoberfest in Munich. There are other, more cultural options in Germany including the Gothic splendour of Cologne and the fascinating mix of grandiose public spaces and street art in the buzzing capital Berlin.
Short breaks are not just about cities. You could try an independent cycling holiday in France with Headwater Holidays, or a walking holiday in Spain's Catalonia region. Or check out The Healthy Holiday Company's ideas for trips in October which includes surf and yoga in Morocco and a wellness retreat in Turkey.
Explore the Alentejo region of Portugal, which will remind you of the Algarve 40 years ago, with its deserted beaches and white-washed villages. Or explore the countryside of Portugal by car with overnight stops in historic pousada hotels. Self-drive prices from just £395 including flights with Wexas Travel.
Feeling flush? For the ultimate short break, why not fly to France by private jet. If you get together with friends or family, a day trip to Paris starts at less than £1,000 per person. See a selection of options.
You can also see the Northern Lights in October. Lie back in comfort in one of these Glass Igloos in Finnish Lapland.
See more ideas for city breaks in October.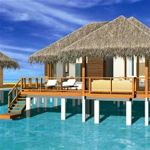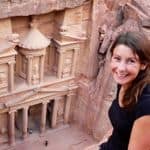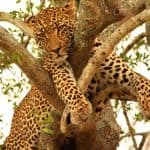 Long haul luxury holidays in October
October is not a great month to visit the Caribbean – there's a distinct chance of hurricanes, as visitors to Cuba and Jamaica found in October 2016 when Hurricane Matthew brought devastating winds of 150 mph.
However, you don't need to fly too far beyond Europe to find great weather. October is one of the best months to visit Jordan (25ºC and 9 hours of sun) where you can play Laurence of Arabia, exploring the vast desert landscapes of Wadi Rum and the Rose Red city of Petra.
The Arabian Gulf is less than 7 hours away with guaranteed sunshine. Dubai (35ºC and 10 hours of sun) is the obvious choice for its amazing collection of hotels – many of them tourist sights in their own right – along with great attractions, beaches, shopping and exciting desert excursions. It's worth looking also at Abu Dhabi where popular hotels include the five-star Fairmont Bab Al Bahr and the Radisson Blu Yas Island. Check out the latest special offers.
A luxury cruise on the Nile with Abercrombie & Kent is one of our top holiday suggestions for October. Combine it with a stay in the capital Cairo and you have the makings of a classic Egypt holiday.
Africa awaits the adventurer. A safari in Botswana (32ºC and 9 hours of sun) is a once-in-a-lifetime experience. If you want a combination of beach and wildlife you can't do much better than Madagascar (26ºC and 8 hours of sun) – a stunning island with unique wildlife. Independent travellers will enjoy this self-drive holiday of Cape Town and the Winelands. You can also self-drive in Namibia (the roads are great, and it's safe). This 16-night Namibia in Depth itinerary is packed with "wow" moments.
If you'd rather lie back in a tropical paradise, this is a great time to visit Mauritius or the Seychelles (check out the latest special offers). Meanwhile, the Maldives is perfect for beach holidays in October with 30ºC and 8 hours of sun.
For value, it's hard to beat the beaches of Mexico where you'll enjoy ancient culture as well as great food, endless white sand beaches and warm sunshine. Check out this selection of all-inclusive hotels.
It's also a good time to visit Japan and witness the "koyo" (autumn leaves). Soak up the sights, sounds and smells of Tokyo before heading out to the countryside to explore. This 7-night taster tour in October features Tokyo, Hiroshima, the temples of Kyoto and the gardens of Kanazawa.
After the summer monsoon in Nepal, October brings clean sparkling mountain air, warm sunshine and lush plant life. Take an elephant-back safari in Chitwan National Park, explore the colourful Buddhist culture of Kathmandu and laze beside the lake in Pokhara gazing up at Mount Everest.
It's also one of the best months to visit China. I recommend this 11-day China Experience tour, an ideal introduction to the country featuring includes Beijing, the Great Wall, Xi'an and Shanghai.
It's also an excellent time to visit the Galapagos Islands – one of the world's most pristine destinations where you can get up close and personal with rare species of seals, birds and tortoises, and swim with turtles.
You'll also find natural beauty in the Canadian Rockies where you can ride the spectacular Rocky Mountaineer train or take a fly-drive holiday. In Hudson Bay in the far north of Canada you can join a Polar Bear adventure in October.
Find more climate details at where is hot in October and where's hot in Europe.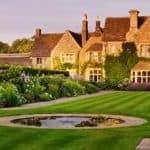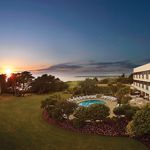 Holidays in UK in October
There are plenty of places in the UK where you can hope to get decent weather and a cheap holiday in October. And even if it's not particularly warm, you'll find autumn colours, leaves to kick and cosy pubs.
Looking for a classy hotel? I recommend Gilpin Lodge in the Lake District, Maison Talbooth in Essex and Three Choirs Vineyards in Gloucestershire.
In the West Country, our editors like Lucknam Park Hotel & Spa near Bath. In Shropshire, on the border of England and Wales, The Castle Hotel offers great food, a collection of real ales and contemporary rooms.
If you love autumn walks in the woods, rent a luxury lodge in Sherwood Forest in Nottinghamshire for a few days. See the latest special offers.
You could tour the Great Houses of England or choose from a selection of small-group cultural tours of Britain led by an expert in art, music or architecture. Find out more from Martin Randall Travel.
Getting married? Find the best honeymoon destinations in October.
Try our holiday quiz
If you're still stuck for ideas, why not try our fun holiday quiz. Answer 10 easy questions like the one below to find out what kind of holidaymaker you are, and get personalised travel recommendations. Try the quiz now.

Last updated: 13 November 2018
Try another month …
January | February | March | April | May | June | July | August | September | October | November | December