Where to go on holiday in March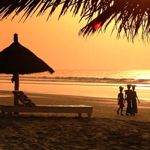 * Fly just 4 hours for sunshine and 23ºC
* For hot weather, head to Dubai, Caribbean or The Gambia

By Mark Hodson, Sunday Times Travel Writer and Editor of 101 Holidays
Although March signals the beginning of spring, it's often a chilly month – not just in the UK but across much of Europe. You can find lots of sunshine in the Mediterranean, but temperatures are likely to be cool and the sea will be distinctly cold.
So if you want guaranteed sunbathing weather it's best to look beyond the Med. Fortunately, you don't need to fly far. March is a great month to holiday in the Canary Islands where on the islands of Lanzarote and Tenerife you can expect temperatures of 21ºC and 7 hours of daily sunshine. You should also consider nearby Madeira which has some outstanding hotels. All are 4 hours flying time from the UK.
Morocco is a good bet whether you want to discover exotic cities, such as Marrakech and Fes, or discover mountains, desert, souks and kasbahs – see this selection of recommended itineraries. The flight is less than 4 hours from the UK and you can expect highs of 23ºC and 8 hours of daily sunshine.
Other great short-haul options include Jordan where you could visit the rock-carved temple at Petra.
If you're travelling solo, see our pick of the best singles holidays in March. Or search for short breaks in March. Note: all the travel companies featured are personally recommended by our editors.

Quick links
Beach – Africa and Indian Ocean – Asia – City breaks – Something different – America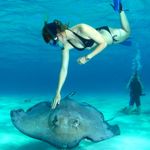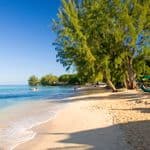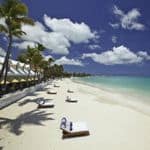 Beach holidays in March
If you want beach weather you'll need to fly a little further, but you can still find some great deals. The Gambia in West Africa is a beautiful destination and great for cheap holidays in March. It's only 6 hours flying time from the UK, with direct charter flights, and there's a good choice of beachfront hotels. Temperatures reach 34ºC with 9 hours of daily sunshine.
The Arabian Gulf is less than 7 hours flying time from the UK. Abu Dhabi has an amazing collection of hotels, attractions, shopping malls and beaches, and enjoys average temperatures of 27°C in March. Check out the latest special offers.
The Caribbean is among the best holiday destinations in March particularly if you travel before prices rise over the Easter holidays (Easter Sunday falls on 21 April in 2019). See details of the Caribbean weather in March.
You could head to Anguilla for pristine white-sand beaches or the Cayman Islands for great diving, or Barbados for stylish hotels and busy nightlife.
My favourite small-and-friendly Caribbean islands include Tobago and Grenada. If you just want to relax in an adults-only all-inclusive resort head for Sandals, which has properties in Jamaica, Antigua, St Lucia and the Bahamas.
You might also consider a tall ship cruise of the Caribbean with Star Clippers or a beach-and-sightseeing tour of Cuba where I recommend combing a few days in the characterful capital Havana with some lounging on the beach.
The ultimate long haul beach escape? Head to the pearl-white beaches of the South Pacific. The palette of natural blue colours in Tahiti, Fiji and the Cook Islands will blow you away.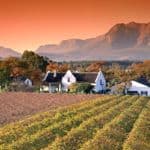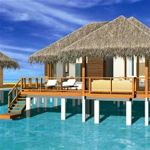 Africa and Indian Ocean
Where to go on holiday in March in Africa? Head to South Africa where the Western Cape is at its best. Meanwhile, East Africa is enjoying its dry season: try a safari in Kenya. Botswana can be wet, although great for bird watching.
See our choice of the Top 10 Africa holidays.
March is a great month to be in the Seychelles, with calm clear waters. In Mauritius the cyclone season has just ended, though you can still expect high humidity.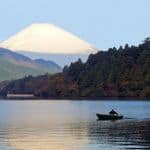 Asia luxury holiday ideas in March
March can be a wet month in some of Asia's most popular beach resorts – although it's invariably a case of a dramatic short sharp shower rather than persistent drizzle. It's very hot (and wet) in Bangkok, though it can be a bit chilly in the touristy parts of China.
Vietnam is a good bet for beach holidays in March, as is Sri Lanka. and the more unusual choice of the Philippines. Further north, this is a great time of year to visit Rajasthan in India (we recommend a private tour by car with TransIndus). For the ultimate pampering experience, try one of these luxury train journeys.
March is a lovely time of year to visit Japan. This fascinating country would be worth visiting for its food alone, but you'll also find dazzling cities, ancient culture, superb mountain and beach scenery. We recommend Inside Japan Tours, a small specialist company that offers self-guided and group tours.
Another country at its best in March is Borneo. Widely known for its orangutans, Borneo also has white-sand beaches, great walking and a fascinating indigenous culture. An overnight climb of Mount Kinabalu should not be missed, and March is also the best time of year for turtle sightings.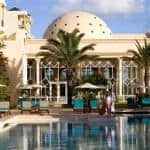 City breaks in March
Although many cities in northern and Eastern European will be decidedly chilly, this is a great month to venture south to the likes of Seville in southern Spain, Palma in Mallorca and Sorrento in Italy. It's also perfect sightseeing weather in Malta.
March is also a great month to visit Nice on the Cote d'Azur. It has art galleries, great restaurants, markets, an elegant beach and – best of all – that gorgeous Mediterranean sunshine.
My colleague, Annabelle Thorpe, has written an excellent guide to the best short breaks in March. And you can see my tips for where's hot in March in Europe.
Something different
If you want to treat yourself to a pampering holiday, or give yourself a challenge, check out The Healthy Holiday Company's trip ideas in March which including surf and yoga in Morocco and spa hotels in Thailand.
Or how about a holiday of a lifetime in South America? I recommend Brazil or Argentina with on-the-ground specialists, Dehouche. They can find the best places to stay and local guides and put together an itinerary designed to your personal needs.
Also in South America, you can explore the mountains and jungles of Ecuador and the neighbouring Galapagos Islands on a small-ship cruise. March is a great month as newly-born seal pups can be seen on the beaches, wild flowers are in bloom and the seas are calm. Choose from a private holiday or escorted tour.
Or take a gastronomic tour of Spain or Italy led by an expert guide and travelling in a small group of fellow foodies. Details here.
Go skiing. Springtime in the Alps can be magical with great snow, sunshine and no crowds. You could get a late ski deal on a self-catering apartment with Peak Retreats or a chalet holiday with Ski Total. Alternatively, you could venture north to see the Northern Lights, perhaps viewing them from one of these Glass Igloos in Finnish Lapland.
The Americas
This is a great time of year to explore the rugged landscapes and buzzing cities of America.
One of the best ways to see the States is – of course – by road. Rent a motorhome or take a self-drive tour of the great National Parks or hit the coast roads of California.
You could soak up the desert heat and non-stop fun of Las Vegas which you can combine with a visit to the Grand Canyon.
New York is a great destination at any time of year. You could arrive on a Transatlantic cruise or join a highbrow art and architecture tour. This tour of the Great Eastern Cities with American Sky combines New York, Philadelphia and Washington DC with visits to Niagara Falls and Amish Country.
If you want hotter weather, head to Florida where you can combine the theme parks of Orlando with the stunning beaches of Fort Lauderdale, take the scenic drive down to Key West or hang out with the cool crowd in Miami's South Beach.
In Central America, Costa Rica is a paradise for nature lovers with rainforest and cloud forest, volcanoes, rafting rivers, hiking trails, wildlife reserves and Pacific and Caribbean beaches. The weather in March is perfect, but prices are falling after the peak months of December – February. And British Airways now flies direct.  Check out this range of hotels and lodges.
Down in South America, March is a great month to visit Brazil which has some of the world's finest beaches. As well as the obvious tourist sights, highlights include trendy Trancoso and stylish Buzios, a favourite of well-heeled locals. Our tip for the best "secret" resort is Fernando de Noronha.
For more detailed climate information, see where is hot in March. Also see our sister sites for short breaks in March and expert recommendations on honeymoons in March.
Last updated: 6 September 2018
Try our holiday quiz
If you're still stuck for ideas, why not try our fun holiday quiz. Answer 10 easy questions like the one below to find out what kind of holidaymaker you are, and get personalised travel recommendations. Try the quiz now.

Try another month …
January | February | April | May | June | July | August | September | October | November | December