Where is hot in October
* Where to find sunshine in the Mediterranean
* Best holiday deals on flights under 6 hours

By Mark Hodson, Sunday Times Travel Writer and Editor of 101 Holidays
October sees the arrival of autumn in the UK – but it's a great time to head overseas for some late Mediterranean sunshine at really cheap prices.
Most of the Mediterranean is still hot and sunny throughout October and the sea is warm enough for swimming. This is especially true if you head to the south of the Med. In addition, you are almost guaranteed some outstanding end-of-season bargains. If, however, your idea of good weather is blast-furnace heat, you will need to fly long-haul, spending at least six hours on a plane.
This is our newly-updated guide to where's hot in October. If you are planning to travel with school-age children, please see our editors' recommendations for family holidays in October half term. If you're travelling alone, see the best singles holidays in October. Note: all the travel companies featured are personally recommended by our editors.

Quick links
Short haul – Under 7 hours flying time – Over 7 hours flying time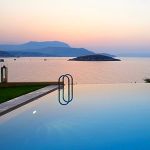 Short haul: under 4 hours flying time
Just because a resort is in the Mediterranean, doesn't mean it will be hot throughout October. You need to head south for the best of the weather. Turkey is a good option, and cheap now that the Lira has fallen sharply against Sterling. Temperatures on the Aegean Coast are obviously not as high as in July and August, but stay comfortably in the mid-20s. Generally, it is warm enough to sunbathe in the daytime with cool evenings, so you'll want to pack a cardigan or light jacket. If you want a classy quiet resort with lovely local restaurants head to Kalkan, Kas, or Islamlar.
Crete is the most southerly of the Greek islands and you can expect long sunny days throughout October. Try i-escape which has a great selection of small hotels and guest houses in beautiful locations. Or you could fly even further south to Cyprus where temperatures average 27°C. The Greek-speaking south of the island offers a wealth of holiday experiences while Turkish-speaking North Cyprus is great value as it uses the Turkish Lira, with pretty resorts such as Kyrenia and Famagusta.
We have struggled in the past to recommend all-inclusive hotels in the Med, but that's changed with the emergence of the marvellous IKOS group of beachfront hotels. Check out the IKOS Olivia on the Greek mainland and the IKOS Aria due to open on Kos in 2019.
Sicily is a great place to visit in October because it's not just about beaches (though these are lovely). With lots of sunshine and temperatures around 23°C, conditions are perfect for renting a car and visiting the medieval port of Syracuse and the charming town of Taormina which is set against the backdrop of Mount Etna.
If you want unspoilt empty beaches, you should head to Spain's Costa de le Luz or Puglia near the southern tip of Italy. I also love the French island of Corsica for its white-sand beaches, rugged mountains and great food. There's a wide selection off apartments and villas with private pools and you can often find special offers this late in the season.
Many cities are at their best in September and October and with few visitors, hotels tend to drop their rates significantly. Best city break destinations if you want some sunshine include Palma in Majorca, Dubrovnik in Croatia and Sorrento on the Amalfi Coast of Italy.
The Spanish region of Andalucia is best to visit in spring or autumn – in July and August it can be too hot to do anything other than fry beside a pool. In October you can explore the handsome cities of Seville and Granada, with temperatures perfectly poised around 26°C.
See more ideas for city breaks in October and my guide to where's hot in Europe in October.
In the South of France we recommend this selection of luxury barging holidays – the best destinations in October include Bordeaux and the Canal du Midi.
Alternatively, less than four hours flying time from the UK, Marrakech offers lovely dry desert sunshine and temperatures of around 27°C. It's a beautiful spot for sightseeing and shopping and, despite its popularity, still cheap.
There are direct flights from Gatwick to the Azores where you can expect temperatures of 24ºC in October. The volcanic islands have great beaches and it's one of the best destinations in Europe for spotting whale and dolphins. You could take a Three Island Tour in one week, or focus on walking or cycling or whale and dolphin watching.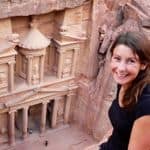 Mid haul: 4 – 7 hours flying time
October is the perfect time of year to discover the riches of ancient Egypt. In the capital Cairo you can expect highs of 29°C, falling at night to 18°C. Flying time from the UK is just five hours. Take a trip to the pyramids and a cruise down the Nile.
The Gambia is just a six-hour flight from London or Manchester and makes for one of the best-value beach holidays in October. This small West African country has friendly English-speaking people and a great range of accommodation including luxury all-inclusives and the popular good-value Kombo Beach. Average temperature in October is 32°C with eight hours of daily sunshine. View the latest special offers.
It is only six hours flying time to the Arabian Gulf where hot weather in October is as good as guaranteed. Temperatures hover around 29°C, occasionally hitting 35°C, perfect for lazing on the beach. There are three main options: Dubai, Oman and Abu Dhabi.
Dubai is firmly established for its glitzy hotels, exciting restaurant scene, shopping and tourist attractions. Abu Dhabi is catching up fast with stunning hotels, glamorous shopping malls and Yas Island, home to Ferrari World, Waterworld, a Formula 1 track and the world's fastest roller coaster. Oman is the best choice if you want an authentic hint of Arabia with your fix of winter sun. Best hotels include The Chedi Muscat and the Six Senses Zighy Bay.
October is one of the best months to visit Jordan: the 25°C temperatures are ideal for sightseeing and desert adventures and it's only a five-hour flight from Britain. If you've never visited the rock-carved city of Petra, this is a great time to go.
Another popular option is the Canary Islands, just four hours flying time from the UK. Average temperatures of 23°C with eight hours of sunshine make this a great-value choice in October. Try an upmarket hotel in Tenerife, or a villa in Lanzarote. For something quieter, explore one of the less touristic islands such as La Gomera or La Palma.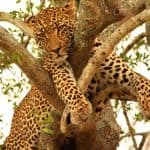 Long haul: over 7 hours flying time
Although the Caribbean is hot in October, it's slap bang in the middle of hurricane season, as visitors to Cuba and Jamaica found in October 2016 when Hurricane Matthew brought winds of up to 150 mph. To be on the safe side, it's best to avoid the region.
October is generally a good time to go to Africa, particularly if you're looking to combine safari and beach. Kenya is the classic destination where you can start with the Big Five in the Masai Mara followed by a lazy few days on the Indian Ocean coast, perhaps at Hemingways Watamu, where temperatures typically reach 30°C.
October is the dry season in Botswana, making it a prime time for big game spotting – the lack of rain means that animals gather around watering holes, guaranteeing spectacular sightings.
It's spring time in South Africa where Cape Town is a very pleasant 22°C. In the east, Johannesburg and Durban are in the high 20s. This is a great time of year to visit Kruger National Park.
In the Indian Ocean, October is a good time to visit Mauritius. The island is home to many world-class luxury hotels, and the climate is pretty good too: temperatures of around 27°C with eight hours of daily sunshine.
The rainy season is ending in the Maldives, where you can expect temperatures of 29°C and seven hours of sunshine. See more weather info. If you love nature, but also crave some pampering, take a look at Madagascar which has fabulous beaches and unique nature experiences.
For a good value beach holiday with guaranteed hot weather, it's hard to top Mexico, particularly if you stay in one of these all-inclusive hotels. Cancun is great for nightlife, water parks and activities, while Puerto Vallarta has more character and Los Cabos is home to star-studded luxury resorts.
First-time visitors to India should head for the Golden Triangle in the royal state of Rajasthan – Delhi, Agra and Jaipur – temperatures are high at around 33°C but it's a dry desert heat, so it's not humid. It's also a great month to visit the laid-back state of Kerala in the South of India. For both, I recommend TransIndus which has a choice of private and group tours.
October is also an excellent time of year to visit Sri Lanka. It's just coming up to the high season but still at low season prices. Rather than choose between a beach holiday and a tour, you can combine the two: spend a week visiting Buddhist temples, sacred rocks, national parks and the elephant orphanage, then unwind with a few days on the coast. There are some great boutique hotels and eco resorts,
This is also a good time to be in Vietnam which has fast emerged as one of the world's most exciting destinations, particularly if you love modern history, ancient culture, street food, shopping and luxury hotels. These suggested itineraries will give you some inspiration.
In Brazil, it's an ideal time of year to visit Rio de Janeiro, and you can easily combine it with trips to the beach and the falls at Iguassu. For holidays in Brazil, we recommend Dehouche.
October is a great month to visit the US. You'll find warm temperatures in the Mid West, California and the South, plus it's peak "leaf peeping" season in New England.
In the West, you could explore California on a 18-day fly-drive from Los Angeles to Las Vegas, taking in Monterey, the Napa Valley, Yosemite, Sequoia and Death Valley. Or this three-week ultimate tour of America's National Parks includes bison in Custer State Park, hiking in Yellowstone National Park and a Navajo tour of Monument Valley.
You can also enjoy the rich colours of the Fall foliage on a fly-drive tour of motorhome.
Last updated: 9 February 2019
>> Find more ideas for holidays in October, and top tips for making the most of your half-term. You may also like to visit our sister site, which has expert recommendations on the best October honeymoons.
Compare months
January – February – March – April – May – June – July – August – September – October – November – December