Where is hot in May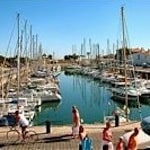 By Mark Hodson, Sunday Times Travel Writer and Editor of 101 Holidays
---
Q.  Where is hot in May for a holiday?
A.  May is a perfect time to visit the Mediterranean: it's cheap and warm enough for sunbathing, but not too hot for sightseeing. It's also a great month for the Caribbean where the weather is still great, but it's the low season, so prices have fallen.
---
The end of May signals the half-term break when there are plenty of options for family escapes to the sunshine, some closer to home than you might think. Prices rise a little at this time, but are still less than in summer.
If you're travelling with children, please see our recommended family holidays in May half term. If you're travelling on your own, see our guide to singles holidays in May. Note: all the travel companies featured are personally recommended by our editors.

Quick links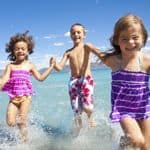 Short haul holidays in May
In the Mediterranean you can expect temperatures into the mid-20ºCs. It's still early in the season, meaning that hotel rates remain low and staff are fresh and eager for business – a winning combination. May is also a good time to get a cheap flight.
The only caveat is that sea temperatures won't be high. It's fine for kids, but adults may find the water a bit nippy. On the other hand you can expect long days of unbroken sunshine, low humidity and pleasantly cool evenings.
Greece is at its most dazzling at this time of the year. Classic choices such as Crete and Rhodes (both of which are relatively far south) are excellent bets, while lesser known islands such as Skiathos and Paxos – accessible only by boat – offer a more laid-back experience. If you want a high-quality all-inclusive, head to the IKOS Dassia in Corfu or the IKOS Oceania in Halkidiki. See our full range of recommended holidays in Greece.
Turkey is cheap right now and will be hot in May, particularly the Aegean Coast. Head to the resorts of Kalkan or Kas, or the quieter unspoilt Bozburun Peninsula. Simpson Travel has a lovely collection of hotels and villas.
Sardinia and Sicily are great bets, with temperatures around 23°C in May, and an average of 9 hours of daily sunshine. As the Italians don't tend to visit until August, both islands will be relatively quiet. You'll find some fabulous hotels including Forte Village in Sardinia and the Verdura Resort in Sicily. See the latest offers.
Mainland Italy has some great holiday spots in May although it's better to head south to be sure of great weather – try the peerless beauty of the Amalfi Coast or the often-neglected region of Puglia which has great beaches. See more holidays in Italy.
We also recommend Spain's Costa de la Luz for miles of unspoilt beaches lined with dunes and pine forests. The nearest city is Seville which makes a great base for exploring the region. Seville is way too hot in August, but May is just right. This is also a great time of year for Barcelona – it's warm enough to laze on the beach, but not so hot that you won't want to enjoy the sights.
It will also be getting warm in the Balaeric Islands. We recommend Mallorca and Ibiza, both of which are particularly beautiful slightly out of season. Away from the package resorts, the Balaerics offer beautiful countryside, quiet coves and great restaurants.
The French island of Corsica has sublime beaches, great food and some rugged mountain countryside to explore, whether by car or on foot (best not to try this in August unless you want to risk sunstroke). You'll usually find some great special offers at this early stage of the season. You can also take a short break (flying time is just two hours).
Morocco is also blessed with fantastic weather conditions in May: Marrakech is around 27°C with little rain and low humidity, meaning you can shop 'til you drop in bustling souks, while on the Atlantic coast, the lesser known beach resorts of Oualidia and Essaouira are slightly cooler but warm enough for a surf-and-sun combination.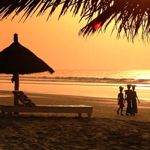 Long haul holidays in May
If you're prepared to fly long haul, the world is your oyster – but where is hot in May?
It's only seven hours flying time to Dubai although temperatures maxing out at 37°C make this a destination for serious sun worshippers only.
The Indian Ocean is a great option for beach lovers. The Seychelles, Mozambique and Mauritius are all at their best in May with more than eight hours of daily sunshine and temperatures around 29°C. A calm sea means excellent visibility, so it's a great time of year for diving, snorkelling or simply gazing at the water from the safety of a beach lounger.
May is also a perfect time to visit the Caribbean – before the hurricane season poses a threat, but after the peak winter season. This means you can often get great deals on flights and packages. We recommend Barbados, Jamaica, Antigua, Anguilla and the Cayman Islands, all of which promise temperatures around the 30°C mark. Check out our guide to holidays in the Caribbean for more inspiration, or see more detailed information on Caribbean weather in May.
Bermuda can be surprisingly chilly and damp in the depths of winter but May is perfect, with long sunny days, brilliant blue skies and pristine pink beaches. It's a charming place where you can indulge and unwind, and still get afternoon tea at 4pm. Our recommended hotels include Cambridge Beaches and – for those on more of a budget – Grotto Bay Resort.
Heading east for cheap holidays in Asia, Bali offers temperatures in the 30s but without the heavy rainfall found in some months. Thailand is also a good choice, providing you stick to the Gulf Coast – so Koh Samui would be a better option than Phuket. The beaches are wonderful, of course, and Thailand remains remarkably cheap in terms of food, drink, excursions and spa treatments.
Head to Brazil to experience some of the world's most exciting cities – including Rio de Janeiro where the temperature will be around 26°C – and astonishing beaches and natural wonders.
May is also a sensible time to make the trip to China: Beijing reaches 27°C but without the humidity and rainfall of June-August, making it perfect for exploring the Great Wall and the Forbidden City without working up too much of a sweat.
The pick of African destinations at this time of the year are Botswana, Tanzania, Zambia, Zimbabwe: mild temperatures combined with the end of the rainy season make this safari prime-time. See more holidays in Africa.
May is a wonderful time of year to visit America from the buzz of New York in springtime to the Pacific Coast Highway in California and the great National Parks of the West. You could arrive in style on a transatlantic cruise or rent a motorhome and hit the road.
You can also find the best half-term holidays, more ideas for where to go in May plus expert tips on honeymoons in May.
Last updated: 1 January 2019
Compare months
January – February – March – April – May – June – July – August – September – October – November – December