Where is hot in July

By Mark Hodson, Sunday Times Travel Writer and Editor of 101 Holidays
As schools close their doors for the summer break in mid-July, thousands of families flock to the sunshine. Temperatures soar across Europe and the Mediterranean and, with temperatures surging above 30°C, you'll want to be within easy reach of the sea or a swimming pool.
If you are travelling with kids, see our recommended family holidays in July. If you're travelling by yourself, see our pick of the best singles holidays in July.
So, where are the best destinations to enjoy the warm weather in July? Note: all the travel companies featured are personally recommended by our editors.

Quick links
Short haul holidays in July – Long haul holidays in July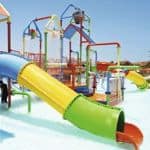 Short haul holidays in July
The Mediterranean is our most popular sunshine destination, especially among families. Within a few hours flying time of the UK, you can be sunning yourself in Spain or France, or catching rays in Italy, Greece or Turkey. Sightseeing city breaks are probably best left for slightly cooler months.
In France, the west coast promises average temperatures of 24°C while further south, you could rent a vill in St Tropez (28°C). If you are travelling with six people or more renting a chateau with a pool is a great option and works out a lot less expensive than you might think: Limoges is around 25°C and Bergerac 26°C.
Our tips for families include a mobile home on a comfortable, upmarket campsite in France with Siblu Villages. Find more holiday ideas in France.
In Spain, the Costa Brava hits 28°C, while away from the crowds on the Costa de la Luz, temperatures are slightly higher at 30°C, but still bearable for lazing on the beach with a cooling onshore breeze. If that's too hot for you, head for the gorgeous beaches and green rolling countryside of Northern Spain. For villa holidays, try Catalonia or the islands of Mallorca or Ibiza (29°C). See more holiday destinations in Spain.
In Greece you are never short of islands, and the cooling sea breezes certainly make July more comfortable. Try a villa in the unspoilt areas of northern Crete, or the stunning island of Kefalonia in the Ionian Sea.
Cyprus gets very hot – up to 35°C – but you'll find some lovely hotels where you can cool off at beach or pool. Bargain hunters should head to Turkish-speaking North Cyprus which is outside the Eurozone, but has some lovely resorts including Kyrenia where I recommend the hotel Pia Bella.
The timeless beauty of the Amalfi Coast is worth considering, or how about a sailing trip out of Naples (29°C). Find more holidays in Italy.
Paxos, one of the lesser known Greek Islands, enjoys 12 hours of sunshine a day, with temperatures around 29°C. However, there are many other glorious holiday ideas in Greece. In Turkey, temperatures on the coast hover around the 32°C mark. Check out this great collection of hotels and villas and Mark Warner's brand new Phokaia Beach Resort with sailing, windsurfing and tennis included.
July means that you can venture further north, and still enjoy some sunshine. Copenhagen and Oslo, for instance, reach 21°C. In Eastern Europe, Croatia is a good bet: at 28°C, Dubrovnik promises sunshine as well as beautiful coastline.
If you're craving sunshine rather than sweltering temperatures, consider the clean mountain air of the Alps. It's a great time to visit with lots of outdoor activities, sparkling lakes, and great food – plus you're paying low-season prices for accommodation. Check out Inghams  for families and Peak Retreats for budget places to stay.
For families looking to stay closer to home, the UK offers some fantastic holiday options in July. Rent a cottage in Cornwall for a fabulous week on the beach or in the countryside.

Long haul hot holidays in July
Mid haul destinations – Morocco, Egypt, the Middle East – may sound promising, but temperatures in July verge on the ridiculous. Cairo hits 35°C, Marrakech 36°C and Dubai a huge 41°C. If you want to get out of Europe, the best bet is to go long haul.
Bermuda is glorious in July: warm and sunny but never unpleasantly humid. You can spend long days lounging on pristine pink sand beaches, visiting local attractions by boat and perhaps playing the occasional round of golf. Our recommended hotels include Cambridge Beaches and the family-friendly Fairmont Southampton. If you're on a budget, Grotto Bay Resort is a great option.
While some tropical destinations cool down – in Madagascar and Mauritius there is a chance of rain – Sri Lanka is an excellent option with a unique combination of beaches, culture and wildlife and temperatures of around 30°C.
Escape to the Cook Islands, a pleasant 25°C. Fiji is also a good desert island choice at 26°C, or Bali, which pushes up to 30°C.
Thailand in July can be troublesome. Popular resorts such as Phuket and Khao Lak on the Andaman coast tend to be wet, but if you cross over to the Gulf Coast you'll find the idyllic island of Koh Samui enjoying long days of sunshine and temperatures of 31°C.
For something slightly different, what about Japan – Tokyo reaches 29°C – or hopping over the Atlantic to Canada. At 22°C, Nova Scotia guarantees sunshine with stunning coastal scenery, or try Vancouver (22°C) or Montréal (27°C) for some sunshine and city combinations.
Finally, if Africa is calling, try Botswana (23°C) or Kenya, 28°C in parts, where sunshine is guaranteed but temperatures are perfect for a safari. A good option could be a twin centre holiday: try spending a few days on safari then hitting the beach in the Seychelles (27°C).
Get more ideas about where to go on holiday in July, and July honeymoons.
Last updated: 24 January 2019
Compare months
January – February – March – April – May – June – July – August – September – October – November – December