Where is hot in January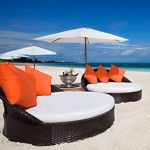 By Mark Hodson, Sunday Times Travel Writer and Editor of 101 Holidays
Where's hot in January? It's peak season in the Caribbean with lots of sunshine and gentle breezes, plus you'll also find perfect weather in the Arabian Gulf and warm temperatures in the Canary Islands. Other options include The Gambia for cheap winter sun and South East Asia, where your spending money will go further.
If you're travelling solo, see our guide to the best singles holidays in January. Note: all the travel companies featured are personally recommended by our editors.

Quick links
Caribbean – Short haul – Long haul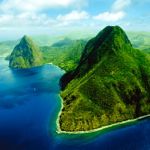 The Caribbean: perfect weather in January
The Caribbean offers ideal conditions, with reliable sunshine, gentle breezes and daytime temperatures hovering around 30°C. In Barbados, Tobago, Grenada and Jamaica, you can expect an average of 9 hours of sunshine a day with only a very occasional short rain shower. For the finest white-sand beaches, check out the Cayman Islands or the immaculate coral island of Anguilla.
My favourite Caribbean hotels include Round Hill in Jamaica and Windjammer Landing in St Lucia. For families with young children, I like Beaches Turks & Caicos.
In Cuba I recommend a beach-and-city combination. It would be a pity to visit this fascinating country without exploring the capital Havana. You should also visit the colonial city of Trinidad and perhaps spend a few nights on the beach at Cayo Leviso.
If you want Caribbean beaches and you're keen to keep costs down, head to Mexico where you'll find a great choice of all-inclusive hotels.
See more holiday ideas in the Caribbean and details of the Caribbean weather in January.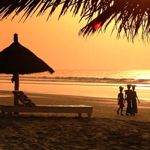 Short haul sunshine: under 7 hours flying time
If you want hot weather in January but don't want a long flight, you can still find sunny – and even hot – conditions with a flying time from the UK of less than 7 hours.
It's only a four-hour flight to the beaches of Tenerife in the Canary Islands where you can expect temperatures around 20°C and 6 hours of daily sun. If hiking and nature are more your thing, try the tiny black-sand island of La Palma. You can also get some great deals on villas with private pools in Lanzarote and under-occupancy charges in January tend to be very low.
We also recommend The Gambia for hot holidays in January. This charming West African country offers great value beach holidays and has temperatures of around 32°C with 9 hours of daily sunshine. It is only six hours flying time from the UK with no jet lag. Last January I stayed with my family at the Kombo Beach hotel, which I highly recommend.
It's a little less than 7 hours flying time to Abu Dhabi where you'll find great beaches, endless sunshine and an impressive collection of glitzy hotels, fine restaurants and entertainment venues. Visit Yas Island to enjoy Ferrari World, a waterpark, Formula 1 race track and the world's fastest roller coaster.
Still the big-hitting destination in the Arabian Gulf, Dubai continues to dazzle with its luxury hotels, water parks, endless beaches and vast shopping and entertainment malls. Combine it with neighbouring Oman for an experience of authentic Arabia.
It's only a 3-hour flight to Marrakech in Morocco (19ºC and 7 hours of sun). Find out more cheap winter sun destinations.
Some people are looking for a healthy holiday in January. If that's you, I recommend Fitscape, which runs fitness breaks in the Atlas Mountains of Morocco, and destination yoga, where you get daily lessons from one of the UK's leading yoga instructors, as well as all your food and group activities.
See more advice on where is hot in January in Europe.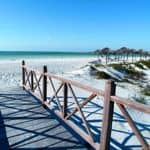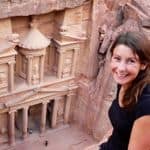 Long haul holidays in January: 7 hours+ flying time
January is a great month to enjoy the breathtaking sights and stunning beaches of Southeast Asia. Thailand is the most popular destination amongst British travellers with gorgeous islands, delicious food and low prices. Expect temperatures of around 32°C, but avoid the east Gulf coast in January, when heavy rainfall is possible. Phuket on the west Andaman coast is better than Koh Samui. If you want more than just a beach in Thailand, check out the exciting options with Experience Travel Group.
Elsewhere in Southeast Asia, January is a popular month to explore Malaysia or Vietnam. Further south, Bali offers glorious beaches and a colourful local culture, though rain showers are a risk in January.
Feeling adventurous? Head to India to combine culture, adventure, beach and great food. Northern India and Rajasthan experience mild temperatures in January – ideal for sightseeing – with Delhi at around 20°C. If you head further south to Goa you'll find temperatures of around 28°C – perfect for lazing in the sun. Find details of private tours in India – and luxury train journeys – from TransIndus.
Florida is a good bet, where you can expect 24ºC and 7 hours of sun in Miami. Hit the rides at Walt Disney Resort or Universal Orlando, discover the wild beaches of Sanibel, or motor south to the Florida Keys. For a high-end experience, try this Private Florida Escape.
Another option is to head to the Nevada desert. Combine a few high-octane days in Las Vegas (15ºC, 8 hours of sun) with a trip out to the Grand Canyon.
If you're ready to splash out on a tropical island, I can think of nowhere more appealing in January than the Indian Ocean. How about a spa hotel in Mauritius (30ºC, 8 hours of sun), an over-water villa in the Maldives (31ºC, 9 hours of sun) or a white-sand beach in the Seychelles (29ºC, 6 hours of sun).
If you're looking for adventure, breathtaking sights, activities and superb beaches, how about South or Central America. I recommend both Brazil and Argentina. And if you want the whole package in a smaller country, you won't beat Costa Rica. It has world-class beaches, jungles teeming with exotic wildlife and lots of exciting activities. This 12-day tour, Value Costa Rica: The Essential Highlights is well priced and takes in Tortuguero Jungle Reserve, Monteverde Cloud Forest Reserve, Arenal volcano and time on the beach.
If you don't mind a long flight, you could go all the way to the pristine islands of the South Pacific. Few people have returned from Tahiti, Fiji or the Cook Islands and said it wasn't worth it!
Find more expert tips from our team of editors on holidays in January and honeymoons in January.
Last updated: 1 May 2018
Compare months
January – February – March – April – May – June – July – August – September – October – November – December