Where is hot in January in Europe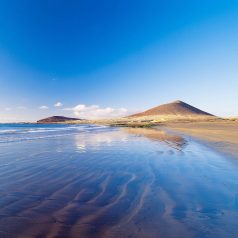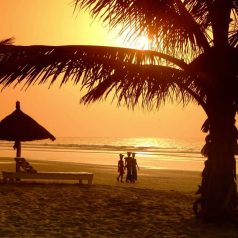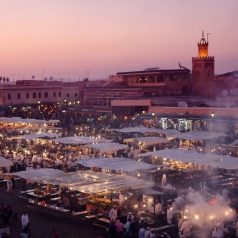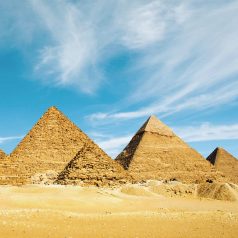 By Mike Gerrard
If you want to find somewhere hot in Europe in January, you'll have to be prepared to accept a few compromises. Think "warm" instead of "hot". And the very fringes of Europe. And maybe beyond Europe. Winter is winter, even in the south of France. The average high temperature in Cannes in January is 13°C, with an average low of 4°C. That is not hot. So we've included a few "mid haul" options.
Click the links to find prices, dates and booking policies. If you're travelling solo, see our pick of the best singles holidays in January.
Where's hot in Europe and beyond
| Country | Destination | Average highs | Average hours of sun |
| --- | --- | --- | --- |
| Spain | Lanzarote | 21°C | 7 hours |
| Spain | Tenerife | 21°C | 7 hours |
| Portugal | Madeira | 18°C | 5 hours |
| Cyprus | Limassol | 17°C | 5 hours |
| Greece | Crete | 16°C | 3 hours |
| The Gambia | Banjul | 31°C | 10 hours |
| Cape Verde | Praia | 24°C | 6 hours |
| Egypt | Cairo | 22°C | 9 hours |
| Morocco | Marrakech | 19°C | 7 hours |
1. Lanzarote

Average highs in January: 21°C
Average daily sunshine: 7 hours
Flying time from UK: 4 hours
Any of the Canary Islands is a good bet for short haul winter sunshine, while staying on the very edge of Europe. It may not be boiling hot but there are few rainy days on Lanzarote in January. In case you do get rain, one of the best options is renting a villa. Look for one with a private pool to maximise sun time.
2. Tenerife
Average highs in January: 21°C
Average daily sunshine: 7 hours
Flying time from UK: 4 hours
Tenerife is another safe option for minimal rain and sunny days. The island is excellent for outdoor activities, like hiking, golf and watersports. The luxurious village-like Gran Hotel Bahia del Duque has five top golf courses all close by, and offers tennis, pitch and putt, and plenty to do on the beach. We recommend the Iberostar Hotel Anthelia for families, and the more intimate Hotel San Roque for couples.
3. Madeira
Average highs in January: 18°C
Average daily sunshine: 5 hours
Flying time from UK: 4 hours
Beautiful Madeira gets an average of 13 days rain in January, so pick a hotel with plenty of facilities. Our recommendations include the 5-star Vidamar, the stylish Vine with its rooftop pool, and the more traditional Royal Savoy. A few showers won't spoil the spectacular mountains, walking paths and botanical gardens.
4. Cyprus
Average highs in January: 17°C
Average daily sunshine: 5 hours
Flying time from UK: 4 hours 30 minutes
With an average of just ten days on which it rains (and that can be just a quick shower), Cyprus is a great short haul winter sun destination. January is a good time of year for hiking and other activity holidays, and to make the most of what is quite a big island (the third largest in the Mediterranean), consider a fly-drive.
5. Crete
Average highs in January: 16°C
Average daily sunshine: 3 hours
Flying time from UK: 3 hours 45 minutes
Although Crete seems to have few hours of sunshine, the figure is misleading as Greece's largest island is cloudy rather than wet in January. Most rain falls in the mountains, so a holiday mixing beach and activities is your best choice. For the best weather head for the south coast, which is not far from North Africa. The island has become far more sophisticated in recent years, with a flourishing wine industry and a lot of new boutique hotels opening. You can opt for more traditional accommodation if you prefer, and there are eco-friendly options.
Beyond Europe
Given the limited options in Europe, you might want to think again and consider going a little further afield for some guaranteed sunshine. After all, if you're going to the trouble and expense of getting to the airport anyway, does it really matter if you spend five hours on the plane instead of three?
The immediate countries to think about are those North African countries that border the Mediterranean. The most popular include Egypt, Tunisia and Morocco. A little further afield is Cape Verde and The Gambia. The latter are six hours flying time from the UK, on the cusp between short haul and long haul.
6. The Gambia
Average highs in January: 31°C
Average daily sunshine: 10 hours
Flying time from UK: 6 hours
Be prepared to sit on a plane for two more hours than flying to the Canary Islands and you'll be in a place which has three more hours of sunshine a day and is on average 10°C hotter. That seems like a good trade-off to us. The Gambia has a lot to offer. You can have a lie-in-the-sun holiday if that's what you want, but you should take the opportunity to head inland and visit the non-touristy villages. If you like wildlife, this is one of the best places in Africa for birdwatching. Check for any last-minute Gambia holiday deals.
7. Cape Verde
Average highs in January: 24°C
Average daily sunshine: 6 hours
Flying time from UK: 6 hours
Off the coast of West Africa are the ten islands that make up the Cape Verde group. January sees an average of only three rainy days, so if it's your first visit you could consider island-hopping or even sailing between the islands yourself. If it's beaches you want then stay on the island of Boa Vista, or if you're more interested in culture head for Sao Vicente.
8. Egypt
Average highs in January: 22°C
Average daily sunshine: 9 hours
Flying time from UK: 5 hours
You're guaranteed winter sun in Egypt, with resorts like Sharm el Sheikh basking in sunshine and usually seeing just one day of rain in the whole of January. It's a very good time to take a Nile cruise, too, or go for broke and take a Classic Egypt holiday that includes Cairo, the Valley of the Kings in Luxor and a Nile cruise.
9. Morocco
Average highs in January: 19°C
Average daily sunshine: 7 hours
Flying time from UK: 3.5 hours
Marrakech remains one of the most popular city break destinations in North Africa, and you could combine it with a trip to the Atlas Mountains (where temperatures will be much lower). If it's beaches you want then go further south to the Agadir coastline where it's warmer and a little dryer. Essaouira is also on the coast, while if you want culture take a look at Fes, which is fascinating though not as much on the tourist radar as Marrakech.
See what weather to expect in Europe in other months:
October | November | December | January | February | March | April | May
Up to 40% off your next winter sun holiday
* Did you know you can save up to 40% on holiday prices? See all the latest deals.We publish new deals most weeks and you can get them delivered to your inbox by entering your email address below.
Last updated: 22 April 2022