Where is cool in summer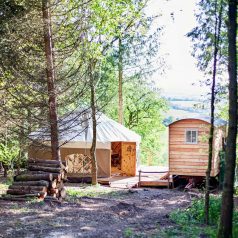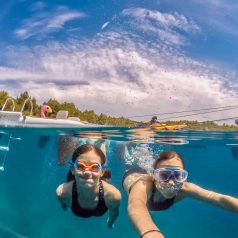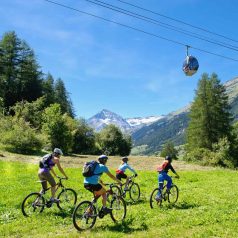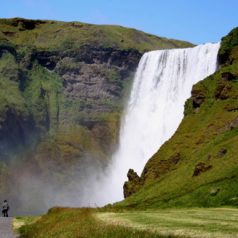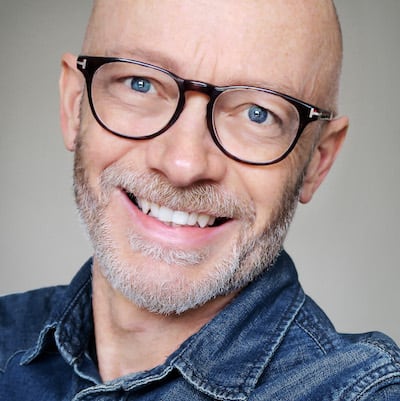 By Mark Hodson, Sunday Times Travel Writer
Not everyone wants to swelter on a sun bed in summer. Some of us actively seek out cooler places for a summer holiday, where we can enjoy outdoor activities without fearing heatstroke, or know that young children won't have a meltdown in the relentless heat. And more of us are becoming uneasy about the growing number of heatwaves and record temperatures, both in the UK and abroad. It's not uncommon now to see summer temperatures above 40ºC in the Mediterranean, along with forest fires, power failures and intense pressure on public services.
So where where's cool in summer for a holiday? There are several options:
* Go north to Scandinavia or Iceland for endless daylight, midnight sun and natural wonders. You'll find the midsummer euphoria is infectious, though you might struggle to sleep a full eight hours, and these countries can be expensive.
* You could enjoy the clear mountain air of the French Alps as an alternative to Med beaches. You'll need plenty of sun block, but cooler temperatures and low humidity mean you can enjoy hiking, biking, white water rafting and all sorts of activities in comfort. Plus it's low season, so prices are low.
* Switch to a destination with a more temperate climate. For example, instead of southern Spain, go to Northern Spain or the Canary Islands. The Canaries are best known for winter sun, but in summer you can reliably expect temperatures of around 26-27ºC and plenty of sunshine, rather than risking a heatwave in the Med. Northern Spain has vast uncrowded beaches, mountains, rich culture and delicious food with temperatures in July and August around 7-8ºC cooler than in the south, and much lower humidity.
* Fly long haul to a dream destination. No, I'm not suggesting Dubai or Qatar. How about a cruise in Alaska, or a train journey across the Rocky Mountains of Canada? You could spend two weeks in Northern Australia or tour the highlights of Peru, Brazil or Argentina.
* Finally, there's always the UK.
Scroll down for more detailed recommendations with links to companies tested and approved by our team of researchers.

* Did you know you can save up to 40% on holiday prices? See our latest travel deals and enter your email address below to get updates every fortnight.
Quick links
Head north – Cooler than the Med – UK holidays – Activity holidays – Long haul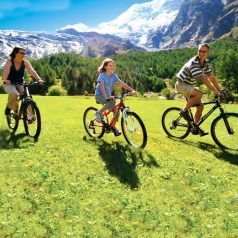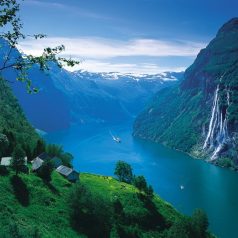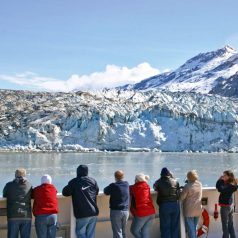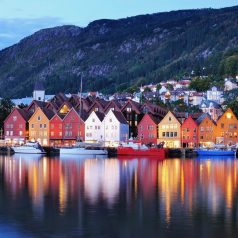 Head north
Iceland is an amazing country of mountains, glaciers, volcanoes and geysers. Summer is the best time to visit and you can see the key sights in two weeks. Choose from some great fly-drive tours and check out the latest special offers.
Norway offers dramatic summer scenery, spectacular skies and fascinating culture. You can whales and traditional fishing villages in the Lofoten Islands.
Nature lovers will be captivated by the Faroe Islands, located between Norway and Iceland and only a short flight from Edinburgh. You can explore the 18 islands by tunnel and ferry on a fly-drive.
You can ride Europe's highest railway between Olso and Bergen on a four-night Roof Across Norway trip or join a Brown Bear Adventure in remote eastern Finland.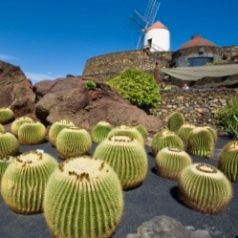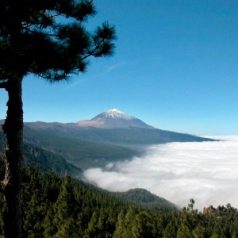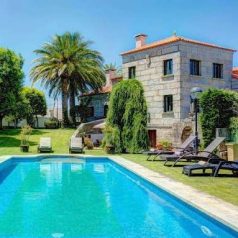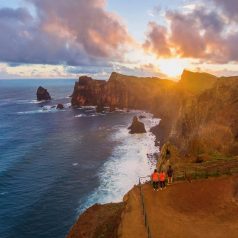 Cooler alternatives to the Med
The Canary Islands offer consistent summer temperatures of around 26-27ºC and you won't be paying peak-season prices. In Tenerife, the busy package resorts are in the south of the island which is a touch warmer. But the most attractive regions are in the north part of the island – it's a little cooler but you'll find authentic villages, dramatic volcanic landscapes and charming boutique hotels.
Fuerteventura is known for its cooling breezes (the name translates loosely as "strong wind"). It has a selection of charming and good-value places to stay and it's popular with surfers and windsurfers.
In Lanzarote you can stay in a boutique hotel or rent a villa with private pool, or explore the island on an independent walking holiday.
See our guide to where to go in the Canaries, and discover the lesser-known Canary Islands.
Northern Spain – also known as Green Spain – is ideal for a self-catering holiday. Rent a villa with pool in Galicia and explore the mountains, beaches and authentic villages. You can take your own car, either driving through France or taking an overnight ferry.
Slovenia is a pocket-sized country packed with gorgeous sights: Alpine mountains, rivers, lakes and charming towns. Regent Holidays has some great holiday ideas.
Madeira is another cool summer option with a similar climate to the Canaries. Summer is a great time of year for whale-watching. Check out these holidays in Madeira, including the latest special offers.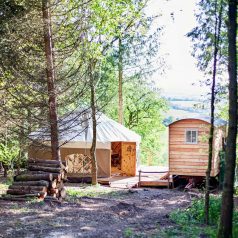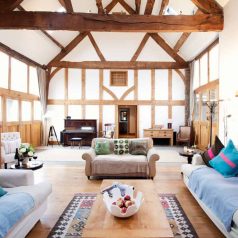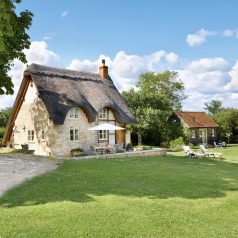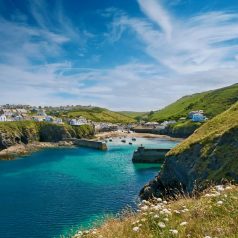 UK holidays in July
Renting a cottage in the UK is generally a good way to stay cool. Older properties with thick walls or large barn conversions tend not to get too hot, and anywhere on the coast will benefit from sea breezes. You can rent in Devon and Cornwall or the Lake District but make sure you book well in advance.
Dorset's Jurassic Coast is also popular while the Isle of Wight will give you a sense of travelling over water (even when the ferry crossing can take as little as 22 minutes with Wightlink).
The Sands Resort Hotel in North Cornwall has a great programme for children.
You could rent a boat with Black Prince to explore one of the UK's many beautiful canals or stay in a former lighthouse keeper's cottage. If you have a pet, try these dog-friendly cottages in England, Wales, Scotland and Ireland. Or stay on a working farm in Devon.
Summer is a great time of year to visit Scotland but beware of the midges. You can rent a cottage beside a loch or travel to the Highlands and the Isle of Skye on an overnight sleeper train from London. Highlands and the Isle of Skye. In the Hebrides, you could join a small boat cruise to explore remote islands such as Mull, Jura and Iona, where you can fish, swim, dive, set lobster pots, go kayaking, and see dolphins.
You should also consider these holidays in Ireland featuring self-drive tours, luxury country hotels and tours by train.
Find more UK holiday ideas.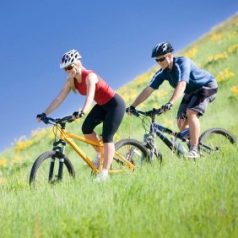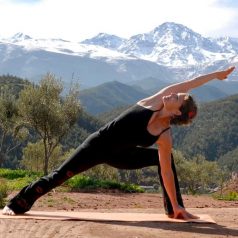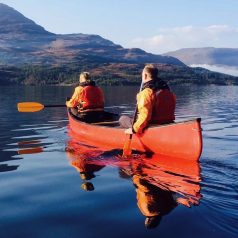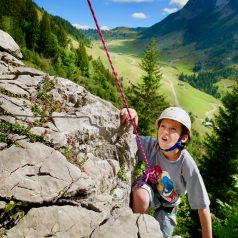 Activity holidays with a cool climate
The Alps in summer are gorgeous: sunshine, clean air, low humidity and sparkling lakes where you can swim or enjoy a range of activities as well as summer skiing. See the latest special offers.
There are direct flights from the UK to the Azores where the whale and dolphin watching season is in full swing. The 24ºC temperature is perfect for lazing on the beaches or walking or cycling in the lush volcanic countryside.
Inntravel has wonderful walking holidays in the mountain countryside of northern Spain and some lovely cycling holidays in Denmark (it's beautiful and flat!)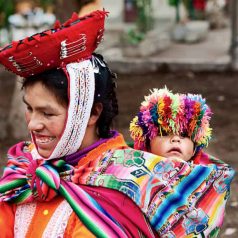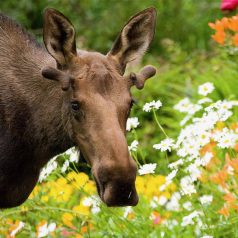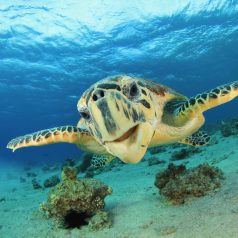 Long haul holidays avoiding the heat
You could discover the wild beauty of Alaska where in July and August you can join an expedition cruise through the Inside Passage and explore Glacier Bay National Park. Find out more about small-ship cruises and whale-watching in Alaska.
Summer is also an ideal time to explore the natural wonders of the Galapagos Islands – take a luxury small ship cruise on the MV Santa Cruz or Athala II.
Last updated: 2 August 2022