Recommended tour operator: TrekAmerica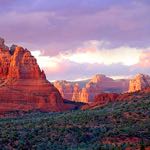 TrekAmerica says
We have been bringing together groups of explorers from all over the world since 1972 and today we are firm leaders in small group adventure tours across North America for travellers from 18-38 years.
Our groups are no more than 13 people, allowing more freedom to get off the beaten path and establish a really inclusive group atmosphere.
Our tour leaders are both fun and knowledgeable and they love to share their 'secret spots' – the sort of places you simply won't find travelling alone.
Trips are either camping or hotel-based to suit your level of comfort and adventure with year-round departures from 3 days to 64 days.
The three week Southern Sun camping trip is one of the most popular. Travel coast to coast from New York to Los Angeles in three weeks, taking in New Orleans, Las Vegas, the wilds of Cowboy Country and the stunning National Parks of the West.
The two-week Westerner 2 camping itinerary includes the Golden Triangle – Los Angeles, Las Vegas and San Francisco – plus the chance to see the Giant Sequoias in Yosemite National Park and be blown away by the Grand Canyon.
It's hotels all the way on the Atlantic BLT – trail the Appalachian Mountains from New York to New Orleans and wind up amongst the beautiful people in Miami.
If you want more of a road trip adventure, our 64-day Trailblazer won't disappoint. Travel from New York to L.A. and back again with new experiences every single day – from the Louisiana swamps to alien-spotting in Roswell.
Find out more about Trek America and our latest special offers.
« Return to homepage
Copyright © 2017, 101 Holidays Ltd