Recommended tour operator: American Sky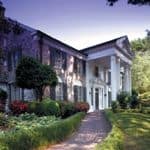 American Sky says
My Big Fat Greek Wedding, Meet Me In St Louis, The Road to Perdition and Fried Green Tomatoes….if you love movies – and music too – our 13-night self-drive Music & Movies Trails holiday is one amazing road trip from Chicago and back via St Louis, Memphis, Birmingham, Chattanooga, Nashville and New Orleans.
Soak up the sights, sounds and movie locations en route with plenty of time to kick back between drives.
There's three nights in The Windy City, Chicago – and so much to see and do here, not least a visit to the Blues Brothers Soul Food restaurant on Maxwell Street and the original House of Blues jazz club.
Head on to St Louis – take a tram to the top of the famous St. Louis Arch for fabulous city views and watch the Lewis & Clark: Great Journey West, produced by the National Geographic Society.
There's two nights in Memphis – take your pick of the iconic music hotspots. Visit Graceland, the Rock & Soul Museum, the Gibson Guitar factory or Sun Studio.
 If you're lucky, catch a concert at the Mud Island outdoor amphitheatre.
Follow the Mississippi along Highway 1 to Vicksburg via Clarksdale, the heart of the Delta Blues, before bringing on the Big Easy! New Orleans is a jazz lover's paradise with myriad jazz and blues clubs.
The next stop is Birmingham, Alabama. Visit the Jazz Hall of Fame and stop by Whistle Stop Café, the inspiration for Fried Green Tomatoes.
There's a night in Chattanooga en route to Nashville – Music City USA. Visit the Country Music Hall of Fame, the Ryman Auditorium and enjoy a night at the Grand Ole Opry.
Your last stop before returning to Chicago is Louisville, Kentucky. Amongst many attractions, it's the home of the Kentucky Derby, featured in the movie Sea Biscuit.
Costing from £1,329 per person, this self-drive holiday includes transatlantic flights, car rental, hotel accommodation and comprehensive maps.
Find out more about the Music and Movies Trail and other self-drive holidays in the USA.
« Return to homepage
Copyright © 2017, 101 Holidays Ltd