10 best activity holidays in the US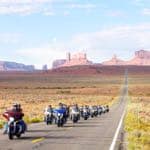 By Donna Dailey and Mike Gerrard, Editors of 101 USA Holidays
The fat American has become a cliché, and it belies the fact that many Americans live an active lifestyle, love nothing better to go hiking or jogging, or go camping in the great outdoors. Most American cities have numerous bike and hiking paths that are well used, and the USA is a very attractive proposition if you want an activity holiday.
Here are ten of the best options if you want to visit the USA and get active.
1) Nature Holidays
The USA has some of the best scenery and best wildlife-watching opportunities in the world, thanks to its magnificent National Parks system. Hiking in places like Yellowstone and Yosemite is an experience never to be forgotten, and Alaska offers opportunities like bear watching and seeing the Northern Lights.
2) Ranch Holidays
Whether it's a dude ranch or the real thing, several companies offer the chance to release your inner cowboy and ride the range in places like Texas, Arizona and the wide open spaces of Wyoming. Try Scott Dunn, Western & Oriental, Wexas and American Sky.
3) Hiking
With long-distance paths like the Appalachian Trail and scenery as contrasting as leafy New England and the stark deserts of the southwest, the USA really does have hiking opportunities for everyone. Kudu offers the chance to hike through the New Mexico landscapes that inspired artist Georgia O'Keeffe.
4) Skiing
Two states in particular stand out for skiing in the USA, Colorado and Wyoming, with Colorado having world-class resorts such as Vail and Aspen. Don't rule out other options, though, like the so-called desert states like Utah, where Salt Lake City has been a venue for the Winter Olympics.
5) Rafting
The canyonlands of Utah and Arizona's Grand Canyon provide spectacular white water rafting opportunities that can be booked through companies such as Tourdust.
6) Sailing
The USA's national parks don't just mean the likes of Yellowstone and the Grand Canyon. One of the lesser-known ones is the Dry Tortugas National Park, off Florida, which is only accessible by seaplane or boat.
7) Cycling
The United States is criss-crossed with cycle paths and networks, and many of its biggest cities are very bike-friendly, much more so than in the UK. You can book bike tours with a specialist company like Bicycle Adventures, from New York to Hawaii.
8) Volunteering
Volunteering is also a good way to get active and also see the States in a more intimate way. Hands Up Holidays, for example, can fix it for you to help with renovating homes in New Orleans, or working in a soup kitchen in New York, while TravelEyes lets you be the sighted helper for a blind person on a trip to Texas, amongst other destinations.
9) Rent a Harley
Driving somewhere like Route 66 or the Pacific Coast Highway on a Harley Davidson? Say no more. Find more details.
10) Family adventure holidays
When it comes to activity holidays the USA is very family-oriented and companies including Tourdust and American Sky can offer such excitements as a rock-climbing course in Yosemite or hiking and camping in some of the western National Parks.