Recommended tour operator: Prestige Holidays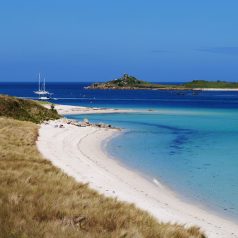 Prestige Holidays says
Discover the unique charm and unspoilt beauty of the Isles of Scilly, just off the Cornish coast. Whether you stay on St Mary's, St Martin's, Bryher, St Agnes or Tresco, this is a place where you will recapture childhood memories, discovering countless beaches and rock pools teeming with life.
Stunning beaches
Stylish hotels
Pristine seas
You can explore the islands by boat, hike some of the many walks and nature trails, discover sub-tropical gardens, and snorkel, even dive, in the pristine waters.
From a short break to a longer holiday, we will arrange all your travel as well as hotel accommodation in a choice of hotels and islands, with the financial security of a fully-bonded tour operator.
The 101 Holidays editors have a couple of favourite places to stay, both of which have a beach resort vibe – the ever-popular Hell Bay Hotel on Bryher, with its New England style, and the luxurious Sea Garden Cottages on Tresco, which can be booked on a self-catering, B&B or half-board basis.
The New Inn on Tresco is a great option if you want somewhere low-key, with its cosy 'restaurant with rooms' atmosphere. The Atlantic on St Mary's has a similarly informal vibe.
For somewhere oozing romance, head to the Star Castle Hotel on St Mary's. This historic castle dates back to 1593 and, as the name suggests, is in the form of an eight pointed star. The views are as stunning as the hospitality.
If you prefer to stay in a guest house, our top picks are Crebinick House, with its warm welcome and great location close to Hugh Town on St Mary's, and The Wheelhouse, a gorgeous beachfront guesthouse that feels like a home from home.
We can also arrange an island-hopping holiday, combining stays on two or more islands.
The Isles of Scilly are just a short flight or ferry ride from mainland UK – check the latest travel information here.
See more about our holidays in the Isles of Scilly.
Copyright © 2022, 101 Holidays Ltd