Recommended company: The Landmark Trust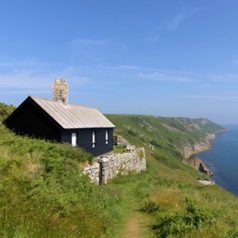 The Landmark Trust says
Lundy Island is an unspoilt treasure, just three miles long by half a mile wide. If you relish remoteness, tranquility, fresh air, a choice of outdoor activities and wildlife, then Lundy fits the bill.
Isolated location
Experience nature
Unique places to stay
Above all, you will stay in truly unique accommodation. There are 24 Landmarks on Lundy, sleeping from one to 14 people, including a 13th century castle, a fisherman's chalet, a lighthouse, a converted pigsty and a late Regency house. There's also a campsite with capacity for up to 40 people.
The Landmark Trust is a charity that restores historic buildings and then lets them for self-catering holidays. There are around 190 Landmarks, mostly in the UK. You can stay in a castle, a fort, a tower, a romantic folly and even a pineapple or a pigsty, whilst at the same time contributing towards the building's future care.
No two Landmarks are the same, but all share a traditional live-in feel and each surprises and delights in a different way. The furniture, books and pictures are carefully chosen to add to the experience, and each comes with a well-equipped kitchen.
Travel to Lundy Island from North Devon (Bideford and Ilfracombe) on board the charming MS Oldenburg ferry during the summer months or by helicopter from Hartland Point from November to March.
Find out more about Landmark Trust breaks on Lundy Island.
Read our Covid-19 statement.
Copyright © 2022, 101 Holidays Ltd