Recommended cruise company: Star Clippers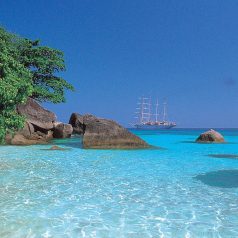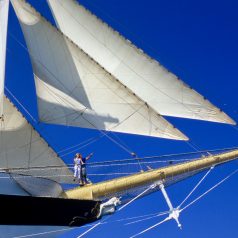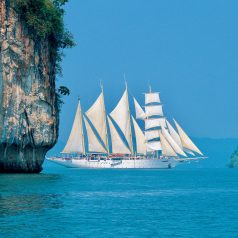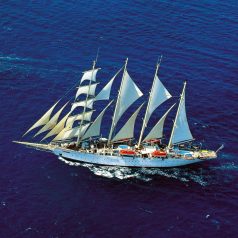 Star Clippers says
Enjoy the thrill of cruising beneath billowing sails, relaxing on teak decks, enjoying good food and excellent service on board one of our three magnificent, historically styled, fully-crewed tall ships.
Choice of voyages
Relaxed and informal
Visit small ports
You'll visit ports, villages, beaches, islands and harbours often inaccessible to larger vessels, while enjoying the exhilaration, excitement and independence of being on board one of the most head-turning ships at sea.
Make new friends or enjoy a sundowner in the Tropical Bar, enjoy superb meals served three times daily in our excellent restaurants, a beach barbecue or weekly deck-top lunch. Take part in complimentary water sports, climb the rigging, learn about the history and daily life of the historic clippers during Captain's story time, or chill out on deck with a book and a drink beneath the towering masts.
Relax above the waves in the bowsprit net, take a dip in one of the deck top pools, try early morning dolphin watching, or star gazing on the upper decks, and each day go ashore to discover new destinations under your own steam, or take part in an optional excursion.
Star Clippers' unique tall ships sail the Caribbean, Mediterranean, Indonesia, Thailand and Malaysia, with each itinerary offering a wealth of lifelong memories. Discover exotic Bali, or the beautiful Caribbean and Asian islands and beaches, cruise past Venice, immerse yourself in the culture of the Greek islands, or the glamour of the Italian coastline and French Riviera.
Choose from the elegant four-masted  Star Clipper and her sister ship Star Flyer, or the flagship five-masted Royal Clipper.
Whichever ship or itinerary you choose, there's little to beat the romance of leaving port at sunset as the sails are unfurled to the evocative music of Vangelis' 1492 Conquest of Paradise.
Sailings range from just a few days, seven and 14 day itineraries to the tranquillity of a longer transatlantic sailing with just the wind, the waves and the beautiful clippers.
Click here for our special packages and more about tall ship sailing.
Note: All the travel companies featured on this site are personally recommended by our editors. Companies pay us a flat annual fee, which funds the upkeep of our site, so we can keep it current and reliable. See more about how we work.
Copyright © 2022, 101 Holidays Ltd