Leading travel writers reveal their favourite holiday spots
* Winners include France, New York, London, Australia
* Most popular beaches are in Thailand, Cornwall and Norfolk

By Mark Hodson, Editor of 101 Holidays
They are the people who inspire our holiday decisions, but what are the places that Britain's leading travel writers and editors really love the most?
We have conducted the biggest ever survey of the UK's travel journalists to find their favourite cities, countries, beach resorts and airlines. We asked them where they would go if they could have a free airline ticket anywhere in the world, and where they would travel if they paid for their own holiday. And we asked them which destination they would never want to visit again.
More than 100 writers and editors took part in the survey, including many of the UK's most experienced and influential travel journalists from Simon Calder of the Independent to celebrity travel writer Ben Fogle, plus travel editors at publications such as the Mail on Sunday, The Sunday Times, The Telegraph, Tatler, Lonely Planet, The Daily Mirror and Wanderlust Magazine.
We asked each journalist how many years they had spent as a travel writer or editor. The average was 16 years. The total was 1,769 years. (Scroll down to see the full line-up of journalists who took part.)
What is your favourite country?
First we asked the question that every travel journalist finds most difficult to answer: What is your favourite country? France (pictured above) topped the poll, closely followed by India, with two other European countries – Italy and Spain – in the top 10. The UK appears at number 7 behind the USA, Thailand and South Africa. Perhaps surprisingly, there was no room amongst the winners for either Greece or Turkey.
1. France
2. India
3. Italy
4. USA
5. Thailand
6. South Africa
7. UK
8. Spain
9. Japan
10. Australia
Also mentioned…
Countries that scored a single vote included Bangladesh, Papua New Guinea, Namibia, Rwanda, Malawi and Zambia. Countries with two votes included New Zealand, Turkey, Switzerland, Nepal, Madagascar, Laos, Jordan and Greece. Canada got three.
What is your favourite city?
New York was a clear winner in the favourite city category, followed by London and Paris. Long haul favourites such as Sydney, Hong Kong and San Francisco proved more popular than popular European cities such as Barcelona, Madrid or Rome, none of which made it into the top 10.
1. New York
2. London
3. Paris
4. Venice
5. San Francisco
6. Sydney
7. Istanbul
8. Hong Kong
9. Amsterdam
10. Berlin
Also mentioned…
Cape Town just missed out at number 11. Meanwhile, cities that picked up a single vote included Turin, Seville, Salzburg, Bath, Mumbai, Ljubljana, Hamburg, Durham, Kyoto, Jerusalem and Budapest. One journalist voted for Angkor in Cambodia saying: "I'm not a fan of modern cities."
What is your favourite beach resort?
This category turned up the greatest diversity of results with many resorts around the world getting only a single vote. We've limited the results to five, each of which got at least three votes.
1. Krabi, Thailand (pictured above)
2. San Sebastian, Spain
3. Jakes, Treasure Beach, Jamaica
4. Carlisle Bay, Antigua
5. Huvafen Fushi, Maldives
Also mentioned…
As you might expect from a group of well-travelled connoisseurs, not many of the beaches nominated are the sort featured in package holiday brochures. In fact, obscure and secret seemed to be the themes. Some of the many beaches that picked up a single vote included La Digue in the Seychelles, Thong Noi Pan Yai on Thailand's Koh Phangan, Cabo Polonio in Uruguay, Canouan in the Grenadines, Koh Rong Samloen in Cambodia, Boipeba in Brazil and Cape McClear on Lake Malawi.
Countries with the most 'best beach' votes
Because of the diversity of results in the "favourite beach resort" category, we thought it would be interesting to find out which countries had the most votes. So we bundled them up by country. Thailand (pictured above) was the runaway winner here, followed by the USA and Spain (including the Balaeric Islands and Canary Islands). Greece finally made an appearance although the surprise was seeing the British Virgin Islands coming so high, above the Maldives, France and Australia.
1. Thailand
2. USA
3. Spain
4. Greece
5. British Virgin Islands
6. Maldives
7. France
8. Australia
9. Antigua
10. Jamaica
Why the USA?
Although the USA is not widely viewed by Brits as a beach destination, it has a long diverse coastline, (not to mention Hawaii). US beaches that picked up votes included Siesta Key in Sarasota, Haleiwa in Hawaii, Cape May in New Jersey, Cannon Beach in Oregon, and Santa Monica and Big Sur in California.
What is your favourite beach in the UK?
It was the wide open beach and rolling sand dunes of Holkham (pictured above) on the North Norfolk coast that was voted number one beach in the UK, though beautiful unspoilt Rhossili on the Gower Peninsular came in a very close second. Brighton may not have the prettiest beach in Britain, but it still managed to get into third place. Two beaches in Scotland made the top 10.
1. Holkham, Norfolk
2. Rhossili, Gower, South Wales
3. Brighton, Sussex
4. Watergate Bay, Cornwall
5. Bamburgh, Northumberland
6. Chesil Beach, Dorset
7. Luskentyre, Isle of Harris
8. Bantham, Devon
9. Camber Sands, Sussex
10. Sandwood Bay, Caithness and Sutherland
Also mentioned…
Some of the more left-field choices that picked up a single vote include Frinton in Essex, Southport on Merseyside and Skegness in Lincolnshire.
UK regions with the most 'best beach' votes

Again, we bundled together the results of the "Favourite beach in the UK" question to find where they were distributed around the country. The largest number were in Cornwall (pictured above), followed by Wales and Scotland. More than half of the votes for Norfolk were accounted for by Holkham.
1. Cornwall
2. Wales
3. Scotland
4. Norfolk
5. Sussex
6. Dorset
7. Devon
8. Northumberland
9. Kent
10. Northern Ireland
What is your favourite UK travel destination?
We deliberately left this question open: the answer could be a city, a stretch of coastline or countryside or one of the UK's many islands. The capital cities of London and Edinburgh topped the poll, suggesting that travel journalists are urbanites at heart. However, if the cities were removed, the Hebrides would be crowned favourite UK destination. In fact, Scotland scored very highly in this category with 28% of all the votes going north of the border.
1. London
2. Edinburgh
3. Hebrides
4. Lake District
5. Cornwall
6. Bath
7. New Forest
8. Yorkshire Dales
9. Snowdonia
10. Isles of Scilly
Also mentioned…
There was a lot of agreement in this category with only a few "outliers". These included Liverpool, Bournemouth, the Brecon Beacons, Glasgow, Oxford and Birmingham, which each picked up a single vote.
If you could fly anywhere (for free) in 2014, where would you go?
You may think travel journalists fly everywhere for free, but travelling on assignment is very different to free time spent alone or with family. Given a free air ticket anywhere in the world, it's no surprise that many would head for a long-haul destination. Australia pipped 2014 World Cup hosts Brazil to the number one spot by a single vote. Also amongst the winners were "hot" destinations such as Burma, Bhutan and Chile.
1. Australia
2. Brazil
3. USA
4. New Zealand
5. Argentina
6. Japan
7. Antarctica
8. Bhutan
9. Burma
10. Chile
Also mentioned…
Several destinations just missed out on the top 10. These were China, Bali, Cambodia, Colombia, Ethiopia, the Galapagos, Iran, Madagascar and Vietnam. Only a single journalist chose a short-haul destination: that was Iceland.
If you had to pay for one proper holiday in 2014, where would you go?
It's when travel journalists put their hands in their pockets and pay for a holiday that you know which destinations they really like. Although France was voted their favourite country, it was the USA that topped this poll. Italy was a close third behind France. Although the airfare to Thailand, Cambodia and Brazil may be high, many travel writers know the secret spots where prices on the ground for food and accommodation are cheap.
1. USA
2. France
3. Italy
4. Scotland
5. Spain
6. Cambodia
7. Brazil
8. Greece
9. Thailand
10. England
Also mentioned…
One of the most interesting things about these answers was how many journalists said they would opt for an activity holiday. Rather than stay in a city or beach resort, many said they would go hiking, mountain biking, windsurfing, kayaking, skiing or trekking. Rather than sleep in a hotel, many would choose camping or rent a remote cottage. Several said they would rent a car and drive across America. One comment that summed up the mood of many was: "I would take the train to Switzerland, rent a lake house by Lugano and do nothing except chug back and forth across the water, hike in the mountains and read." Another said: "I'd hire a house for a big group of friends in the South of France."
What one destination would you never return to?
This was a question that most divided our journalists. One in four (24%) declined to answer, with the most frequent comment being, "Never say never." Others replied, "I'd go back anywhere (it's my job)", and "I will go back anywhere to give it another chance. A bad experience comes from inside yourself." Only three destinations had sufficient votes to stand out in this category: Las Vegas, Qatar and Dubai. It seems that travel writers favour history and authenticity over glitzy "nouveau riche" resorts.
1. Las Vegas
2. Qatar
3. Dubai
Also mentioned…
Some patterns did emerge amongst the destinations that our travel writers would rather never see again. A rash of over-developed beach resorts were named, including Pattaya in Thailand, the Gold Coast of Australia, Benidorm in Spain and Acapulco in Mexico. Other places that got a single vote included Gibraltar, the Isle of Man and Bahrain. One writer said she would not return to the USA, explaining, "I've encountered so much unpleasantness with Homeland Security."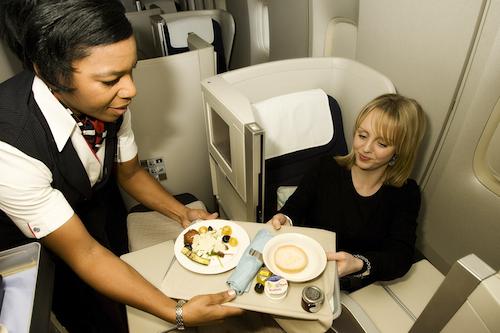 What is your favourite airline?
This vote was a close run thing between British Airways and Virgin Atlantic – between them they accounted for 42% of all the votes. Interestingly, Easyjet and Ryanair both made the top 10, presumably on the basis of value, reliability and choice of routes, rather than inflight comfort (though Monarch and FlyBe were absent). And while the Gulf states turn off many travel journalists, their airlines – Emirates, Qatar Airways and Etihad – are consistent favourites.
1. British Airways
2. Virgin Atlantic
3. Singapore Airlines
4. Emirates
5. Swiss
6. Qatar Airways
7. Easyjet
8. Cathay Pacific
9. Etihad Airways
10. Ryanair
Also mentioned…
Although the big airlines get the most attention, many of our well-travelled writers have fond memories of small carriers, which are often able to provide excellent service and low fares. Those mentioned included Scotland's Loganair, Nok Air in Thailand, the small short-haul specialist Cityjet, the Swiss-based Darwin Airline, Air Turks and Caicos and the now-defunct Lauda Air.
Who we asked
The following travel writers and editors were interviewed during December 2013: Simon Calder (Travel Correspondent, The Independent), Francisca Kellett (Travel Editor, Tatler), Ben Fogle, Peter Hughes, Frank Barrett (Travel Editor, The Mail on Sunday), Rob Ryan, Ian Belcher, David Wickers, Nigel Tisdall (Travel Editor, Marie Claire), James Ellis, Sara Macefield, Amanda Morison, Michael Kerr (Deputy Travel Editor, The Daily Telegraph), Jeremy Lazell, David Whitley, Amanda Statham (Travel Editor, Cosmopolitan), Lee Cobaj, William Gray, Phoebe Smith (Editor, Wanderlust Magazine), Matthew Teller, Tom Hall, (Editor, LonelyPlanet.com), Nikki Bayley, Olivia Greenway, Nigel Thompson (Travel Editor, Daily Mirror), Annie Bennett, Andy Jarosz, Adrian Bridge (Travel Production Editor, Telegraph Media Group), Louise Roddon, Jeremy Head, Annabelle Thorpe, Jini Reddy, Antonia Windsor, Will Hide, Martin Symington, Matt Hampton (Deputy Travel Editor, The Sun), Chris Leadbeater, Rob Freeman, Glen Mutel (Editor, Abta Magazine), Emma Gregg, Patricia Harbord, Roger Bray, Doug McKinlay, Nick Redmayne, Caroline Eden, Sean Newsom, Jolyon Attwooll (Deputy Digital Travel Editor, The Telegraph), Vicky Baker, Gary Noakes, Helen Ochyra, Mary Novakovich, Abigail King, Dea Birkett, Gilly Pickup, Kate O'Donnell, Nick Boulos, Nick Redman (Deputy Editor, The Sunday Times Travel Magazine), David Atkinson, Max Wooldridge, Belinda Archer, Paul Oswell, Cathy Winston, Norman Miller, Abi Butcher, Mike Gerrard, Sally Gray, Marcus Waring, Donna Dailey, Juliet Dennis (Chief Reporter, Travel Weekly), Daniel Elkan, Joan Scales, Jane Anderson, Jeremy Skidmore, Tom Otley (Editorial Director, Business Traveller Magazine), Chris Haslam, Nicola Iseard, Sarah Turner (Deputy Travel Editor, The Mirror), Melissa Shales, Minty Clinch, Sue Bryant (Editor, Journeys Magazine), Jane Dunford, Helen Warwick (Deputy Editor, National Geographic Traveller), John Malathronas, York Membery, Alex Gorton, Meera Dattani, Alessia Horwich (Digital Travel Editor, The Sunday Times), Ben Clatworthy, Jack Barker, Andrew Eames, Caroline Sylger Jones, Helen Truszkowski, Simon Veness, April Hutchinson (Editor, TTG Luxury), Juliet Rix, Kate Leahy (Travel Journalist, The Sunday Times), Tracey Davies, Steve Vickers, Pete Bell (Deputy Travel Editor, The Sun), Andrew Sanger, Victoria Trott, Gary Buchanan, Clive Tully, Maxine Sheppard, Sarah Barrell (Associate Editor, National Geographic Traveller), Sue Ryan, Sarah Lee, Carmen Roberts, Kieran Meeke, Jill Starley-Grainger, (Commissioning Editor, Sunday Times Travel Magazine), Annabelle Thorpe, Mark Hodson, Leo Bear.
* Photo credits: Porthcurno beach, Cornwall, by Paul Watts; Porthleven Harbour, Cornwall, by Matt Jessop; Australia by Tourism Australia.