Singles holidays in Greece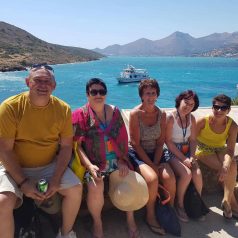 By Emma Critchley
The rich culture, warm weather and diverse landscapes of Greece make it an excellent destination for a wide range of solo holidays. You could hop on ferries between islands, explore ancient sites or just laze on a sandy beach and eat meals at the local taverna.
Island escapes
If you want to enjoy a relaxing beach holiday in the company of like-minded solo travellers, Solos Holidays offers a range of Greek resort holidays, all based in charming family-run hotels. They have also introduced ClubSolos hotels in Corfu, Crete, Zakynthos and Santorini. The hotels are exclusive to Solos Holidays, each chosen for its tranquil location with local bars, restaurants and attractions an easy stroll away.
The Mistral Hotel in Crete is also exclusive to solo travellers. There's a wide age range from 20-somethings to 70-plus, with activities, two pools, a nearby beach and the chance to be as sociable as you want.
Walking holidays
Whether you're a novice or a seasoned hiker, a walking holiday is a naturally sociable way to soak up some of Greece's most spectacular sights.
Solos Holidays offers a choice of guided walking holidays in Greece for solo travellers, including tours in Kefalonia and Crete. There are no single supplements on any of their holidays and you will generally stay in a double or twin room for solo occupancy. Breakfast and dinner are always included, as are some other meals, drinks and excursions. The holidays are open to all ages, and each is graded according to the level of difficulty from easy to medium, so you can pick the perfect pace for you.
Archaeology holidays
Greece has a rich history and boasts a wealth of archeological sights. Peter Sommer Travels offers a number of archaeological tours in Greece. On all escorted tours, expert guides are on hand to bring the amazing archaeological sites to life.
Its Greek Easter tour is based in a five-star hotel in the heart of Athens, combining all the excitement of traditional Greek Easter festivities with an insight into Ancient Greece.
Creative writing holidays
Draw inspiration from Homer and Aristotle on a creative writing holiday on the gorgeous Greek island of Skyros.
Skyros Holidays offers fun group holidays with expert guidance and creativity at the heart of the experience. Popular with 40-70 year olds, its creative writing holidays at The Skyros Centre have earned a reputation for their excellence. Courses are available for complete novices to accomplished writers who want to hone their skills. The idyllic setting, inspiring tutors and prestigious guest speakers help you to reach your maximum creativity.
A typical day on the Writers' Lab includes an optional early morning yoga session, a three hour mid-morning class and optional activities in the afternoons. Breakfast and lunch are included in the price, leaving everyone free to explore the local tavernas for dinner each evening.
Cruises
Go Greek island hopping on a European cruise with Norwegian Cruise Line.
Norwegian Cruise Line's 'freestyle' cruise options aim to make cruise holidays informal and fun. Onboard facilities include an ice bar, ultra-modern spa and climbing wall. Solo travellers even get their own exclusive section on the Norwegian Epic. There's no single supplement and you can enjoy access to the exclusive Studio Lounge where you can meet fellow single cruisers over coffee or cocktails. The relaxed and informal on-board atmosphere means it's easy to make new friends and you can get involved in fun activities from wine tasting to art auctions.
Over 50s tours
Saga Holidays offers a range of singles holidays exclusively for over-50s. On its Taste of the Greek Islands tour, you'll spend time in Santorini, Paros, Mykonos, Delos and Naxos – a breathtaking island-hopping fortnight staying in three charming and characterful small hotels.
Last updated: 7 April 2022