Recommended tour operator: Inspiring Travel Company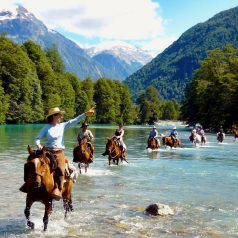 Inspiring Travel Company says
Ranch holidays in North America are hugely popular with solo travellers, both singles and people who want to pursue their own particular love for horse riding while their partner either stays at home or follows their own interest elsewhere.
all levels of experience
luxury ranch resorts
stay on a working ranch
We offer a choice of around 25 ranches in seven states across the USA and in Canada.
Options vary from luxurious resort ranches with a host of activities and amenities to small working ranches where you literally become one of the ranch hands – and you can do as much or as little riding as you wish.
Our specialist team will help you find the right ranch to match your interests, riding experience – and one with a solo-friendly vibe. Here are some of our favourites for solo travellers.
For experienced, confident riders with a sense of adventure, Silver Spur Ranch in Idaho is ideal. Operating between May and September, you'll enjoy a proper horse drive experience with the first night in the main ranch and then you sleep out in tents or your swag under the stars – and never will bathing in warm natural spring water feel so wonderful than at the end of a hard day's cattle driving! There's no single supplement.
White Stallion Ranch is a guest ranch in the Tucson Mountains, open year-round. It is popular amongst solo travellers (as well as families and couples) who are looking for a touch of comfort. All levels of experience are catered for and there's a sociable atmosphere, swimming pool and 40% discount off the twin-share price for solo occupancy.
A number of ranches offer a Cowgirls week for women only, whether travelling with other female friends or solo. In the Rocky Mountains of Montana, the Relais & Chateaux Triple Creek is arguably the most luxurious of all the ranches. Each year, it runs a Klicks for Chicks week with specific rides for women only and a charity beneficiary.
Depending on which ranch you choose, other activities can include archery, hiking, mountain biking and white water rafting.
Some ranches are more geared towards families, making a ranch holiday a fantastic option for single parents with horse-mad kids. Western Pleasure Ranch, for example, has lots of activities available on and off-site such as rafting, river boats and a full programme for ages 8 years and over, so Mum or Dad can enjoy riding while the kids are entertained by the ranch hands.
Ranches in Colorado, Montana and Wyoming are generally open to guests between spring and autumn whilst Arizona operates year round (although it is often too hot to ride out in the summer in Arizona).
Check out our full range of ranch holidays.
Note: All the travel companies featured on this site are personally recommended by our editors. Companies pay us a flat annual fee, which funds the upkeep of our site, so we can keep it current and reliable. See more about how we work.
Copyright © 2022, 101 Holidays Ltd