Singles holidays in October

By Cathy Winston
As autumn starts in earnest in the UK, October is a great month to plan a solo holiday and escape the dark nights. Shoulder season prices mean you can still pick up some great sunshine deals across warmer parts of Europe, while this month also marks the start of good weather in some long-haul destinations.
Plus there are walking holidays, chances to learn a new skill and a hefty dose of culture on offer this month too in some of the best holidays for singles in October.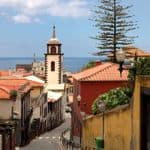 Quick links
Beach – Escorted tours – Walking and activity holidays – Learning – Cultural holidays
Beach holidays for singles in October
There's still plenty of sunshine and warm temperatures to be found in Europe during October, with average flying times of around 4 hours. The singles specialist, Travel One, also runs a very popular annual Autumn House Party at the Perla Marina Hotel on the beach in the Spanish resort of Nerja.
And you'll get sunshine in Cyprus too along with a string of hotels with no single supplement to choose from. Or consider Malta with its own history and beaches, plus some great diving even into the autumn.
There are tropical options too. October is one of the driest months to visit Mauritius before the humidity of the winter, perfect for some Indian Ocean sunshine.
Towards the end of its rainy season, the Dominican Republic should still have plenty of sunbathing weather too and much lower prices than other times of year in the Caribbean, as well as no single supplement on selected dates at Breathless Punta Cana with Tropical Sky. The resort's app, which helps you meet fellow guests, along with communal dining at four of the 11 restaurants are ideal if you're looking to gain new friends as well as a tan, while there's also scuba diving, watersports and classes including mixology.
The Maldives is best known for honeymooners, but you'll be very happy in your own company at the gorgeous four-star Bandos Island Resort which has no single supplements between 1 May and 31 October if you book with Barefoot Traveller.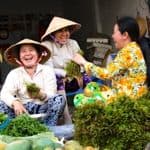 Escorted tours for solo travellers
You'll find a great choice of escorted tours to Asia, Europe and South America for solo travellers, as well as trips to take you right off the beaten track. Head to Thailand on this 10-day tour and you can experience the Yi Peng Lantern Festival in Chiang Mai, with no compulsory single supplement. See more tours in Thailand suitable for solo travellers.
October is one of the best months to visit Vietnam if you're hoping to see the whole country. A high proportion of those on small group tours run by Southeast Asia specialists InsideAsia Tours are travelling solo. Its Highlights of Vietnam tour is a great introduction to the country, its culture and cuisine, taking in the main cities, and the key sights along the way.
In Africa, Solo Travellers recommends this 11-night small group tour of Ethiopia where trip highlights include The Blue Nile Falls, Addis Adaba and the Simien Mountains. And in Egypt you can join a group tour that includes a chance to experience the King Ramses Sun Festival at Abu Simbel.
Cox & Kings also has trips exclusively for solo travellers, including the Splendours of South Africa to discover the wildlife and the highlights of Cape Town. With expert guides and no single supplements, it's a great choice for over-50s too.
Or look west to Peru and Bolivia, with around 40% of those on the Condor tour from Journey Latin America travelling alone. From the Amazon to Machu Picchu, as well as Lima, Lake Titicaca and La Paz, to name just a few stops, I can't think of many better ways to spend three weeks.
And in north America, American Sky has a great range of solo holidays in the USA including Autumn Colours, a grand coach tour of New England where you'll see spectacular displays as autumn leaves. Many of its guests travel solo and there's a room-share option.
You needn't travel long-haul to find a great tour for singles though. For the over-50s, Saga Travel has a great selection of escorted tours. You could take a river cruise along the Douro in Portugal, explore the majestic cities of Andalucia including Granada, Seville and Cordoba, or go island hopping in the Greek Islands where you'll spend time in Santorini, Paros, Mykonos, Delos and Naxos.
For a more unusual but exciting opportunity for single travellers, Traveleyes runs holidays for blind people, and needs sighted companions to help with guiding and describing the sights. In return, you get a hefty discount on the price of the trip. See the full range of holidays which includes walking in Italy and the Lake District, touring Sri Lanka and Jordan, and exploring Athens and Budapest.
If tour groups, however friendly, aren't for you then how about a solo escorted tour? Barefoot Traveller has created a special 13-night trip of Sri Lanka specifically for solo travellers with your own guide and chauffeur, as you explore the Indian Ocean island. From the ancient sites of Sigiriya and Polonnaruwa to the beaches of Trincomalee and Galle, plus tea plantations and temples, October is one of the best months to find reasonable weather across the whole country, between its two monsoons.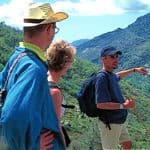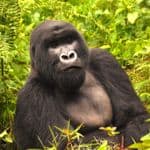 Walking and activity holidays
While the weather in the UK might not always lend itself to enjoying the great outdoors this month, you needn't travel far to find a walking break with a better forecast. Check out the walking tours from Solos Holidays, which deals exclusively with solo travellers and charges no single supplements. In October you can enjoy some Mediterranean sun in Menorca or Turkey, as well as journeys to Cuba and Bali, and weekend trips in England and Scotland.
Explore has some wonderful small group tours in Portugal which always attract a high proportion of solo travellers. In October you could join a week-long cycling holiday from Lisbon to the Algarve via the beautiful Alentejo region. Or the best-selling Highlights of Portugal tour.
For a hike with a difference, a trip to see mountain gorillas in Rwanda  is a big tick off the bucket list. I recommend Rainbow Tours for solo travellers. And there's no reason you can't consider a classic safari if you're travelling solo with these overland tours. Combine the two with a Rwanda to Masai Mara tour or consider a safari and beach option mixing the Serengeti and Zanzibar.
Cyclists are spoiled for choice as well, whether you fancy the deserts of Morocco, a taste of Cuba's fascinating scenery and culture or a chance to cycle the mountains and coast of Vietnam, with the bike tours from Saddle Skedaddle.
And keen golfers need only look to Portugal. The Algarve is one of Europe's best destinations for a golf holidays and these tours are exclusively for singles, staying at the luxurious Le Meridien Penina or CampoReal.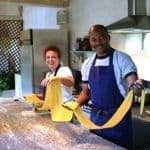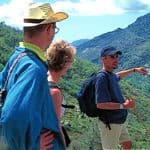 Learning holidays for singles
Learning a new skill can be a great way to get to know new people, and immerse yourself in a foreign culture. You could learn flamenco dancing and guitar in the mountains of Spain, at converted farmhouse Cortijo Romero where the choice of courses also includes personal development, yoga and tai chi. It charges only small single supplements.
Skyros promises a house-party atmosphere at its personal development holidays across Europe and in the UK, including Greece and the Isle of Wight.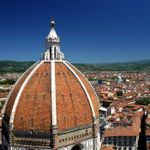 Cultural holidays
Indulge your love of art, architecture, literature and music with one of the themed tours from Martin Randall. While there are UK options almost year-round, it's tempting to swap home for the delights of Italy with an opera break or a chance to discover more about Renaissance art.
For a slightly more affordable option, check out The Cultural Holiday Company, which has a range of group tours themed around art, architecture, archaeology, history and music with lively talks, group dinners and free time to explore at leisure.
There's more music and art in Italy from Kirker Holidays too, whether you fancy exploring the great cities of the north, the history of Sicily in the south or the ever beautiful eternal city of Rome.
Or explore some more of Europe's history, including its darker chapters, on a weekend break exploring Krakow in Poland with Solo Travellers, which specialises in group tours for singles.
If you want to combine great weather with history and culture, visit Egypt or Turkey. Take a classic Nile cruise on a felucca with the King Tutankhamen tour, sailing between Luxor and Aswan, visiting timeless sites such as the Valley of the Kings and Karnak with a chance to see the colossal temple at Abu Simbel. If you prefer luxury to tradition, there's the chance to upgrade to a five-star cruise boat instead.
In Turkey you could explore the Aegean coastline on a traditional gulet on an archaeological holiday or visit the land of the Hittites on a walking holiday through the fantastical landscape of Cappadocia. With expert guides to bring the landscape to life, Peter Sommer Travels tours are invariably popular with singles.
Last updated: 5 October 2017