Recommended company: European Waterways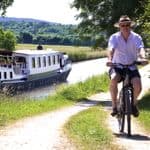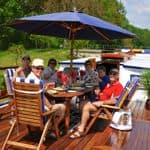 European Waterways says
We are Europe's largest luxury hotel barging company. With our own fleet of 17 luxury vessels, our six-night luxury cruises are renowned for providing high quality barging holidays to discerning travellers in search of a truly unique experience.
house party atmosphere
no single supplement on selected dates
popular with solos
If you are travelling solo, the "floating house party" atmosphere on board is ideal, with all guests – like-minded couples, small groups of friends and singles – eating around the same table and joining in the excursions together.
Our attentive crew is on hand throughout to make sure nobody is left out.
Our hotel barges accommodate between 6 and 20 passengers with comfortable accommodation in spacious en suite cabins (air-conditioned) as well as gourmet meals, fine wines, an open bar, excursions and transfers – all included in the price. Bicycles are provided and, on most hotel barges, you'll find a spa pool on deck.
France is at the heart of our business with hotel barge holidays in Burgundy, the Canal du Midi, Alsace-Lorraine, Bordeaux, Gascony, Champagne, and the Loire Valley.
You may even be familiar with two of our hotel barges – Anjodi and Rosa achieved fame following their appearances during Rick Stein's TV series, French Odyssey.
Other destinations include England, Ireland, Scotland, Italy, Holland, Belgium, Germany and Luxembourg.
On certain dates, we offer special interest cruises such as wine appreciation, antiques, flower shows and golf.
Check here for our special offers as they frequently include no single supplements on specific dates.
You may also like: