Cruise holidays for singles

By Cathy Winston
Cruising has always been a great option for solo travellers, from small friendly boats to large luxury liners with group excursions and communal dining. The only problem has been a lack of single cabins, and annoyingly high single supplements.
But things are changing, with cruise companies now actively targeting those travelling alone. There are some great options whether you're looking for relaxed or formal, exotic island hopping or laid-back foodie voyages, as well as some fascinating itineraries. Here is my pick of the best cruise holidays for singles.
Informal cruises for singles
Forget the outdated image of the blue rinse brigade at sea. Cruising has worked hard to shrug off that reputation and focus on younger passengers exploring the world. Norwegian Cruise Line's Freestyle cruising means no formal seating at dinner, so you can choose anything from black tie to sushi, alone or with others, as well as activities including wine and martini tasting. Best for solo travellers is Norwegian Epic which has its own singles-only lounge bar, as well as studio staterooms with no single supplement and on-board facilities including an ice bar, state-of-the-art spa and climbing wall.
If you want a small-boat experience with a house party atmosphere, check out these gulet cruises in Greece exclusively for singles.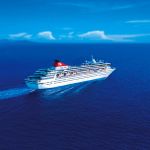 Cruising for over-50s
Traditional cruising has also been updated to make it more appealing for single travellers. One of the most popular choices for older solo travellers is Fred. Olsen cruises, where plenty of thought has gone into how to ensure singles have a great cruise. As well as activities and events exclusively for singles, plus dinner hosts and companions for shore excursions, solo travellers are paired together for dinner or have the option to swap the formal main restaurants for more casual options.
Exclusively for the over-50s, Saga Travel has single cabins on two of its ships, the larger and more contemporary Saga Sapphire and the smaller, more formal Saga Pearl II. Both arrange singles meet-ups on port days if you'd like to explore with others, as well as drinks and lunch parties to meet other solo travellers on board. Ideal for those who don't want to fly, both sail from the UK, with short itineraries or the chance to spend weeks at sea.
Archaeology and history cruises
From Egypt to Turkey and Greece, a cruise can be the perfect way to see some of a country's ancient sites. The classic Nile Cruise is ideal whether, you're an archaeology buff or just fascinated by ancient Egyptian history. Highlights include the Valley of the Kings, Karnak and Luxor.
Or expert guides help bring history to life on the archaeological holidays from Peter Sommer Travels, including tours around Europe on a traditional gulet. Choose island hopping in Greece with cruising to the Cyclades, a food and history Gastronomic Gulet Cruise in Turkey or cruising the Amalfi Coast in Italy.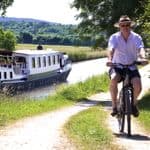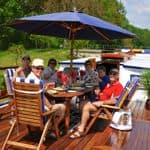 Boutique cruises for solo travellers
If the thought of being surrounded by hundreds of other passengers puts you off cruising but you'd still like a taste of a traditional voyage, boutique cruising is a great first step for singles. The Majestic Line has short cruises around the beautiful coast of western Scotland, including local specialities on the menu, the chance to spot rare wildlife and discover a slice of the country's history. With space for 10 guests, each cruise has two double cabins at no supplement for solo travellers, although it's worth booking them early.
Or head to Europe for a luxury hotel barge holiday with European Waterways. Specialising in trips through France, you can also visit Scotland, England, Ireland, Holland, Belgium, the Venetian lagoon, Germany and Luxembourg. With a maximum of 20 passengers, the focus is on gourmet food and fine wines, as well as a floating house party atmosphere and crew on board to ensure nobody gets left out.
And finally…
With the wind in its sails, a voyage on a tall ship is the ultimate sailing holiday. But the Jubilee Sailing Trust offers solo travellers a tall ships experience that's even more unusual, with the chance to act as a buddy to adults with a range of disabilities on a life-changing voyage. From day sails off England's south coast to voyages around the world, you need enthusiasm rather than experience for these unique and inspiring trips.
Last updated: 25 January 2017