Best singles holidays for meeting people

By Cathy Winston
When you're booking a singles holiday, one of the biggest things people worry about is being alone. However much you enjoy your own company, the thought of a whole trip with no-one to speak to doesn't appeal to many of us.
But nor does the thought of trying to strike up conversation with strangers or being the odd one out in a group of friends or couples.
So while all the holidays on this site are picked to be perfect for solo travellers, if you're looking for sociable singles holidays, there are a few different ways to make new friends while you travel – or meet that someone special – from group tours and house party hotels to resorts with communal dining and activity trips. Read on for details.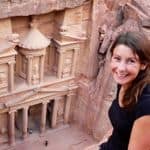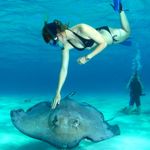 Join a group trip
One of the easiest and most popular ways to meet new people on your travels is to join a group trip. These days you'll find tours aimed at the over-50s as well as the under-30s, small groups or larger tours, and most destinations you can think of.
So before you book, it's worth checking which one is going to suit you best – my six questions to ask are a good starting point as you won't be short of choice.
If you're new to solo travel or to group tours, you needn't commit to weeks away either. You could take a short break to Iceland, for example. Or you can guarantee that everyone will be in a similar position by choosing a singles-only tour, such as Cox & Kings' trips which are exclusively for single travellers, visiting anywhere from Russia to India, Costa Rica and Peru. Friendship Travel has singles-only trips to Cuba.
Saga has some great short-haul singles-only tours exclusively for over-50s, including Spain, the wine regions of Portugal and the Greek Islands, along with long-haul escapes.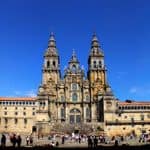 The best group tours are often those run by specialist group tour operators – they use experienced guides and make sure that nobody feels left out.
On the Go Tours are great for those who want a mix of ages and nationalities. See its range of China tours for example. Or choose a country specialist. InsideAsia Tours is my personal recommendation for Burma and Vietnam, while its sister company InsideJapan Tours offers some of the best ways to experience Japan's contrasts.
Tucan Travel says 60% of passengers on its overland tours in Africa arrive alone. These are great value safari holidays in groups of between 12 and 24 people, with the option of same-sex room share. Popular trips include the two-week East Africa Circuit, combining Kenya's Masai Mara with Mountain Gorilla trekking in the Ugandan rainforest.
Then there are once-in-a-lifetime adventures like heading into the world's mountains and deserts on horseback, or a more sedate chance to see the world's spectacular scenery under your own steam on two wheels on a Skedaddle cycling break.
If culture is your focus, try this range of affordable cultural breaks in the UK and Europe with group sizes between 20 and 30 accompanied by an expert speaker.

House parties
Joining a group tour isn't the only way to ensure a ready-made set of travel companions. Instead of an anonymous hotel room, more single-friendly trips are promising a house party atmosphere with whole properties taken over for a holiday, letting you get to know the other guests without any pressure.
Travel One offers house parties for singles at a four-star hotel in Calpe on the Costa Blanca, on the island of Ibiza and in the pretty coastal resort of Nerja in Andalucia, which is the site of its popular annual Autumn Party. For year-round sunshine the company also offers house parties in Lanzarote including a Christmas and New Year celebration.
Singles-only Friendship Travel has house parties in Rhodes as well as gulet cruises around the smaller Greek islands. If you want a bit of culture with your sunshine, Friendship Travel has a stay at the four-star Domina Home Zagarella with several excursions included. Typical age range of guests is 35 to 65. It also has a great range of Christmas and New Year breaks.
Even more fun, try a floating house party on a small cruise – the luxury barge holidays from European Waterways have a maximum of 20 passengers, with everyone eating and exploring together.
Share a room
If a whole hotel full of guests doesn't appeal, there's always the option of sharing a room – something which is usually an option on group tours as well. American Sky, for example, guarantees it for their solo holidays.
But it's also an ideal compromise if you'd rather be free to plan your own days but still fancy a ready-made starting point when you do want to get chatting.
You'll normally find yourself paired up with another single (of the same gender) on a personal development holiday. Cortijo Romero's week-long courses in Spain include mindfulness, tai chi and dance among other options, while destination yoga promises to find someone to share with if you choose.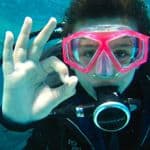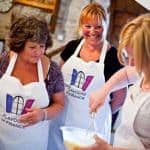 Try an activity trip holiday
An easy way to strike up a new friendship is finding something you've got in common. So with a trip themed around an activity, you're guaranteed to have at least one shared interest with everyone there.
Indulge your hobbies and interests on a cultural tour, such as the classical music breaks from Kirker Holidays, Martin Randall Travel's literature and culture themed tours, archaeological holidays in Turkey, Greece and Italy or expert ancient history trips, from Easter Island to Orkney.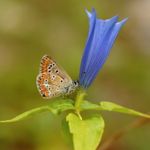 Nature lovers can take their pick from wildlife tours too, whether you fancy a Brown Bear Weekend in Finland, always wanted to explore the cloud forests of Costa Rica or dream of seeing gorillas in the wild in Uganda. How better to bond than over such a magical experience?
Away from dry land, there's whale and dolphin watching in the Azores, which offer some of the best viewing opportunities within easy reach of the UK.
And if an active break is exactly what you do want, there's everything from walking to mountain climbing and most options in between. From walking holidays for women only to treks around the UK and walking holidays worldwide taking you to Europe and the USA, it's easy to find a trip for your level.
Not to mention golf holidays for singles, yoga, skiing, surfing and dance weekends.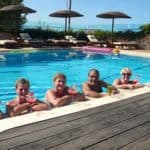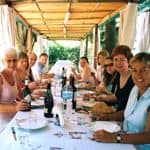 Eating together
One of the biggest things that puts people off solo travel is the thought of eating alone. But whether you want to fly and flop on a beach or explore further, you'll find more communal dining for singles, whatever your travel style. In fact, most group tours will involve dining around a single large table.
It's probably the perfect time to get chatting, as everyone relaxes together and conversation flows, especially if a few drinks are involved. Breathless Punta Cana Resort in the Dominican Republic has communal tables in four of its restaurants, along with a guest chatroom if you'd rather meet online first.
And mealtimes are often at the heart of holiday retreats, whether that's a luxurious spa or a creative writing break in Greece.
They're certainly at the heart of cruising too. Fred. Olsen's cruises pair solo travellers together for dinner while Norwegian Epic's Studio lounge is for singles only so you can get to know fellow cruisers.
Save on your next singles holiday
Last updated: 28 April 2018