Recommended tour operator: Best Served Scandinavia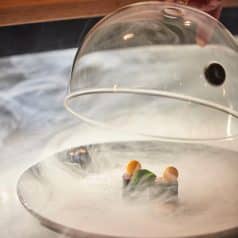 Best Served Scandinavia says
There's something truly magical about Sweden's original ICEHOTEL, newly crafted each year with ever-more whimsical and dramatic designs. Having graced Swedish Lapland's Arctic landscape for more than three decades, a stay here has become something of a rite of passage for anyone seeking a unique experience.
Construction starts at the onset of winter, when the world's greatest ice artists descend on the tiny Arctic town of Jukkasjärvi. With giant blocks of ice harvested from the adjacent Torne River, they create a network of intricately-carved and expertly lit rooms, suites, halls and even a chapel.
The winter hotel opens its doors in December, welcoming guests for a night or two of truly unique experiences. Build up an appetite in the ICEBAR with its ice glasses, fabulous cocktails and cool lighting, enjoy a delicious dinner with the very best fresh, seasonal and locally-sourced produce and then snuggle down in thermal sleeping bags and reindeer pelts for a surprisingly comfy night.
Most guests combine a stay in the ICEHOTEL itself with a few nights in a choice of cosy rustic chalets or contemporary suites nearby, not least so they can enjoy the huge range of optional excursions. There's husky sledding and snowmobiling under the Northern Lights, ice carving courses, dining in the wilderness and the eight-course tasting menu at the Chef's Table at The Veranda– a memorable culinary adventure.
A more recent addition is the adjacent ICEHOTEL 365 which is permanent structure, open year-round. It uses solar power to maintain a combination of ice features – including housing the ICEBAR – and more conventional rooms, even a sauna and underfloor heating. Activities such as white-water rafting ramp up the adrenaline factor.
Find out more about our ICEHOTEL breaks.
ICEHOTEL photo credits: Asaf Kliger. Designers: ICEWOMAN Suite – Linda Vagnelind; ICEBAR – Mathieu Brison and Luc Voisin
Note: All the travel companies featured on this site are personally recommended by our editors. Companies pay us a flat annual fee, which funds the upkeep of our site, so we can keep it current and reliable. See more about how we work.
Copyright © 2022, 101 Holidays Ltd