Gourmet holidays for foodies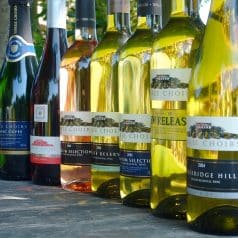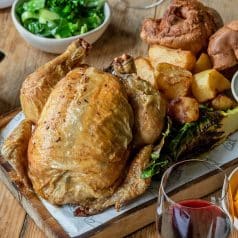 Nothing makes a holiday quite like good food. Whether your taste is for sizzling street snacks, refined Michelin cuisine or hearty British dishes, a short break is a chance to indulge in all those treats that we spend most of the rest of the time trying to deny ourselves. Holidays catering for every kind of foodie have sprung up – from those who want to cook their own supper to those who what to be waited on hand and foot. What's your flavour?
Food at home…
Anyone who still believes that British cuisine is all chips and gravy clearly hasn't ventured far beyond a Wimpy in recent years. Gastropubs, restaurant with rooms and country house hotels all offer exemplary cooking, often using locally sourced, seasonal ingredients.
Stay somewhere with lots of outdoor activities so you can work up an appetite; the Gilpin Hotel in the gorgeous Lake District is a perfect example – hearty walks in the day, sumptuous five-course dinners at night. Or try Pen-Y-Dyffryn on the north Wales border; where the restaurant menu changes every night, according to what produce comes in.
i-escape has complied a guide to its favourite UK hotels for foodies  including the divine seafront Hope Cove House in Kingsbridge, Devon,  The Talbot Malton in North Yorkshire and The Beckford Arms  in Wiltshire, a gorgeous pub with rooms and lodges.
There's a thriving gourmet dining scene on the island of Jersey which also has a fascinating history – you can explore Second World War tunnels, castles, hidden coves and wide open beaches. Stay at the Greenhills Country House Hotel. which has outstanding cuisine.
Food like Mama used to make…
Few countries are more synonymous with good food than Italy – whether its crispy pizza in Naples, fluffily-light gnocchi in . For fantastic street food Rome is hard to beat; munch on suppli  – deep-fried risotto balls – or pizza con la porchetta  – roast pork-filled flatbread – while strolling the historic streets. Take a look at this wonderful three-day Gastro Rome break. Further south, Sorrento makes a great base for exploring along the Amalfi Coast – there are excellent bus connections if you don't want to drive.
In Amalfi, La Caravella (Via Matteo Camera 12) does fantastic seafood. Visit Lake Como and you can eat in a certain Mr Clooney's favourite restaurant; at Il Gatto Nero (Via Monte Santo 69) he has his own table.
Food on the go…
City breaks are a great way to immerse yourself in a country's cuisine.  Spanish cities – and even quiet regions such as Northern Spain – are littered with tapas bars and bodegas, means sightseeing can be punctuated with lots of little stops, rather than one big meal. In Palma, take your pick from dozens of tapas bars in the old town – at Tast (Avinguda del Comte de Sallent 13), dishes are priced according to differently coloured plates. Barcelona is a city where the sky's the limit, in terms of restaurant prices, but the little bodegas in the Barri Gotic (Gothic Quarter) offer authentic, affordable tapas.
In Madrid, sweet-tooth's are catered for on every corner, with churros con chocolate – deep fried doughnut sticks, dipped into thick hot chocolate. Portugal is just as tasty, and even a little cheaper. Hop on a cheap flight to Lisbon for a cool, arty vibe and a thriving foodie culture, staying in one of these boutique hotels.
In Scandinavia, food is lighter but no less delicious; Copenhagen. specialises in smorrebrod – open sandwiches topped with anything from pork rillettes to cured herrings.
Another great time for a foodie city break is December when Christmas markets take over the streets, and spiced lebkuchen, sizzling bratwurst and huge pans of frying potatoes offer the best way to keep warm.
Food and wine…
If a meal isn't quite complete without a glass or two of something tasty, then a wine-tasting holiday – which invariably involves lots of eating too – is the perfect choice. You can find a wine and food holiday everywhere from Burgundy to California.  If you're not a fan of group tours, spend a few days driving round Porto and the Douro Valley, where the vineyard clad hills produce some of Portugal's best wines.
Closer to home, the Three Choirs Vineyards offers wine-tasting breaks, surrounded by 100 acres of rolling Gloucestershire countryside.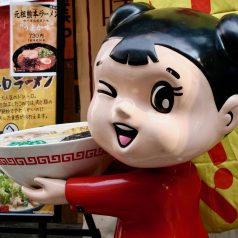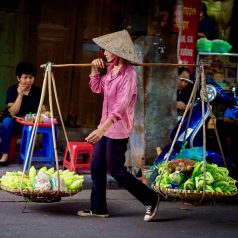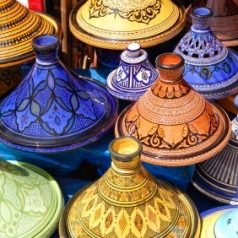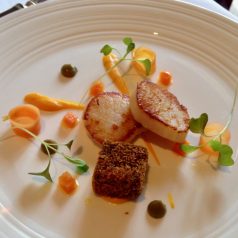 Far-flung food…
One of the joys of long-haul travel is the chance to try really different foods. In Marrakech, head to the Jemaa el Fna – the main square – in the evening and you'll find dozens of food stalls serving up freshly grilled meats, heaps of salad  and other Moroccan street food. For sheer diversity, it's hard to beat Hong Kong, where you can graze on freshly-fried dumplings from a street vendor for lunch, and Michelin-starred cuisine for dinner.
For a truly healthy cuisine, there's nowhere to beat Japan, where fresh sushi and steaming miso soup ooze fresh goodness.
Last updated: 19 May 2022