Best short breaks in autumn
The problem with an autumn short break? Where to go and what to do – the choice is wider than almost any other time of the year.  Mediterranean cities are cooler, making them perfect for an urban weekend, while walkers and cyclists can take advantage of lower temperatures too.  Yet there's still plenty of sunshine to be had, and even the busiest destinations are far quieter than during the school summer holidays.
City breaks don't come much easier than a quick hop across the channel to Belgium, where the streets are magically paved with chocolateries, bars selling literally hundreds of different artisan beers and cheery cafes dolling out huge portions of moules frites.
Head to Bruges for picture-perfect cobbled streets and lazy boat-tours along the canals, or for something more quirky choose Ghent, where the beautiful medieval old town is littered with cosy pubs and restaurants. You can reach many cities in Northern Europe without flying, on a mini-cruise, sailing from a port such as Southampton or Tilbury.
For a serious dose of fine art, culture and great food, head to Madrid which is still warm in autumn after the baking heat of summer.
If you want to be pampered, a trip on the Venice Simplon-Orient Express is a once in a lifetime experience. From London you can go to Venice, Budapest, Verona or Vienna.
And if you want to explore the great outdoors under glorious sunshine, take a look at Madeira which can be reached non-stop from a dozen airports across the UK.
If you're looking to make an early start on the Christmas shopping, Istanbul is a great choice.  The Grand Bazaar is crammed with thousands of stalls selling wonderful ceramics, jewellery and leather goods and there's plenty of sightseeing too, from the tranquil Topkapi Palace to the beautiful Blue Mosque. Or venture further afield, with a few days in the Canadian-French city of Montréal. With the same flying time as New York, it offers fantastic shopping, with both huge designer malls and a charming historic centre, dotted with one-off boutiques.
Autumn can also be the perfect time for a UK break; bird-lovers should head to Norfolk, where the annual migrations sees the sky throb with thousands of birds on their annual journey to warmer climes.  Some of the prettiest cottages, that are invariably fully-booked or only available for weekly rental in summer, can be snapped up at affordable weekend-break prices through October and November.
It's a lovely time of year to hike in the Lake District. Stay at Hassness Country House, a good-value boutique-sized hideaway that offers free daily guided walks.
Or head to the Isle of Wight – fast becoming one of the top foodie destinations in the country – and follow the Wight Taste Trail, which offers the chance to discover some of the island's best food producers.  A great opportunity to stock up on some goodies for Christmas and spend a few days walking some of the 500 miles of trails that criss-cross the island.
The West Country is at its most beautiful in autumn sunshine; Cornish beaches are free of crowds, but for surfers and body-boarders the waves are at their best.  The county is studded with wonderfully romantic cottages that are perfect for couples – or larger houses that are perfect if you're planning a birthday or anniversary weekend.
But if a cottage sounds like too much work, and your ideal break involves someone else doing the cooking and cleaning, book an indulgent weekend at a luxury country house hotel; up in North Wales Pen y Dyffryn offers the unbeatable combination of picturesque walking country and sumptuous dinners to return to after a long day on the hills. Or stay in one of England's prettiest towns, Bishops Castle in Shropshire, where The Castle Hotel offers gastro food, contemporary rooms and a great collection of real ales.
If serious sun is what you're after, there are still plenty of spots in the Mediterranean that are beautifully warm in the autumn months. Head to Sicily for amazing food, beautiful beaches and atmospheric towns that combine spectacular Renaissance, Moorish and Baroque architecture.
Or for something really exotic, consider a few days in Jordan – one of the most peaceful countries in the Middle East region and home to one of the most spectacular ancient sites in the world, the lost city of Petra. Made famous in the Indiana Jones movies, there are few sites as stunning as your first glimpse of the vast facade of the Treasury, hewn out of the pink rock.  Add in the dramatic landscapes of Wadi Rum and luxurious spa resorts on the Red Sea and you've got a truly memorable short break.
If you want a serious dose of culture, check out Martin Randall Travel which runs high-brow tours for small groups across the UK.
Also see my tips for the best city breaks in summer, spring and winter.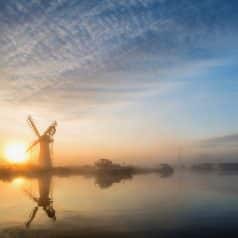 Last updated: 15 December 2021
* Did you know you can save up to 40% on holiday prices? See our latest travel deals and enter your email address below to get updates every fortnight.