Best Christmas and New Year short breaks
Christmas and New Year can be the best time of the year, but it can also be the most stressful, with bickering relatives, endless catering and long Twixmas days to fill with bored kids. The answer? Relocate Christmas (or New Year) somewhere new; dial up the heat with a Christmas sunshine break, or let someone else take the strain of New Year celebrations with a luxury hotel stay.

Christmas classics
If you're looking for all the best festive traditions, there's no better place than Germany, where even the biggest cities drape themselves in fairylights and market stalls, and the streets are scented with gluhwein and lebkuchen. Head to Berlin, where the Botanical Gardens are illuminated at night,  there's a huge funfair on Alexanderplatz and a clutch of different Christmas markets to explore, or try Cologne, with its picture-perfect old town, and one of the largest Christmas trees in the world. Alternatively, head to picturesque, Bruges, where the Christmas market runs until Jan 2, and there is hot chocolate on every corner. For a slice of Scandi-chic, head to Copenhagen, where the Tivoli Gardens combines traditional festive treats with rollercoaster rides, cabaret performances and craft stalls.
Wintry treats
Sparkling snowscapes are rarely guaranteed with a British Christmas, but if you want the full winter wonderland experience, it's hard to beat a few days on the ski slopes – with a catered chalet to come home to, where someone else is taking care of all the cooking and cleaning. Christmas city break of choice has to be Prague – one of Europe's most beautiful capitals, usually blanketed with snow through December, giving the iconic Charles Bridge a really magical feel. And the ultimate Christmas fairy lights have to be the aurora borealis; head to Norway to see the Northern lights ripple across the sky in intense whirls of red and green.
Short-haul sunshine
If how you really want to spend Christmas is lazing on a lounger in blazing sunshine, the good news is you don't have to go to the other side of the world. The Portuguese island of Madeira is a reliable bet, with average temperatures of around 20ºC through December, while Cyprus enjoys similar warmth, and offers a great mix of historical sites, long sandy beaches and beautiful walks up in the dramatic Troodos mountains.
For a foodie escape from traditional turkey, sun-kissed Seville offers tapas trails, lively bodegas wine bars) and extraordinarily beautiful palaces and churches.
If you want to escape Christmas entirely, Marrakech is like stepping into a different world; exotic, hectic and totally unique. Not quite short-haul, but a very manageable six hours, the extraordinary city of Dubai  offers the chance to soak up the sun and hit the ski slopes on the same day.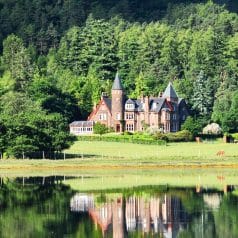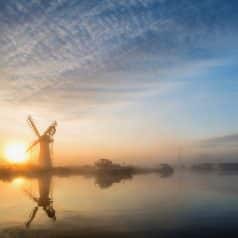 UK breaks
The easiest way to take a break over Christmas or New Year is to escape to a luxury bolthole, and let someone else do all the work. Fans of a Boxing Day Walk should stay at the lovely Pen y Dyffryn hotel in Shropshire, surrounded by the North Welsh hills that are criss-crossed with walking trails.
Increasingly, cottage companies are offering add-on services such as chefs, nannies and spa therapists; book a luxury cottage in the Cotswolds,and you'll have your own concierge to organise Christmas lunch, a New Year's Eve party, or dinner at the best local restaurants. Or head up to Scotland, where New Year is almost more of a celebration than Christmas, to stay in a historic castle.
New Year party cities
There's no better way to see in the New Year than exploring somewhere new, and celebrating on the streets with local people. Head to Reykjavik, where the city is illuminated with fireworks in the early part of the evening, before bonfires are lit at dozens of locations around the city.
If romance is on menu, there's nowhere to beat Venice, with visitors from all over the world congregating in St Marks Square to watch the spectacular fireworks display. Or choose atmospheric Vienna, where the city's Christmas Markets turn into New Year's fairs, and thousands of people follow the Silvesterpfad (New Year's Trail) around the city, dotted with food stalls along the way.
Extraordinary New Year's Eves
Not every New Years Even should disappear in a blur of booze and Auld Lang Syne. For something really unforgettable, stay in a lighthouse, and watch the first dawn of the new year roll in across a vast expanse of sea. Or disappear off to the magical Faroe Islands, where you can share your celebrations with puffins, guillemots and razorbills. For a truly unforgettable New Years' Eve, head to Swedish Lapland and stay in a glass igloo, where you can watch the dawn rise on a new year from the comfort of your own bed.
Last updated: 19 November 2020