Press coverage
————————————
101 Holidays launched in January 2009 and was picked by The Times as one of the year's 10 Hot Websites. It was later named by The Independent as the 18th best travel website.
The Daily Mail "strongly recommended" us to its readers and in 2013 The Times named 101 Holidays among the world's Top 50 Travel Websites.
We now have six sites, all edited by leading travel writers: the original 101 Holidays edited by Mark Hodson and David Wickers; 101 Honeymoons, edited by Jane Anderson; 101 Family Holidays, edited by Mark Frary; 101 Short Breaks edited by Annabelle Thorpe; 101 USA Holidays edited by Mike Gerrard and Donna Dailey; and 101 Singles Holidays edited by Cathy Winston.
Here is a small selection of the extensive press coverage we have received.
————————————
– The Times, 29 January, 2013
————————————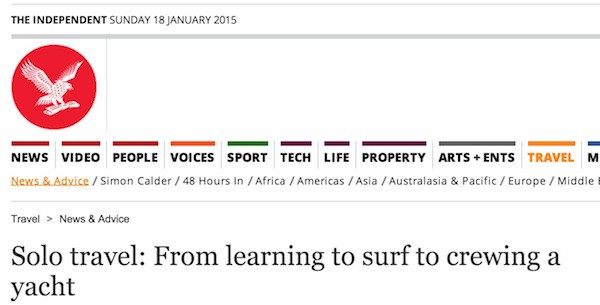 ————————————
"Sunday Times' travel writers, David Wickers and Mark Hodson have pooled their experience to pick the best tour operators and holidays so you don't have to wade through websites and brochures. There's a good spread of destinations and holiday types that you can select from a block of images or you can use the dropdown."
–  The Times, March 18, 2009
————————————
Read the full article in the Daily Mail.
————————————
101 Honeymoons was named Website of the Week by Skyscanner.
————————————
————————————
10 Best Travel Websites
"Built by well-known travel writers, this website is dedicated to offering 101 great short breaks in Europe and beyond. Its simplicity is apparent; users simply drag the cursor over a thumbnail image of each break, which then offers a brief description of the destination. A mouse click will then bring you further information and a link to the relevant tour operator's website. It's easy and well researched."
– Sunday Mirror, January 31, 2010
————————————
"I love 101shortbreaks.co.uk – it's fresh and funky and a lovely, simple idea."
– Lisa Minot, Travel Editor, The Sun, October 17, 2009
————————————
"With real homepage appeal, 101shortbreaks.co.uk does exactly what it says on the tin – 101 destinations handpicked by experts."
– Sainsbury's Magazine, 2010

————————————
Which? Travel Magazine, October 2011

101 Family Holidays: "If you're in need of original and unusual family holiday ideas, then look no further than this unique website. The advice site, which complements the original 101 Holidays website, allow you to search for holidays by type, child age, destination, time or year or price, illuminating the picture grid on the screen to show possible holiday options. You simply have to hover over the picture and a summary of the holiday pops up, allowing you to click for more information including how to book."
OUR VERDICT: A great place to get original ideas for holidays with your family. The filters let you search for multiple categories at one time allowing you to tailor your family's perfect holiday."
————————————
————————————
101 Holidays is among a "network of expertly written websites that cater for the specialist audiences that are arguably no longer being served as they once were by more traditional media organisations". The site offers "the kind of quality writing that is the product of four decades of exploring the world for a living."
–  The Independent, April 22, 2010. Read excerpts from the article here.
————————————
"There are plenty of quirky ideas, including a beach holiday in Lithuania, polar bear watching in Canada and rafting on the Soca River in Slovenia"
–  Lisa Minot, Travel Editor, The Sun, February 28, 2009
————————————
4 stars (out of 5): "A smorgasbord of inspiration … 101 Holidays is a fantastic concept that offers instant access to a wide variety of experiences, with no extraneous content or distracting adverts."
–  Web User magazine, February 12, 2009
————————————
"Instead of having to trawl through piles of brochures, a unique visual search allows users to browse through David and Mark's chosen 101 holidays."
–  Daily Express, February 7, 2009
————————————
"Top 10 Travel blogs"
– National Geographic Traveller Magazine, Jan / Feb 2011
————————————
"Exceptionally good … The design is simple yet incredibly effective; the business model has obvious scale; and the buzz surrounding the site from the travel technology community shows that this rather discerning and often critical audience has given it a meaningful thumbs up. A remarkable achievement in such a short space of time."
–  John Harding, Travolution magazine, February 2009
————————————
"The site deep links to the correct page of the relevant tour operator to save you scrapping around a second website, and there's a pithy editors' verdict supplied for each entry."
–  Ginny McGrath, Times Online, January 29, 2009
————————————
"101 Holidays uses images to give travellers inspiration … Click on the image you like and a review of the destination as well as links to preferred booking sites appear."
–  James Ellis, Travel Editor, Metro, January 21, 2009
————————————
"101Holidays' authoritative selection of trip ideas is an excellent place to get your travel inspiration."
– Website of the Week, Skyscanner.net, September 15, 2009
————————————
101 Short Breaks is named one of the Top 10 Travel Websites
– Sunday Mirror, January 31, 2010
————————————
————————————
Awards
– September 2013: shortlisted for Best Travel Directory Site, TravelMole Web Awards
———————————-
Winner, Travel Pioneers, Travolution magazine, February 2009
"In recognition of outstanding innovation in the pursuit of creativity and development in the online travel marketplace."
————————————
–  June 2009: shortlisted for Travolution, Tr@vel Pioneer Award
————————————
–  June 2009: shortlisted for a Travelmole award, Best Blog
————————————
–  Nominated for the Innovation Award at the 2010 Travel Weekly Globe Awards
————————————
–  101bestwebsites.com, March 2009
————————————
–  Featured in WordPress Showcase, March 2009; a selection of "exceptional" sites that use WordPress "in a unique or innovative way".
See the press coverage of our sister sites, 101 Honeymoons, 101 Family Holidays and 101 Short Breaks.