Recommended tour operator: Wexas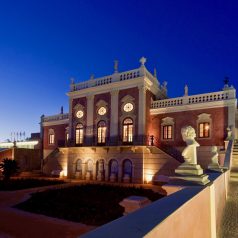 Wexas says
From Moorish castles and Gothic monasteries to extravagant Baroque palace and colourfully converted 16th century convents, Portugal's pousadas form a unique network of heritage hotels.
Culture and cuisine
Historic hotels
Self-drive options
There are over 40 properties to choose from, spanning the length and breadth of the country. Perhaps you'd like to take in the sun-soaked beauty of the Algarve from a viscount's Rococo manor house, stay in a 12th century medieval castle with spectacular sea views, or taste your way through Porto's famed wine cellars while luxuriating in a palatial national monument.
Each pousada has been carefully restored to preserve all its original charm, while adding in some contemporary luxuries. Expect 700-year-old battlements looking down onto palm-fringed pools and sculpted gardens while atmospheric cloisters host gourmet restaurants.
The only difficulty is choosing between them. That's why, with Wexas Travel, you'll find only the best pousada offerings, handpicked by our destination experts.
We have crafted a number of routes, taking the best of Portugal from the coastal beauty of Alentejo and the Algarve to the historic towns and national parks of the country's verdant interior and towns and cities famed for their exceptional food and wine.
With such a wealth of choice, however, our team of Portugal specialists are on hand to tailor an itinerary, flight and hire car to fit your specific requirements, whether you want a short break or longer holiday (with discounts of up to 10% for those over 55 years of age).
Discover more about Pousada holidays in Portugal.
Note: All the travel companies featured on this site are personally recommended by our editors. Companies pay us a flat annual fee, which funds the upkeep of our site, so we can keep it current and reliable. See more about how we work.
Copyright © 2022, 101 Holidays Ltd