6 breathtaking clifftop hotels around the world
By Shona Owen
Whether you're cruising down the California coast or hiding away among Bali's magnificent beaches, these cliff-hangers are sure to be the height of your trip. Here's our pick of six hotels that bring you eye-to-eye with scenic thrills and sheer drops.
Photo: Southern Ocean Lodge
1. Southern Ocean Lodge, South Australia
On the shrub-covered cliffs of Kangaroo Island, Southern Ocean Lodge keeps guests in wondrous comfort, while providing a luxurious peephole out towards Australia's own Galapagos. The glass-fronted, coastal-hugging suites centre around the Great Room, which is a hub of activity with exceptional local cuisine, a convivial open bar and a French fireplace suspended from the ceiling. With guided excursions exploring the island's wildlife, you can watch kangaroos, koalas and sea lions in their natural habitat before grabbing a book from the library and nestling into the lodge's sunken lounge, with nothing but water between you and Antarctica.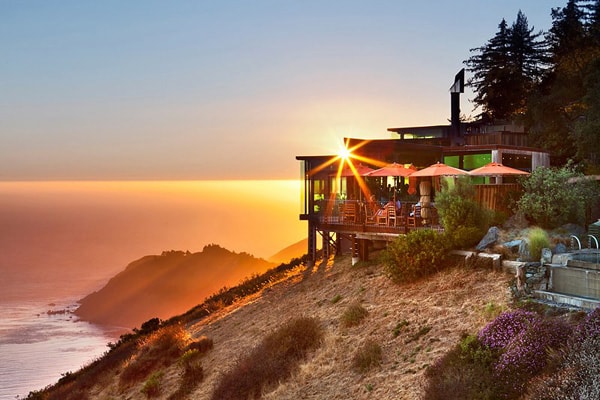 Photo: Post Ranch Inn
2. Post Ranch Inn, California
Suspended 1,200 feet above California's Big Sur coastline, Post Ranch Inn is a glass-encased resort with views that will leave you reeling. The free-standing bedrooms feature reclaimed wooden decks that look out towards the mountainous Santa Lucia Peaks on one side and the endless Pacific Ocean on the other, with occasional sightings of bald eagles and migratory whales. Whether swimming in the infinity pool, walking through the 100-acre homestead or dining in the acclaimed ranch-style restaurant, this adult-only inn is the romantic clifftop hotel for travellers exploring Highway One.
Photo: Monastero Santa Rosa Hotel & Spa
3. Monastero Santa Rosa, Amalfi Coast, Italy
With uninterrupted sea-to-sky vistas, Monastero Santa Rosa Hotel & Spa is enthroned on the rocky precipice of Italy's Amalfi Coast. A renovated monastery now lavished with rich furnishings and Italian antiques, the hotel retains its 17th-Century vaulted ceilings and stone walls. You can brave the stepped terrain and walk to the blue Bay of Salerno and the fishing village of Conca dei Marini, but with a heated swimming pool melting into the azure horizon, and with jasmine-scented gardens set beneath the ocean-facing rooms, you might not find a more breathtaking spot to enjoy a sunset cocktail.
Photo: Fogo Island Inn
4. Fogo Island Inn, Atlantic Canada
Though this cliff isn't particularly high, staying in Fogo Island Inn is like having 'the gods' seats to the best show in town. Hovering pendulously over the wild oceans of northern Newfoundland, the stilted hotel is a bold building with Norwegian-inspired architecture and interiors, but what makes this a truly sublime clifftop hotel is its wrap-around windows and castaway location. You can dine on mushrooms foraged from peaty soils, spend the afternoon in the rooftop hot-tub and the nights stargazing wrapped in hand-loomed rugs. With the crashing ocean as the backdrop, you'll never forget the end-of-the-Earth remoteness of this charming inn.
Photo: Mystique
5. Mystique, Santorini
With Santorini's vast crater walls and steep cliffs, any hotel set on this craggy isle would make the top six; however, with its cloistered quarters and exceptional infinity pool, Mystique offers an unparalleled stylish explosion of colour and luxury along the rocky heights of this romantic Greek island. Using organic shapes to mimic the cliffs, the cave-style villas all look out towards the cobalt blue Aegean Sea – even from the bathrooms. Soak up as much of the scenery as you can before descending into the 150-year-old Secret Wine Cave for a tasting of their rare and exclusive offerings.
Photo: Alila Ulu Watu
6. Alila Ulu Watu, Bali
Alila Ulu Watu is perched on Bali's Bukit Peninsula, fusing vernacular architecture, modernist design and views that are nothing short of astonishing. The villas all have private pools, huge glass windows, landscaped gardens and a personalised butler service, so embrace the zen-like atmosphere of the hotel and find your version of nirvana in the cosseting spa, the Balinese-inspired restaurant and in the cliffhanging cabana lounge bar – the perfect luxury getaway.
Exsus Travel can arrange a tailor-made holiday to any of these destinations.
Don't miss out...