Add these incredible train journeys in Latin America to your bucket list
By Fiona Raleigh
Is there a more romantic way to see the world than from the carriage of a train. And it's even more exciting when you're climbing mountains and traversing vast tracts of wilderness. You'll find rail journeys like this around the world, but there's an incredible concentration in Latin America, many of them on vintage trains. Here's our pick of the six best.
1. Copper Canyon, Mexico
Stretching over the Sierra Madre mountain range in northern Mexico is one of the world's largest canyon systems: the Copper Canyon (pictured above). With 400 miles of railroad, 39 bridges and 86 tunnels, the Chihuahua al Pacifico (or ChePe for short) took 90 years to complete and it takes about 15 hours to travel between Chihuahua and Los Mochis. The journey itself is an exhilarating ride around sheer cliff walls, over ravines and gorges with dramatic drops of up to 1,200m. The striking terrain of green-hued cliff faces, and snow-dusted mountains plunging down to sub-tropical citrus groves is occupied by the indigenous Tarahumara people who practice subsistence agriculture.
2. Devil's Nose, Ecuador
The Devil's Nose (pictured above) is one of Latin American's most vertiginous train journeys with a hair-raising descent down a near-vertical slope in the Ecuadorian Andes. While you can no longer travel on the roof of the train, this section of the railroad, in the Avenue of the Volcanoes, has remained popular even as other parts of the track fell into disrepair in the 1990s. Ecuador has been working hard to restore its rail network, making the Devil's Nose train journey a safe and spectacular ride through dramatic mountain landscapes.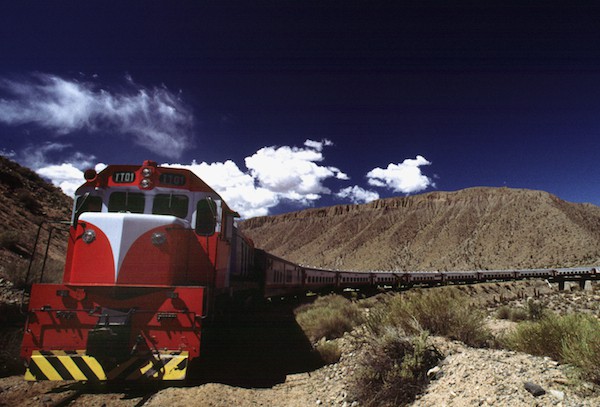 3. Train to the clouds, Argentina
The Train to the Clouds (pictured above) is as dizzyingly ethereal as it sounds. Beginning in Salta in Northwest Argentina, this 8-hour journey takes you to La Polvorilla viaduct, which stands at 4,200m above sea level, making this railway the fifth highest in the world. Travelling on narrow-gauge tracks through arid altiplano and burnt-ochre gorges whose towering cacti and galloping gauchos make you feel as though you're 'out West', this is one of Latin America's great rail journeys.
4. Old Patagonian Express, Argentina
La Trochita, or the Old Patagonian Express (pictured above), as it was dubbed after Paul Theroux's 1978 travelogue is at once charming, nostalgic and romantic. A heritage train freighted with history, this railway has had its ups and downs since its inception in the early 20th century. From its near-closure in the 1990s, which was avoided thanks to local and international pressure, La Trochita has become a symbol of a bygone era and steams on through bleak and blustery Patagonian plains from Esquel to Nahuel Pan. A relatively short journey, but one which seemingly takes you back in time.
5. Serra Verde railway, Brazil
The Serra Verde Express (pictured above) crosses from Curitiba to Paranagua in the little-visited state of Santa Catarina in Southern Brazil. Built in the 1880s, the railroad passes through the Atlantic Rainforest Biosphere Reserve, an area of lush, verdant flora, which sprawls over the Serra do Mar mountain range. Crawling round bends, over viaducts, past waterfalls and moss-covered rock formations, this rail journey is a slow-paced but exciting ride. There are stops in the charming colonial towns of Morretes and Antonina but this journey is all about the nature it glides through. Open your window and soak up the rainforest!
6. Hiram Bingham to Machu Picchu, Peru
The Belmond Hiram Bingham train (pictured above) will transport you not only to the world-famous Inca citadel of Machu Picchu, but also back in time to an era when train travel was luxurious, stylish and decadent. This train is an unashamedly indulgent way to travel to the ruins: sumptuously kitted out and with a gastronomic experience on board, no-one can say that you're not arriving in style. Soon, though, your eyes will be drawn away from the plush interior towards the spectacular exterior: the beautiful landscapes of the Sacred Valley, the breadbasket of the Incas, are fertile yet rugged and make this rail journey all the more special.
All photos courtesy of Journey Latin America.
Don't miss out...