By Rebecca Browning
America's National Parks will celebrate their centenary in August this year. The National Park Service was created in 1916 to protect and conserve America's natural wonders. Since then, 59 National Parks have been designated – here are six of the most spectacular parks that no visitor to the States will want to miss.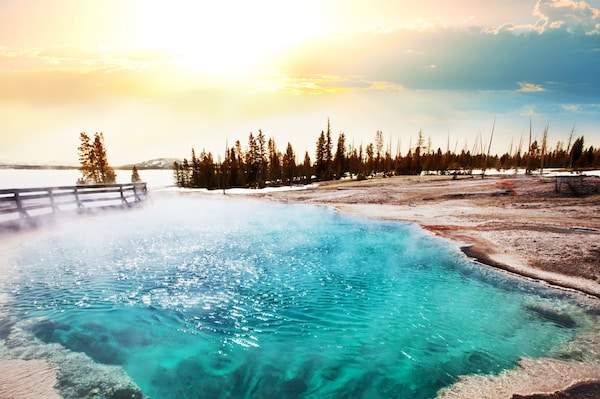 1. Yellowstone National Park
Almost the size of Wales, Yellowstone National Park spreads across three states: Wyoming, Montana and Idaho. Yellowstone first achieved protected status back in 1872, before the formation of the NPS, and is known for its many geothermal features including Old Faithful Geyser, Artist Point and the West Thumb Geyser Basin. Nicknamed the American Serengeti, Yellowstone is a haven for nature and animal lovers. Visit with a specialist tour guide for the best chance of witnessing black bears, wolves and North America's largest land mammal, the bison.
2. Yosemite National Park
Yosemite National Park is home to North America's tallest waterfall (Yosemite Falls) along with remarkable rock formations and cliffs. Walk to the top of the Sentinel Dome for spectacular views of the falls or hire a car during the spring or summer to drive to Glacier Point for dramatic views of Yosemite Valley, Half Dome and the High Sierra. Be sure to keep an eye out for the elusive Sierra Nevada red fox, spotted for the first time in nearly 100 years in 2015.
3. Grand Canyon National Park
Carved by the Colorado River over millions of years, the Grand Canyon is one of the world's best known National Parks. To truly appreciate the scale of the 18-mile long park, book an early-morning helicopter "flightseeing" tour to witness the sunrise. At the South Rim of the park, visit the Desert View Watchtower, a 70ft-high building designed in 1932. Each storey in the impressive structure has a variety of paintings and architectural features to be discovered as well as panoramic views of the Grand Canyon.
4. Zion National Park
Rich in history and culture, Zion National Park in Southern Utah is popular among hikers, bikers, geologists and tourists. With plenty of trails to choose from, Zion offers an experience fitting for every age and ability. For a complete Wild West experience, stay at the Zion Mountain Ranch which borders the National Park. Relax in the traditional log cabin retreat, enjoy toasting marshmallows on a campfire and watching the starry night skies on a private deck.
5. Rocky Mountains
With more than 400 square miles of mountainous terrain and over 130 hiking trails, the Rocky Mountains are a favourite location for all those who love the outdoors. Nicknamed "the roof of the world", this park features more than 100 mountain peaks rising above 11,000 ft. A visit isn't complete without a drive on the Trail Ridge Road, the highest continuous paved highway in North America. The road features several stopping places along its 48-mile length to allow visitors to pull over and enjoy the majestic views.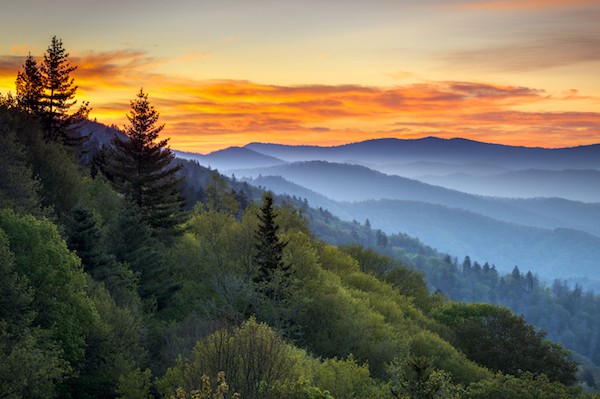 6. Great Smoky Mountains
America's most visited National Park, the Great Smoky Mountains are a must see. Bordering North Carolina and Tennessee, the Smokies are made of up 95% forest with 800 miles of trails. Climb to the observation tower at Clingmans Dome, the highest mountain in the park where on clear days, you can see for more than 100 miles One of the few places in North America to avoid the last Ice Age, the Smoky Mountains have become a home to many wildlife species including bears, salamanders, raccoons and fireflies.
Visit Abercrombie & Kent for more holiday ideas in America.
Note: All the travel companies featured on this site are personally recommended by our editors. Companies pay us a flat annual fee; we don't get any additional payments if you click on their sites or make a booking. Those fees pay for the upkeep of our site, so we can keep it current and reliable. See more about how we work.
Copyright © 2020, 101 Holidays Ltd