6 tiny islands where you can hide from everybody
By Melissa Burfitt
We've all had that moment, when the green grass of home starts to look sallow, and the sound of lapping waves keeps sweeping through our minds. The desert island dream is calling. Far from tiresome day jobs, just you and your star-crossed lover, swimming amongst sea turtles, lazing in the tropical sunshine and feasting on fresh seafood… Now, where are the passports?
1. Veligandu Island Resort, Maldives
It can be hard to choose between Maldivian resorts: all those heavenly beaches, swaying palms and gin-clear waters play havoc with one's decision-making skills. So let us help you. Veligandu Island (pictured above) is just 20 minutes by seaplane from the international airport and great value for money (in Maldivian terms!). Stilted overwater rooms set the tone for romance, backed up by his 'n' hers massages, champagne breakfasts and sunset dolphin-boat trips. Where better to leave shoes and cares behind, enjoy sun on your back and tropical fish through your mask?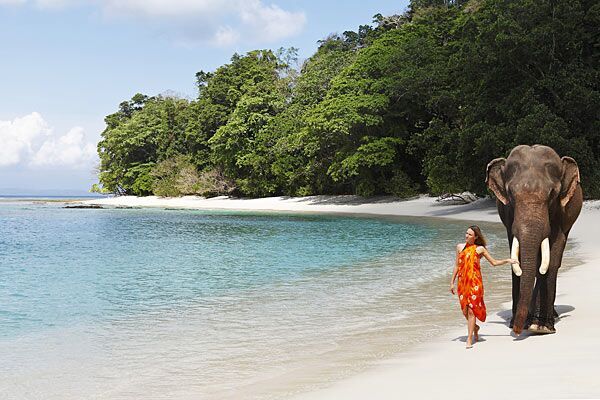 2. Barefoot at Havelock, Andaman Islands, India
The Andaman Islands remain one of the few tropical groups undiscovered by the masses. Quite cut off from the rest of the world, with little phone signal and no internet, they're an ideal spot to meditate, commune with nature, and undertake outdoor adventures. The quirkily named Beach No. 7 is one of the world's most beautiful, and eco-hideaway Barefoot at Havelock (pictured above) is its only hotel. Hiking, fishing, kayaking, world-class diving, even elephant encounters are all on your doorstep. India's secret paradise.
3. Parrot Cay by COMO, Turks & Caicos
This picture-perfect island resort (pictured above) is much loved by the A-list for its caster-sugar sand, decadent spa, and unrivalled sense of privacy. Spread across 1,000 acres, even at full occupancy you'll feel like you have the place to yourselves. Relaxation is the name of the game and guests spend their time gliding between sun loungers, the sea and any one of the fabulous restaurants. If you really feel the need to take up an activity, try a diving course – this is a world-class spot.
4. Chumbe Island Coral Park, Zanzibar
Just off the Zanzibar coast, tiny coral-ringed Chumbe (pictured above) is a true eco-wonder. Beaches are home to the rare coconut crab, and the hotel's sustainable design has zero ecological impact. Mod cons and nightlife may be lacking, but you'll find 7 enchanting palm-thatched bungalows and some of the world's best snorkelling. It's the ultimate barefoot holiday experience, perfect for honeymooners and nature-lovers.
5. Nikoi Island, Indonesia
Two hours from Singapore and a degree north of the equator, tiny Nikoi (pictured above) is desert-island luxury writ large. The only buildings are the resort's 15 beautiful Indonesian seafront houses, many of which are big enough for families, and the restaurant. The kids' club runs imaginative activities including rock climbing and pirate treasure hunts; the jungle is home to monkeys, sea turtles and komodo dragons. It's the perfect place to play Swiss Family Robinson.
6. Song Saa, Cambodia
Draw up a list of everything a seriously luxurious tropical retreat should offer and get ready to tick them all off. Infinity pools, curtained daybeds on quiet sandy beaches, stunning sea-view villas, and an over-water restaurant with 360-degree ocean views; it's all here. Best of all, the resort (pictured above) is hidden in the undeveloped Koh Rong Archipelago of southern Cambodia; think Thailand 30 years ago and get here quick.
Photographs: courtesy of i-escape.com.