By Cathy Winston
Since Myanmar (Burma) opened up to tourists a few years ago, this isolated country has sprung to the top of many travel wishlists. From the imposing golden Shwedagon pagoda in Yangon to the countless ancient temples in Bagan and tranquil scenery of Inle Lake, there's plenty to discover in the country's most popular destinations – especially if you look just a little way off the beaten path. Here are my top six things to see around Inle Lake.
1. Watch the leg-rowing fishermen
One of the iconic images of Myanmar, the timeless view of fishermen reflected in the mirror calm lake is no less impressive when you see them in reality. You'll see many in traditional dress at the entrances to the lake posing for photos rather than attempting any fishing, but head out onto the water and plenty of genuine ones still use the centuries-old leg rowing technique and nets – even if they're wearing tracksuit tops these days. Up close, it's evidently a lot harder work than the elegantly balletic silhouettes suggest.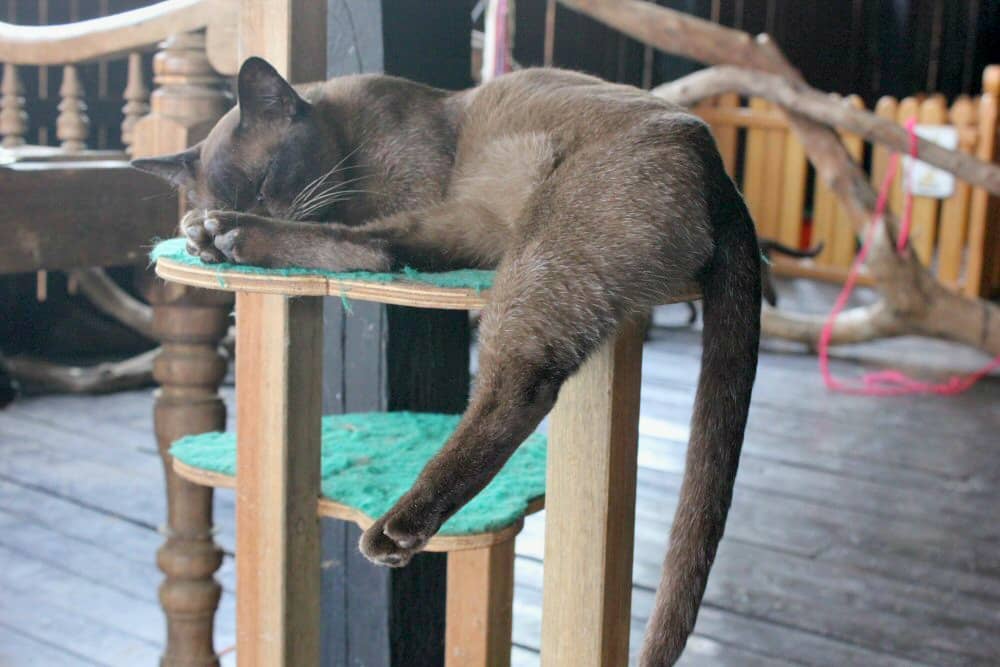 2. Stroke Burmese cats
Protected by Burma's isolation, Burmese cats were a favourite pet of royalty for centuries – before vanishing completely in the country within 50 years of the British taking control in 1886. Now a breeding programme is reintroducing the pedigree felines at the not-for-profit Inthar Heritage House. Dedicated to maintaining the area's cultural traditions, including art and cookery, it's helped numbers rise to 38 cats. There might not be kings around these days, but it's a life of luxury luxury, waited on hand and paw with their own stilted homes on a small island and plenty of adoration from visiting tourists.
3. Visit In Dein
Stepping beyond the stalls that line the covered walkway from the waterfront, it feels like you've walked into a lost world. Trees wind around some of the ruined stupas at In Dein, elephant carvings peer through the leaves and Buddha images sit forgotten in alcoves as bells tinkle high above in the wind. And among the crumbling brick and faded white, black and red towers the occasional restored stupas, blindingly white and gold in the sun. Visit out of peak season and you'll have it all to yourself.
4. See the floating gardens
Bamboo canes rise out of the water along the banks, marking the floating gardens of Inle Lake – an ancient solution by the local Intha people to the lack of land to cultivate. Created from nutrient-rich silt and weeds dredged from the bottom of the lake, the bamboo poles anchor the gardens which rise and fall with the water. Here, they grow tomatoes and cucumber as well as other vegetables for which the area is known.
5. Eat Shan food
Shan state, of which Inle Lake is part, is known for its food – especially deep-fried snacks including spring onion fritters and fried tofu crackers. But salads are also a key part of the local cuisine, including tomato salad made from the vegetables grown on the lake itself and crushed peanuts. And Shan noodle soup, with extra chilli, coriander, chives and lime to taste, turns up on menus day-round, but is popular with locals for breakfast.
6. Discover traditional crafts
Beautiful as Inle Lake is, any visit should make time to stop at least a few of the villages down the lake's many tributaries. Each specialises in a different traditional craft, from silversmithing and blacksmithing to cigar-making, lacquerware and paper for colourful umbrellas, plus lotus weaving and the 'long-necked' Padaung women with their famous brass ring necklaces who weave brightly coloured scarves between explanations of what inspired their weighty traditional dress.
Cat photo by the author. All other photos courtesy of Insider Journeys.
Note: All the travel companies featured on this site are personally recommended by our editors. Companies pay us a flat annual fee; we don't get any additional payments if you click on their sites or make a booking. Those fees pay for the upkeep of our site, so we can keep it current and reliable. See more about how we work.
Copyright © 2020, 101 Holidays Ltd