By Shona Owen
For some, a holiday means long relaxing days with long lie-ins, but these six destinations demand that you get up before sunrise. Dawn is the time when animals appear, people stir and thousand-year-old rituals take place – it's your chance to catch the world at its golden hour for an unforgettable start to the day.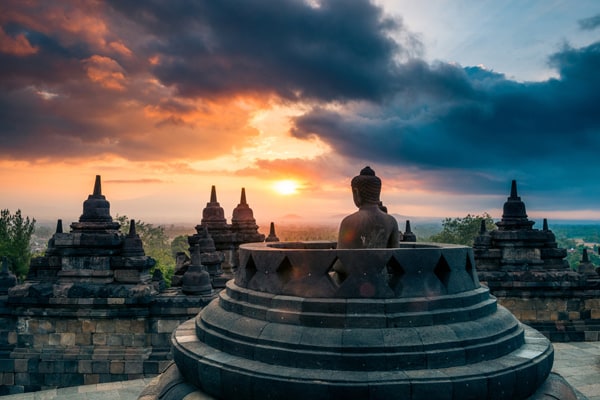 Photo: Pigprox / Shutterstock
1. Get up at 3.30am for sunrise over Borobudur
The early hour may seem daunting but making the morning pilgrimage to Java's 8th-century Buddhist temple, Borobudur, for the sunrise is worth every minute of sleep forgone. Shrouded in wisps of mist and wedged between two volcanoes, one of which is still active, you'll want to be sitting on the highest platform of the six-tiered terrace to watch the sun creep through the pink and purple haze as it brushes over the symmetrical stupas and towering Buddha statues.
Photo: K_Boonnitrod's/ Shutterstock
2. Get up at 4am to beat the crowds visiting Tikal
Getting the first hotel-run minibus from Flores is quite crucial if you want to beat the crowds to the ruins in the mist in Tikal and be among the first of the day to walk through this impressive UNESCO World Heritage Site. One of the best preserved Mayan temples in Central America, Tikal is swallowed by dense Guatemalan forests. You can climb a jungled-draped pyramid and listen to the howler monkeys break the morning with their own alarm clock. Just make sure to keep an eye out for colourful toucans, shy jaguars and squawking red-lored parrots.
Photo: Governors' Camp
3. Get up at 4.30am to balloon over the Masai Mara
Nothing says an extravagant African safari like a hot air balloon ride over the Masai Mara. With a warming cup of tea in hand, mind your head as you climb into the wicker basket and set off to watch the migratory wildebeest thunder across the vast plains. Marvelling at the sweeping expanses only seen in documentaries, you'll rise higher for an all-encompassing view before landing for a champagne breakfast followed by a mid-morning game drive.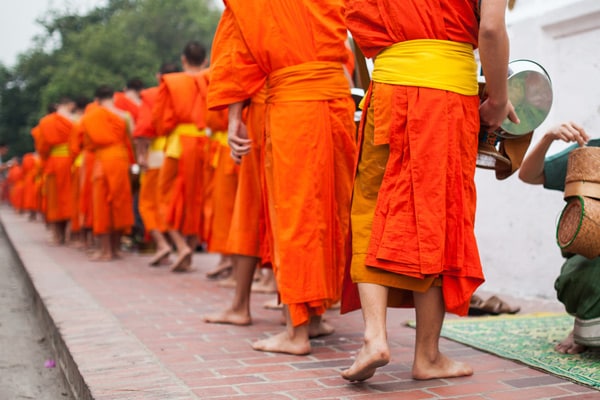 Photo: Catwalk Photos / Shutterstock
4. Get up at 5am to give alms to a monk in Laos
Luang Prabang comes alive at 5.30am when saffron-robed monks pour out of the 33 temple-monasteries in a procession through the city that dates back many generations. Laden with bowls full of the Lao staple, sticky rice, locals line the streets to offer food and money, playing an integral part in the survival of the Buddhist community. Embrace the tradition and join the alms-giving to earn a merit, or bun, which is said to enhance your chances of a better life next time around.
Photo: sw_photo / Shutterstock
5. Get up at 5.30am to go surfing on Venice Beach
Pop culture portrays the surf-immersed Californians as laid-back and mellow; however, to be on-board at 6am before work requires dedication and persistence – as the sun peaks over the horizon, surfers zip up their wetsuits and race into the ocean for early morning stress relief. With just you and the waves, follow suit by treading Venice Beach's waters to make some room for a well-deserved post-surf breakfast.
Photo: Shona Owen
6. Stay up all night to visit Tsukiji Fish Market
The clock is ticking on this cultural landmark: in November, Tokyo's Tsukiji Fish Market will close its doors after 80 years of business. Claimed as a city that never sleeps, test the theory by going bar hopping and trying out the all-night karaoke before winding up in Tsukiji for the very early auction. Watch as the buyers check the tuna quality and listen as the auctioneers sing the bid for these human-sized fish. If you have stayed awake all night, have the breakfast of champions when the sushi restaurants throw open their doors in welcome, and taste the spectacular produce you just witnessed being sold.
Exsus Travel can arrange a tailor-made holiday to any of these destinations.
Note: All the travel companies featured on this site are personally recommended by our editors. Companies pay us a flat annual fee; we don't get any additional payments if you click on their sites or make a booking. Those fees pay for the upkeep of our site, so we can keep it current and reliable. See more about how we work.
Copyright © 2021, 101 Holidays Ltd