6 mind-blowing wildlife experiences in Sri Lanka
By Kate Waite
Sri Lanka offers a wealth of history, culture, stunning scenery and delicious cuisine but did you know that the "Pearl of the Indian Ocean" also has some world-class wildlife experiences? Add these to your bucket list.
Photo: Patrick Dykstra
1. Swim with blue whales
What better way to put things into perspective than diving into the Indian Ocean with blue whales? This truly unique safari allows you to swim and be photographed alongside these magnificent creatures as well as encountering an array of other marine life such as sea turtles and spinner dolphins. Your guide, photographer and blue whale specialist, Patrick Dykstra, is unmatched in terms of experience and expertise, meaning you have the very best opportunity to enjoy an incredible wildlife encounter.
Photo: Will Bolsover
2. Witness an elephant migration
Perhaps one of Asia's greatest wildlife experiences, the elephant migration at Minneriya National Park is a must for any elephant enthusiast. The central Sri Lankan dry season, June to September, sees hundreds of elephants march the corridor to Minneriya to congregate around vital remaining water sources. Watching the herd drinking, bathing and playing in the water is a heart-warming moment to remember. Stay at the beautifully-decorated Cinnamon Lodge as an ideal base for exploring surrounding nature reserves: Minneriya, Ritigala and Kaudulla.
Photo: Noel Rodrigo
3. See leopards, bears and buffalo in Yala National Park
With the highest density of leopards anywhere in the world, Yala National Park offers a fantastic opportunity to see these Asiatic big cats in the wild. Although these are the highlight of a trip to Yala there is plenty of other wildlife to spot along the way including sloth bears, crocodiles, buffalo and deer. For years Yala did not quite offer accommodation to match up to the African safari lodges but 2015 saw that change with the opening of Noel Rodrigo's new luxury tented suite at his Leopard Safari Camp. Four-poster beds and rain showers offer much-needed rest and relaxation after a somewhat dusty Sri Lankan safari.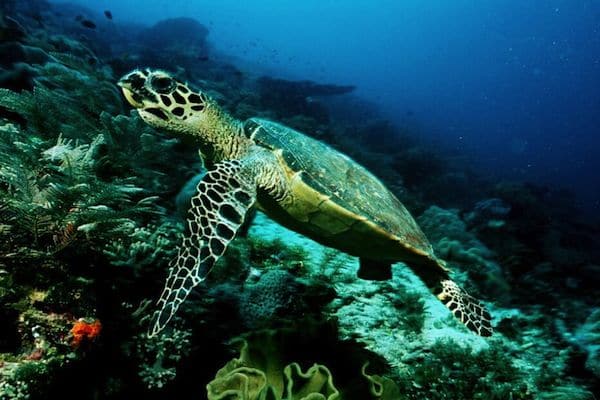 Photo: Sri Lanka Tourism
4. Watch sea turtles laying and hatching eggs
Sri Lanka offers year-round opportunities to see turtles laying eggs and hatching along the south and west coasts. Five of the world's eight sea turtle species return to the shores of Sri Lanka to nest, meaning you will have the chance to see a variety of these endangered creatures during your travels. Ensuring you choose a sustainable, responsible tour operator is vital to the protection of these reptiles and night visits without the use of lights and flash photography are best. A visit to the Rekawa Turtle Conservation Project is a great addition to any wildlife safari in Sri Lanka.
Sinharaja Rainforest Ecolodge
5. Spot tropical birds in the rainforest
The vast biodiversity of Sinharaja Reserve is unparalleled in Sri Lanka. It is home to the majority of the island's endemic birds including recognisable red-faced malkoha and Sri Lankan blue magpies as well as the rare green-billed coucal. Stay at the wonderfully-designed Rainforest Ecolodge featuring recycled shipping container chalets renovated with comfort and amenity in mind. Look out for purple-faced langurs swinging past the windows, wake to the sounds of the rainforest and dine on the sumptuous cuisine made from organically-grown ingredients.
Vil Uyana hotel
6. Search for loris on a night walk
For my colleague Arabella, the highlight of her trip to Sri Lanka was seeing a rare loris near Sigiriya in the cultural triangle. Lorises are nocturnal, silver-grey primates that were long seen as bad omens by the local communities. They are now endangered due to hunting and habitat loss so seeing one is a real privilege. Chaminda Jayesekara who works for Jetwing Vil Uyana hotel is one of the leading experts in loris conservation and research, and conducts night walks for guests around the grounds to spot the rare animal. Not only is this hotel perfect for wildlife, it has also been praised for its style and comfort.
Visit Natural World Safaris for more wildlife adventures in Sri Lanka.
Don't miss out...