By Marbree Sullivan
When you think of the Philippines, beaches probably spring to mind. Long stretches of white sand, clear turquoise water begging you to slide beneath the surface, perhaps a few limestone cliffs in the distance. You'll find all of that in the Philippines but there's more to this island nation than coastline. Here are 6 islands you really must visit.
1. Palawan: pure natural beauty
With limestone cliffs and clear waters, white sand beaches without a single footprint, and lush rainforested interior, Palawan is a nature lover's delight. Far removed from the rest of the country, much of the island hasn't been spoilt by overdevelopment and remains in its natural state. The towns of El Nido and Puerto Princesa are bustling but, outside their borders, you'll see why Filipinos call it the last frontier.
Island-hopping day trips will take you to secluded, uninhabited islands that feel like your own piece of paradise. You'll also find one of the longest underground rivers in the world where you can float along while a guide points out the cave's unique formations. Some of the nation's most luxurious and exclusive resorts are found in Palawan.
2. Luzon: culture, history, and adventure
Most international flights to the Philippines arrive on the island of Luzon at the nation's capital: Manila. The city itself may not be terribly exciting – although riding a handmade bamboo bicycle through historic Intramuros is a morning well spent – but outside of Manila are countless places to explore the country's heritage. High in the Cordillera, traditional tribal culture evaded colonisation so you'll find cliff-mounted coffins and ancient rice terraces. Accommodation outside of Manila tends to be simple and distances are long so this isn't the island for luxury or relaxation.
3. Bohol: tarsiers and chocolate hills
See the unique Chocolate Hills, look for tiny tarsiers, kayak the rivers, zipline through the canopy, hop on a boat to search for dolphins, turtles, and maybe even whale sharks, or dig your toes into the soft white sands of Alona Beach. This island offers plenty to keep busy and delightful spots to take it easy. When it comes to accommodation, you'll find everything from charming boutique hotels to luxurious villas. With a new international airport set to open in 2018, the secret of Bohol is well and truly out. In light of the challenges Boracay faces after its popularity skyrocketed, environmental protections are in place to protect Bohol from overzealous builders. Even so, the time to visit is now.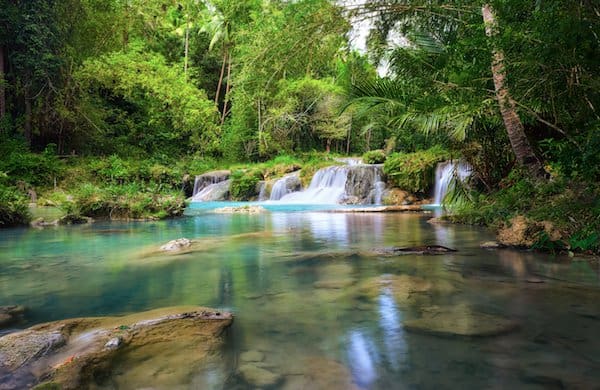 4. Siquijor: a peaceful hideaway
Located in the Visayas island group, Siquijor rests between the islands of Bohol and Negros. A small island lined with beaches, you can explore it all in a day or two. Legends of black magic shroud the island's history and a few local healers offer traditional cleansing ceremonies. If that doesn't appeal, slip into the clear waters at Cambugahay falls, let fish nibble your toes below a century-old Balete tree, or relax on one of the beaches. Some of the country's best snorkeling and diving is a day trip away at Apo Island.
5. Negros: the Cinderella island
Waterfalls, rainforest, hot springs, rugged landscapes, beaches, great snorkeling and diving, a waterfront promenade that feels almost Caribbean, colonial relics, and towns where tourists rarely go: Negros might be the Philippines' best kept secret. The university town of Dumaguete and the nearby beach town of Dauin are ideal for experiencing daily life in the Philippines with access to plenty of sightseeing. Spend a day trekking through greenery to Casaroro falls and the Twin Lakes of Balinsasayao and Danao. In the evening, stroll the Dumaguete promenade with locals heading out for dinner and a night on the town. The beaches here aren't the soft white sand you'll find elsewhere so it's a good one to combine with Siquijor or Bohol.
6. Taal: an island on a lake on an island
To reach this island, which happens to be the world's smallest active volcano, you'll need to cross a lake then set out on foot or horseback to reach the top. Once there, you can look across another lake to yet another island. And remember, you're already on an island. It's quite a sight. Taal is only a few hours drive south of Manila so you can climb the volcano on a day trip, or stay overnight and pay a visit to the heritage town of Taal.
* Marbree Sullivan has spent months exploring the Philippines and designs tailor-made holidays with Fleewinter, a London-based boutique tour operator.
Note: All the travel companies featured on this site are personally recommended by our editors. Companies pay us a flat annual fee; we don't get any additional payments if you click on their sites or make a booking. Those fees pay for the upkeep of our site, so we can keep it current and reliable. See more about how we work.
Copyright © 2020, 101 Holidays Ltd