By Cathy Tassie
Exploring our world is an intoxicating adventure, an experience for all of our senses. There is often a misconception that touring a foreign city is expensive. If you are creative in your travels, it doesn't have to be. We discovered six adventures that can not only take you around a city, but can do so in style, all for under £1.
Photo: © Paris Tourist Office – Photographer : Amélie Dupont
1. Vélib', Paris
What better way to explore the city of lights than on a bicycle. Vélib' is the largest public bike sharing system in the world. With 1800 bike stations located every 300 metres across the city, the choices are endless, 24/7. The first half hour is free, followed by €1 for the second half hour. Where can you go if you only have an hour to spare? Why not rent a bike at the Louvre and travel the length of the Jardin des Tuileries, up the Champs Élysées to the Arc de Triomphe for a total distance of 3.5 kilometres or approximately 20 minutes in travel time. This does not take into account photo opportunities, of which there are many. Should you wish to deposit your bike at the Arc de Triomphe there are numerous stations, including one at 1 rue Arsene Houssaye. If you are feeling adventurous, consider crossing the Seine and biking to the Eiffel Tower. It is only an additional 2.5 kilometres or approximately 12 minutes in travel time. You will find a Vélib station at Quai Branly to deposit your bike prior to visiting the Eiffel Tower, all within one hour of rental time.
Price: €1 = £0.78p
Photo: Hong Kong Tramways
2. Purple Line, Hong Kong Tramways
Hong Kong Island attracts millions of tourists to their shopping centres, temples and parks every year. A fun way to see many of these sights is from the top deck of a double deck tram on Hong Kong Tramways. In operation since 1904, it offers 120 stops along 6 routes of a 30 kilometer track system. For a fee of only HK$2.3 you can hop on the purple line at the Kennedy Town Terminal and travel along the north coast of Hong Kong Island to Shau Kei Wan Terminal. If you feel like indulging, stop at the Pacific Place for a high end shopping experience. Alternatively, if you need to take a moment to breathe in some fresh air, stop at Victoria Park where early risers gather to practice tai chi. If you prefer to sightsee from the upper deck, then sit back and enjoy the ride.
Price: HK$2.3 = £0.20p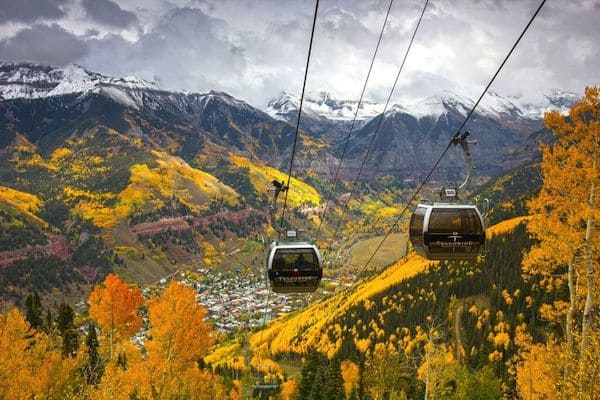 Photo: Visit Telluride/Ryan Bonneau
3. Gondola from Telluride to Mountain Village
Nothing short of spectacular is the gondola ride linking the towns of Telluride and Mountain Village, Colorado. The gondola has been offering an opportunity to view the impressive mountains and valleys at a height of 10,500 feet – for free – since 1996. The gondola runs daily from 7 am to midnight in the summer and winter months, offering tourists and locals a 13 minute ride up the mountain. During the summer you can attach your bike to the exterior of the cabin for trail rides down the mountain, or attach your skis and snowboard in the winter months for a snowier descent. With a 360 degree view of the mountain you may want to ride the gondola more than once.
Price: free
Photo: Dubai Tourism
4. Abra Water Taxi, Dubai
Since the 1700's, the abra water taxi has been ferrying both locals and tourists across Dubai Creek. Despite being a very busy means of transportation, for 1 dirham payable directly to the driver, you can see the sights of the city while traveling in a traditional wooden row boat. There are two routes to consider; the busier of the two being Deira Old Souk Abra Station to Bur Dubai and the lesser congested Al Sabkha Abra Station (Deira side) to Bur Dubai. If you haven't yet captured the beauty of the Dubai skyline, consider taking an abra in the evening. As the sun is setting on Dubai, the colours of the city begin to come to life, bouncing off of the shoreline.
Price: 1 dirham = £0.19p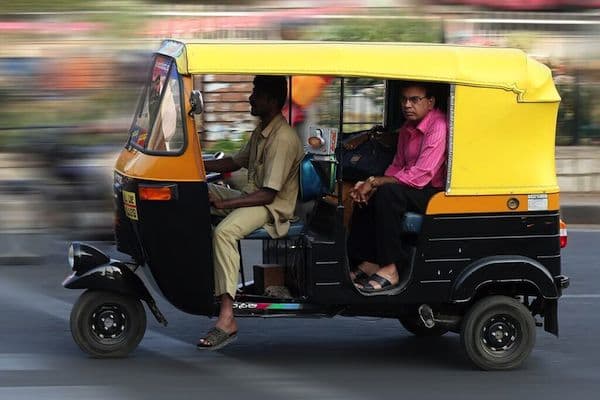 Photo: with permission from Muhammad Mahdi Karim
5. Auto Rickshaw, Delhi
Navigating the streets of Delhi during peak hours is a formidable task for anyone. As a tourist it can be downright overwhelming. An alternative to the public transport system is the auto rickshaw, a three wheeled, motorized vehicle that is both inexpensive and compact enough to weave through the congested streets. Auto rickshaws can travel 10 kilometres for a mere INR 89. Where can you go in Delhi for INR 89? From Chandni Chowk Metro Station you have numerous options within 10 kilometres. Red Fort, Delhi's most famous monument is 1.5 kilometres away. Humayun's Tomb, the inspiration for the Taj Mahal, is 8 kilometres away. Lodi Gardens, a park that offers a peaceful retreat, is 9 kilometres away. With the benefit of taking you from one destination to the next, you are also protected from both the sun and rain in an auto rickshaw.
Price: INR 89 = £0.91p
Photo: Sehir Hatlari
6. Golden Horn ferry, Istanbul
Have you ever crossed a body of water that both separates and joins Europe and Asia? A one way ticket to travel from the European side of Istanbul to the less touristy Asian side is 4 TL, payable at the Sehir Hatlari ferry boarding gate. The ferries are a common means of transportation for both business and leisure passengers allowing many routes to choose from. One of the more common routes to traverse the Golden Horn departs from Eminönü traveling to Kadiköy. Walk up to the top deck where you can order a tea and take in the sights of Istanbul's shoreline. While in Kadiköy, take some time to visit the market where you will see an abundance of fresh fruits, vegetables and seafood.
Price: 4 TL = £0.94p
Note: All the travel companies featured on this site are personally recommended by our editors. Companies pay us a flat annual fee; we don't get any additional payments if you click on their sites or make a booking. Those fees pay for the upkeep of our site, so we can keep it current and reliable. See more about how we work.
Copyright © 2021, 101 Holidays Ltd