By Stacey Parsons
Marooned off the coast of West Africa, the 10 islands of Cape Verde are as diverse as they are exotic. With African, European and Brazilian influences, they boast tropical beaches, lush mountains and year-round sunshine. And with direct six-hour flights from the UK, this is a great value destination. Here are six must-see islands and what makes them unique.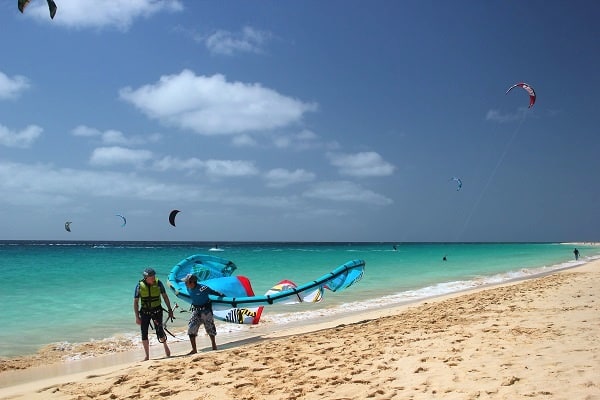 1. Sal … the lively one with great water sports
If you love beaches and water sports, head to Sal which has long, sweeping bays of pure white sand and turquoise waters. Surfing, kitesurfing, windsurfing and sailing are available on tap, or you can take to the water on a deep sea fishing trip. As you might expect, restaurants serve exceptionally fresh seafood. The main town of Santa Maria is especially vibrant with restaurants, shops and local music bars.
2. Boa Vista … the one with the sand dunes
A quieter island, Boa Vista is home to some of the most beautiful beaches you'll ever see. Sand dunes as far as the eye can see meet with the ocean, revealing intriguing marine life for divers and snorkelers. Turtle watching and whale spotting are also possible at certain times of the year. This sleepy island is perfect for anyone who is looking to get away from it all and relax in the African sun.
3. São Vicente … the cultural one
A hub of culture, music and architecture, Sao Vicente is the island to visit to get a true experience of what it is to be Cape Verdean. A vibrant nightlife can be found here, particularly in Mindelo, and two rather spectacular festivals take place – Carnival (40 days before Easter) and the beach music festival (takes place during the full moon in August). Speed windsurfing is also popular between November and March. The architecture here is intriguing, where you can find early British influences, as well as monuments that date back to colonial times.
4. Santo Antão … the mountainous one
As the second largest island in the archipelago, most visitors are drawn to Santo Antão for its adventurous hiking trails and particularly impressive scenery. Compared to its sister island of Boa Vista, these two could not be any less alike. The precipitous peaks, jaw-dropping ravines and plush vegetation are far from the endless sand dunes of Boa Vista, however if you love to explore by foot, this is the island to come to. One place not to be missed (if you're comfortable with heights) is the village of Fontainhas, which is impressively perched on the edge of a rock above a deep ribeira.
5. Santiago … the one with most African style
Boasting a real African feel, Santiago, the largest of the islands, is rich in culture and history with some wonderful local markets. If you pay a visit to the island's capital city, Praia, you'll be met with an eclectic mix of Mediterranean and African influences in the form of culture and architecture. The colourful African market gives visitors the opportunity to experience the local way of life, and sample some of Cape Verde's most tasty foodstuffs.
6. Fogo … the volcanic one
Fogo is home to a magnificent active volcano set in a lunar-like landscapes. Impressively, the volcano and surrounding area are used to grow coffee, and inside the crater itself Fogo's very own wine is produced, both of which you should try. The capital, São Filipe, has a quaint Portuguese feel to it, with squares, cobbled streets and traditionally painted houses. A hike up the volcano is a great way to experience the island, and take your camera along as there are some rather impressive views from the top.
Images from The Cape Verde Experience.
Note: All the travel companies featured on this site are personally recommended by our editors. Companies pay us a flat annual fee; we don't get any additional payments if you click on their sites or make a booking. Those fees pay for the upkeep of our site, so we can keep it current and reliable. See more about how we work.
Copyright © 2020, 101 Holidays Ltd