Where is everybody? Falling in love with Portugal's Alentejo
By Mark Hodson
I have a theory about sunsets: if they happened only once a year, or could be seen in only half a dozen places worldwide, they would sit at the top of every traveller's bucket list. Instead, we take them for granted, an everyday miracle. But when was the last time you sat on a pristine sandy beach and watched a fiery sun sink slowly into the sea, setting the sky ablaze?
Mine was last month on the Atlantic coast of Portugal, a 90-minute drive south of Lisbon, on what must surely be one of Europe's most wild and wonderful beaches. At the end of a long unmade road we climbed to the top of a high dune and laid a blanket in the soft sand. Surrounded by strange and beautiful plants – sea holly, armeria and sea spurge among them – we could see for miles along the coast in either direction: not a single soul.
Once the sun had set, we tumbled down from the dunes and walked along the water's edge, dodging waves, breathless at the sheer unexpected beauty of the place. Ours were the only footprints in the sand.
Even Google Maps had no idea where we were. The app on my phone declared we were at Praia da Aberta Nova – 119 previous visitors had left glowing reviews. In fact, we later learned, the beach is called Praia da Vigia. Never mind. But the fact that the mighty Google doesn't know about this paradise, only an hour and a half from a major European capital, speaks volumes.
This region of Portugal is the Alentejo – south of Lisbon and north of the Algarve. It takes up a third of the country but is home to just 5% of the population. It's the source of the country's finest wines, much of its home-grown food and thousands of cork farms, which together produce 50% of the world's cork. And there's much, much more, from medieval hilltop castles to neolithic stone circles that predate Stonehenge.
When I told people in Britain I was going to the Alentejo, I was met by a series of blank stares. But when I mentioned it to any Portuguese, their eyes would light up and their face break out into a wistful smile. This is where the locals take their holidays – they would be far too polite and proud to claim the Algarve is spoilt, but they seem happy to leave it to the foreign tourists.
Close to Vigia beach is the sleepy village of Melides where we found O Fadista, a seafood restaurant packed with locals on a Thursday night. We took one of the tables on the street, with a view of the square, a church and tightly-packed houses painted in the traditional blue and white. The food was sensational: chicken gizzards and tomato salad followed by a huge pot of fresh clams with rice and fried prawns. With drinks for two we paid less than €60.
The quiet charm of Melides has not escaped the outside world. Christian Louboutin, the French shoe designer, has a house there and recently announced plans to open a hotel in the village. More worryingly, there are plans afoot to build huge five-star resorts directly on the beaches with wealthy American and Spanish backers. The beaches have protected status, but environmental campaigners concerned that rules may be flouted held a demonstration on the beach during our stay.
The drive north along a winding coastal road takes you through a series of villages and past the startling sight of emerald green paddy fields that span wide river estuaries. One village, Comporta, has become a boho-chic weekend destination for wealthy Lisboners. Chi-chi boutiques sell beautiful hand-made glass and ceramic homeware at eye-watering prices. Louboutin owned a house in Comporta until he tired of the newcomers and moved further south to Melides.
With few hotels on the coast, the best places to stay are converted farms. We stayed at Herdade das Barradas da Serra, a 600-hectare cork farm that has been owned by the same family for five generations. With 12 rooms and cottages set around a beamed dining area, it oozes understated elegance and old money.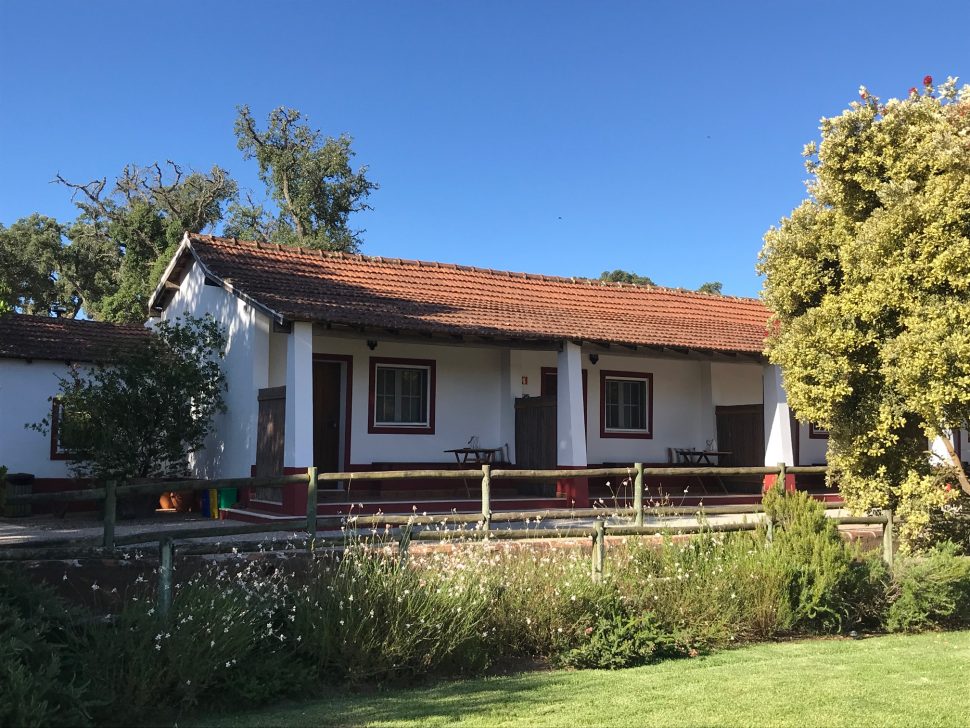 There's a lovely pool bordered by lawns, cypress trees and pink oleander, and a choice of four walks through the estate where you can follow clearly-marked trails through the hills and forests of cork oak trees and Italian stone pines.
An hour and a half's drive inland from the coast is the regional capital, Évora, a fortified medieval town built around the remains of a Roman imperial outpost. There's a remarkably well-preserved Roman temple in the main square, and shops and houses built into the arches of a stone aqueduct. A Roman bath beneath the town hall was only discovered in the 1990s – you can view it will while locals sit around waiting to hear about their planning applications.
Évora is not just about antiquities. There's a university, stylish bars and a lively restaurant scene. And yet … we barely saw more than a few dozen other tourists there. If a town this sublime was in Tuscany or Andalusia, it would be heaving with coach parties. It's baffling.
We booked dinner at one of Évora's best-loved restaurants, Taberna Típica Quarta Feira, where the charismatic chef and proprietor João Dias offers a single evening sitting, no menu and no prices, only the promise of modern twists on traditional Alentejo recipes. As one course after another materialised, many presented and introduced by João himself, it became clear this was going to be one of the great meals of my life. Words can barely do it justice, but it will be some time before I forget the squid served in an ice cream cone with apricot mayonnaise. With four glasses of excellent local wine, the bill for two came to less than €100, an absolute steal. Book a table via their Facebook page.
There's a lot to see in Évora and most visitors find their way to the small 16th-Century Chapel of Bones where every inch of the walls and vaulted ceilings are lined with the skulls and bones of some 5,000 monks. An inscription over the entrance reads: "We, the bones that are here, await yours". It's a sombre and strangely beautiful sight, well worth the entrance fee, though frankly I had most fun wandering around the maze of cobbled streets, catching glimpses into secret gardens and befriending skinny cats.
You can stay in Évora itself – there's a former convent on the main square, the Convento dos Lóios, now an upmarket pousada – but we chose to stay nearby in the tiny fortified hilltop village of Evoramonte. The Place at Evoramonte is a guesthouse owned and run by Vicki and Mitch, a well-travelled couple from Scotland and South Africa, respectively, who have lovingly transformed a collection of historic stone buildings into a peaceful retreat with real charm.
There's not much to do in Evoramonte once you've watched its own spectacular sunsets, walked around the castle walls and seen the griffin vultures gliding on thermals below eye level. However, there are treasures galore within a short drive, including the farming town of Estremoz which hosts a fascinating Saturday morning market. As well as fresh produce and about 10,000 varieties of sausage, goats cheese and sheeps cheese, there's a large antiques fair where locals sell off knick-knacks and family heirlooms, everything from egg cups to rusted ploughs. You'll be thinking: "I could just buy a little house here … and come to the market to furnish it …"
Amid the cafes in Estremoz serving choco frito (fried cuttlefish) and bifanas (sandwiches stuffed with marinated pork) there's a wonderful museum, the Museu Berardo Estremoz, dedicated to the history of painted tiles. Even if you don't consider yourself a fan of ceramics, you'll love the setting, a handsome townhouse with elegant courtyards, and you may enjoy the free wine tasting too.
I expected to see modest crowds visiting the Cromeleque dos Almendres, a 7,500-year-old stone circle that was rediscovered as recently as 1966. But at the end of a long dusty access road, we found just two other cars, and one of those belonged to a couple we'd met over dinner the previous evening. This is one of the largest and most important stone circles in Europe, set on a gentle slope surrounded by cork forests, yet there's no entrance fee and very little tourist infrastructure. I only wish we'd got there for sunrise.
Many of the towns in the Alentejo have hilltop castles, testament to centuries of religious warfare, but the most attractive of all is tiny Monsaraz, a car-free whitewashed village packed with churches, craft shops and cute coffee shops. You can wander around the castle which was converted into a bullring by a previous generation of villagers and gaze out across miles of fields and across the River Guadiana to Spain.
The building of a hydroelectric dam flooded the river here to create an artificial lake the size of Sussex. You can rent a motor cruiser to tour the lake or just swim and sunbathe on the artificial beach there, as we did. It's a lovely spot with shady trees, a cafe and showers. And the water's a lot warmer than the Atlantic Ocean.
How to do it
We travelled with Sunvil, our recommended tour operator for the Alentejo. It has a number of suggested itineraries, including a food and wine holiday and a self-guided walking holiday, but can also tailor-make a trip that suits you. Seven nights with flights, accommodation, car hire and breakfast costs from around £500 pp based on two sharing. You can catch a bus between Lisbon and Évora, but to explore the region you'll need a car. Find out more about the Alentejo region from the tourist board.
Photos by Mark Hodson and Helena Hodson