What's a holiday in Greece like in summer 2020?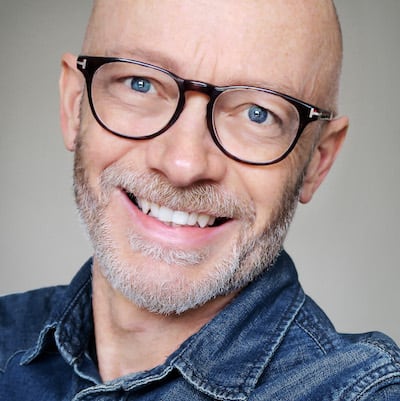 By Mark Hodson
UPDATE: see the latest list of Greek islands you can visit without quarantine.
It's just after 9pm at Ouzeri To 11, a small taverna on a side street off the harbour front in Myrina on the Greek island of Lemnos. We've climbed the ramparts of the Venetian castle and watched a blazing sun set over the Aegean, all velvety pinks and purples.
The dishes arrive: crisp whitebait, fresh mussels in garlic sauce, grilled calamari and Greek salad topped with a small brick of locally-made feta. The food is sensational, the prices absurdly cheap. There are a few other diners, all Greek. We appear to be the only native English speakers in town. The charming waiter smiles behind his plastic visor. Otherwise, everything is remarkably normal.
Lemnos is the eighth largest Greek island and has some of the country's finest beaches – four have been awarded Blue Flags – but it hasn't been blighted by mass tourism. In summer 2020, there are just two weekly charter flights, one from the Czech Republic and ours, from Gatwick. Greek and Bulgarian tourists arrive by ferry from the mainland port of Kavala, three hours away.
Greece has so far fared relatively well in the Covid-19 pandemic with just 200 deaths. Lemnos has yet to see a single case. Arriving on the first flight from the UK on 16 July, we are intensely aware of the dangers of bringing in the virus. We have been more cautious than ever in the previous fortnight, and of course wear masks throughout the journey.
On arrival, the airport experience is calm and well organised. I am singled out for a random saliva swap test. We have filled out Passenger Locator Forms online before arrival, so the authorities know where I am staying if the test is positive. It is not, and two days later the authorities report that none of the 2,800 people arriving from the UK into Greece has tested positive. So far, so good.
The welcome at the Villa Afroditi Hotel on Platy Beach is warm and friendly, though the owners Peter, Afroditi and their son George are clearly still getting used to the obligatory perspex screens, visors and gloves. For islanders that pride themselves on hospitality, social distancing is anathema. At the airport I was greeted by a local who held out her hand to shake mine: I stared at it with obvious horror and stammered, "Er … perhaps let's not do that."
The beach bars on Lemnos are delightful. Most will let you use their sun loungers and shades all day for the price of a drink or two. The ones we visited were also well organised. Waiting staff wore masks or visors and we watched them rigorously disinfect chairs and loungers after they had been used. Innovation abounds. Some bars hang menus from the sun shades, other put them online, accessed by QR codes.
If anything made me slightly uneasy it was the casual behaviour of some tourists. Although most of the island was gloriously uncrowded, the narrow main shopping street in Myrina began to throng in the late evening, with few people wearing masks or observing social distancing. Perhaps it was understandable: on this idyllic sun-kissed island it was easy to forget the world was in the throes of a pandemic.
The locals seemed more cautious. Most shopkeepers wore masks and provided hand sanitiser, and on an evening visit to a large supermarket we didn't see a single person without a face covering.
If you rent a car on Lemnos and don't mind negotiating some dusty unmade roads, you can discover an island of intense beauty. We visited an ancient theatre overlooking a turquoise sea, swam in pristine deserted coves and climbed a pilgrimage trail to visit a chapel built into a steep mountainside.
Our days were mostly spent relaxing on the beach, late afternoons exploring, evenings eating and drinking. This was the Greece of my imagination, pure and simple, the perfect antidote to lockdown.
For me, the greatest luxury was to swim in the warm clear sea. Our local beach at Platy was the best for this and early in the morning there was barely another swimmer to be seen on a bay that stretched almost 1,000m from end to end.
Holidays to Greece are back, and Greece needs the return of tourism just as much we need to be there. Don't wait until next year. Enjoy it now.
Before you set off to Greece
You must fill in an online Passenger Locator Form before you fly to Greece giving your contact details, accommodation, etc, so you can be traced in the event of a positive test. You will be emailed a QR code the day before your departure. Mine only arrived at 10pm. However, if there is any problem with this, you can fill in a copy of the form on the aircraft.
The experience at Gatwick Airport
Last week all flights were departing from North Terminal. There were only a fraction of the number of normal departures. Check-in was quick and easy, and security took a total of 15 minutes. Everybody we saw wore a mask. Once airside, there were several shops open including Boots which was selling its full range including food and drink.
The experience on the flight to Greece
Our charter aircraft was operated by Enter Air, a Polish carrier. It was about a third full. The flight to Lemnos takes about 2 hours 40 minutes. The crew were friendly and helpful – all wearing masks, of course – and there was a limited range of food and drinks on sale (though it's arguably better to buy from Boots or Pret a Manger at Gatwick). Passengers wore masks throughout, except when eating or drinking. Toilet visits were unaffected.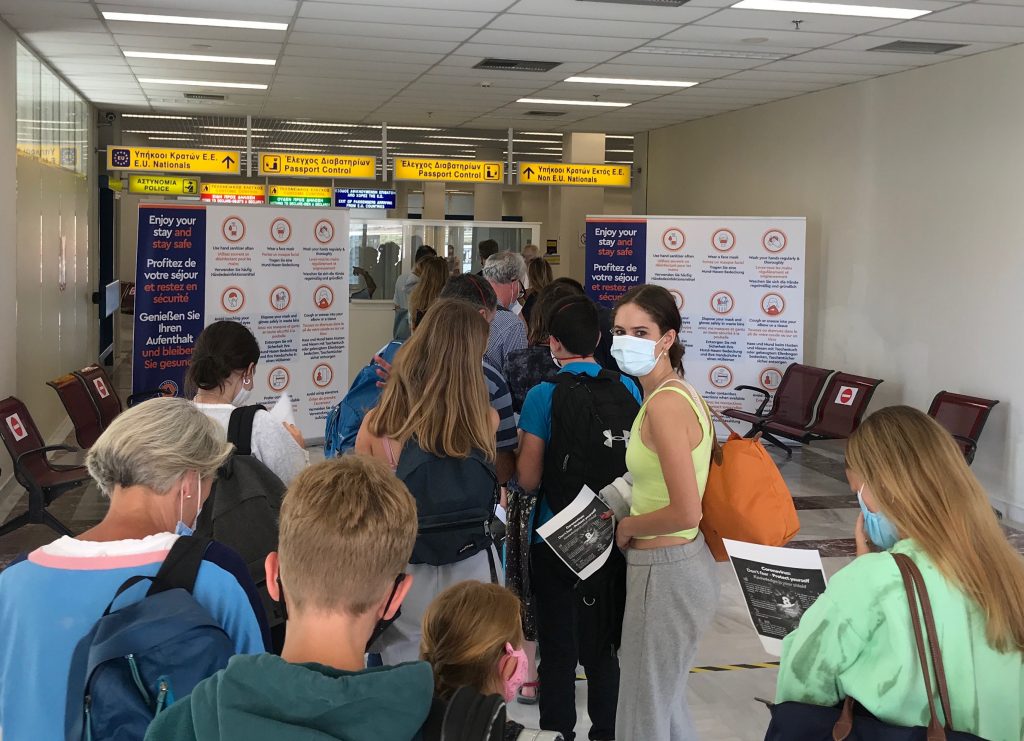 The experience on arrival at Lemnos
The small airport on Lemnos was well organised, with police working alongside immigration staff. Some passengers – apparently one person from each group – were selected for a random saliva swab test (including me). Those tested were not asked to isolate, but were free to carry on their holiday as normal. We were in and out of the airport within 20 minutes.
How to book
I travelled with the Greece specialist, Sunvil Holidays. It has seven nights B&B at the Villa Afrodite Hotel in August from £892 pp person based on two sharing including flights from Gatwick and shared transfers. The price reduces to £834 pp in September. See its latest offers.
* Photography by Helena Hodson and Mark Hodson. For more images, see Twitter and Instagram.