10 of the best pet-friendly hotels in the UK
We all like to go on holiday with our nearest and dearest, and for many people now – particularly after lockdown – that includes their dog. From Cornwall to Scotland, welcome treats to 'puppicinos', hotels across the UK are treating canine companions to welcomes as warm as those given to their owners. Here, the Good Hotel Guide shares 10 of their favourite pet-friendly hotels.
The Rose & Crown, Barnard Castle
The Rose and Crown at Barnard Castle is a dog-friendly countryside escape in Teesdale. The 18th-century inn sits beside a charming Saxon church, combining historic details with modern luxuries. Four-legged friends are most welcome; they can stay in most bedrooms and the inn provides treats as well as a 'dog hosing/drying area'.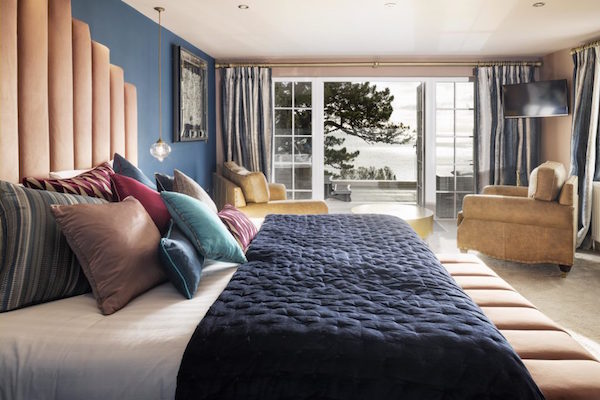 Talland Bay Hotel, Looe
Close to the coast path, Talland Bay is an 18th-century manor house surrounded by enchanting gardens. The property is whimsically adorned with statues and artwork that provides many a talking point. There are lots of places to sit outside or go for a walk, and dogs are welcome to join you in most rooms as well as the restaurant.
Widbrook Grange, Bradford on Avon
Widbrook Grange is a Georgian farmhouse peppered with up-cycled farm paraphernalia such as milk pails and wooden crates. There is a distinct warmth to this dog-friendly hotel, but without compromising on luxury. Dogs are invited to stay in select rooms for £15.00 per pooch per night. They are given a comfy doggy bed and treats. They have even been known to serve up doggy afternoon teas with wet food, organic biscuits and a 'puppichino'.
Grove at Narbeth, Narbeth 
A romantic and award-winning hotel in Pembrokeshire, The Grove at Narbeth is a posh pooch paradise. The hotel is known for its elegance and charm, beautifully-appointed bedrooms, and superb food. For dogs the experience is no less luxurious. Their own labradoodles, Milo and Bronwen, greet you and pets are provided with towels, blankets, and treats.  A dog dining menu is even available on request, by Burns Real Dog Food.
The Castle Hotel, Bishop's Castle 
The Castle Hotel is a truly dog-friendly establishment, with walks in The Shropshire Hills AONB starting from the front door. An 18th-century inn, it has 13 rooms, as well as three bustling bars and a smart, oak-panelled restaurant. A "Dog Welcome" pack is provided for every pet, including feeding trays, bowls, leads and towels – all at no charge. You can eat with your canine companion in any of the bar areas at breakfast, lunch, and dinner.  
Enniscoe House, Ballina 
In woodland at the foot of Mount Nephin, Enniscoe House is a Georgian mansion full of treasures. High ceilings, family portraits and – in some rooms – four-poster beds make for a sense of grandeur, while you wake to countryside views or those of the walled gardens. There's no extra charge for bringing your dogs with you; they will delight in the abundant space to run around in. Just make sure you take a photo and send it to the hotel's Facebook page during your stay – after all, it's a tradition!
Eddrachilles Hotel, Scourie
A small Highland hideaway, Eddrachilles Hotel is a former church with views of Badcall Bay. It has an almost chalet-style vibe, with six rooms looking out at mountains and moorlands. The use of antiques, cosy Harris tweeds and Kingcraig fabrics from Brora all give you a sense of luxe comfort. For just £10 per dog, pets enjoy use of all public areas including the upper room of the restaurant. Dog towels, bedding, bowls, warm water, and a dog washing facility are all available on request, along with mats and cushions for canine comfort. 
The Rose & Crown, Snettisham 
Covered in colourful roses, this 14th-century, whitewashed pub is all open fires, low beams, and thirst-quenching pints. The Rose & Crown in Snettisham has a reputation that precedes it; the award-winning inn welcomes the whole family to relax in cosy comfort, enjoying the walled garden when the weather allows and good, wholesome food at any time. Dogs stay for a supplement of £15 per night, for which they are also treated to a welcome bag.
The Gurnard's Head, St Ives 
A family-friendly inn in west Cornwall, The Gurnard's Head sits moments from the cliff edge. Atmospheric and exquisitely designed, the colours are bold, and the details are immaculately observed. Some rooms look out to sea while others watch over sheep grazing on the moors. The hotel is decorated with fresh flowers, local art, a Roberts radio, Welsh blankets, and all-natural toiletries. Enjoy the library, fantastic food, and superb location. The Gurnard's Head is a dog-friendly establishment, where pets can enjoy hotel rooms along with their owners. Just remember to tell them in advance.
The Master Builder's, Beaulieu
On Lord Montagu's Beaulieu Estate, The Master Builder's enjoys an ideal location for exploring the New Forest. There is a wonderful sense of history to the estate, and each room has been individually designed to give a different look and feel; some are light and airy, some are sumptuous and seductive. The property is surrounded by beautiful gardens and local wildlife, all of which will delight dogs as well as their owners. In fact, the hotel was awarded Dog Friendly Hotel of the Year 2016 by the Good Hotel Guide and continues to welcome pets with a Dog Room Service menu, comfy dog bed, bowls, and special treats.