Getting under Gozo's skin
  By Catherine Leech, 101 Holidays
I've been to Gozo 20 or more times since 1980 – it's one of my favourite places on earth and I thought I knew it pretty well. However, a recent walking and cycling holiday around this minuscule Maltese island in the Med has left me feeling I have truly got under its skin.
It's fair to say that the 'mother ship' island of Malta has changed dramatically in the last 35 years, with vast resorts, attractions, busy roads and busier people but Gozo has managed to retain its sleepy rural charm, a place where the skyline is still dominated by church steeples and domes rather than high rise hotels and the economy remains firmly underpinned by agriculture, fishing and low-key tourism.
Even getting there has changed not a jot – the 25 minute ferry crossing from Malta's northern tip is part of the charm, passing the Blue Lagoon of Comino island en route to Mgarr harbour, dotted with colourful 'luzzu' fishing boats.
Gozo is dotted with honeyed stone villages, each with its own church (Xewkija's Church of St John the Baptist has the world's third largest unsupported dome) and surrounded by stone-walled fields, vineyards and terracing. All that is wrapped up in a coastline of sandy beaches, tiny coves and inlets, vertical cliffs and – one of the island's most popular sites – the Azure Window, a stunning natural archway.
It adds up to the perfect holiday on two legs or two wheels.
Headwater offers both walking and cycling holidays – or you can combine the two. You are self-guided but the company's detailed route notes mean that it's almost impossible to get lost and there's always a choice when it comes to how far you want to travel each day.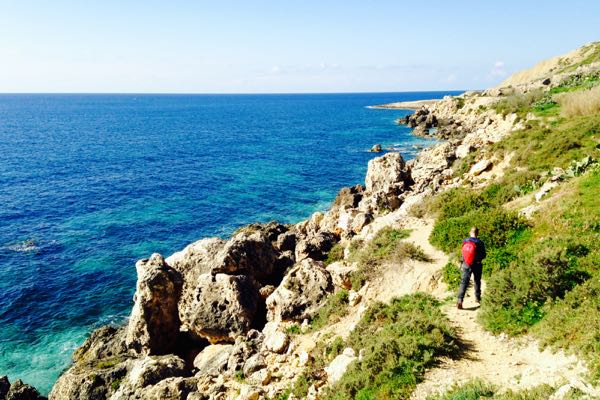 Walks range from 4km to 16km – underfoot can be rocky and there are a few gentle climbs but it's not strenuous and a decent pair of walking shoes is all you need. My favourite walk is the 12 winding kms from Mgarr harbour to Xlendi, a pretty inlet. The terrain varies from herb-scented 'maquis' and flower-filled fields to dramatic cliffs and azure inlets. Coastal watch towers, dating back to the Knights of St John, dot the horizon and it's worth stopping for some top snorkelling in Mgarr ix-Xini.
Unless you opt to take a picnic and a dip in the sea, head to Zafiro in Xlendi for a delicious – and very reasonable priced – lunch. We struggled to pay more than €20 pp for 2 generous courses and a bottle of wine. If you've started out late, it's hard to beat the freshest of seafood, served simply grilled at Mgarr ix-Xini's beachfront cafe. It was the base for By the Sea, Brangelina's movie (released in November 2015) – Malta's 'glitterati' have been flocking there in their gin palaces ever since.
The only bicycle I've ever owned was a Raleigh Chopper – I'm showing my age! I wasn't convinced I would enjoy the cycling but couldn't have been more wrong. Headwater's top quality bikes are fitted to each customer and I quickly learned how to use the gears – and brakes! Panniers to hold water, sunscreen and other essentials (perhaps some cheesy Pastizzi or a tasty 'Ftira' – a kind of pizza unique to Gozo, best enjoyed hot from Maxokk Bakery in Nadur) are also provided.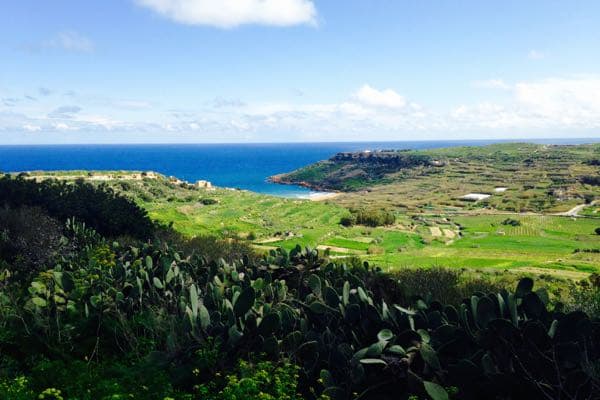 Our 24km cycle ride from Sannat to San Lawrenz was as varied as it was jaw-dropping – we had stunning views of the red-gold sands of Ramla Bay from Calypso's Cave, cycled past the ancient Roman salt pans at Xwejni and gawped at poignant displays of photographs, letters to Our Lady and no-longer-needed false limbs at the spectacular Sanctuary of Ta'Pinu. Yes – Gozo is fervently Catholic. Many of the older churches could be mistaken for a Baz Luhrmann movie set – think Gothic drama and Baroque splendour meets red and gold rococo in a feast for the eyes and soul.
All that exertion, of course, makes where you stay take on an added sense of purpose. You want comfort, a pool to cool off in, perhaps a spa for some limb soothing relaxation and great food. That's where the Headwater formula is so bang on the money – we stayed in two luxury hotels.
Ta' Cenc has long been a personal favourite of mine – single story stone buildings with gobsmacking views across the channel to Malta and the sort of warm welcome which makes you feel instantly at home. In March, it was too cool in the evenings to dine out on the terraces but there's a superb restaurant where dinner is included in the price.
The Kempinski Hotel, in San Lawrenz, is a more modern affair but no less impressive and welcoming. The Ayurvedic treatments in the spa are particularly good and I was very impressed with the newly-refurbished Junior Suites – definitely worth the price of an upgrade.
My top travel tips to Gozo
Head straight from the ferry for a cooling drink at the iconic Gleneagles Bar, overlooking Mgarr harbour – where gnarled local fishermen exchange stories with holidaymakers and the balcony has arguably the best view in Gozo.
The water surrounding Gozo is crystal clear. It's a bit chilly until June – and like bath water in September and October. My favourites are San Blas (there's a 2€ tractor ride back up the 1:2 hill if you're too tired to manage it) and Ramla beach.
The local food is super-tasty and always served in generous portions. Rabbit dishes, hearty pasta, fresh grilled swordfish and tuna, squid, octopus and sheepsmilk cheeses (tiny rounds, known as gbejniet) are my favourites.
Gozitans take their food – and increasingly their excellent wine – very seriously. For an insight in to artisanal skills, head to Ta Mena Estate to taste traditional, own-grown foods, wines, oils and liqueurs, and stop by Ta' Rikardu, within the Citadel walls, to see Rikkardu himself make his own cheeses. His peppered gbejniet, tomatoes, olives and crusty 'hobz' Gozitan bread are like eating sunshine itself.
The best snorkelling is in the inlets – Mgarr ix-Xini, the Inland Sea and Ta' Kantra (site of the Ta' Cenc hotel's beach club).
Time your holiday to coincide with one of the village festas – a thrilling cacophony of marching bands, local food, fireworks, flags and vast crowds. Many take place in June, July and August (when it's too hot for walking and cycling) but there are some in May and September. The Easter parades in most villages are as spectacular as they are moving.
It's fair to say that exploring on foot and two wheels left me feeling that not only had I got under the skin of the place but also that Gozo has buried itself deep under my skin. I can't wait to return.
Headwater Holidays offer single-centre and hotel-to-hotel walking and cycling holidays in Gozo from £957 pp for seven nights including half-board hotel accommodation, flights, transfers, detailed route notes and bicycle hire. Air Malta flies from 12 UK airports. Find out more about Gozo here.
Don't miss out...