From wilderness …

… to urban jungle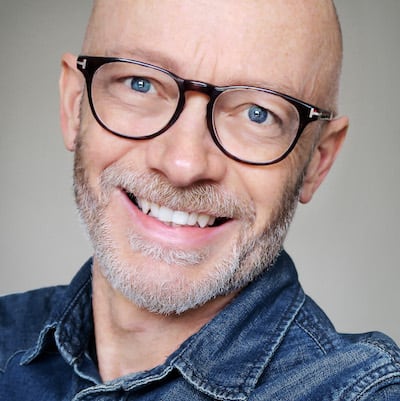 By Mark Hodson, Editor of 101 Holidays
One of the things I love most about travel is contrast. That might be moving from a simple beach hut to a luxury hotel and back again, or stepping out of a gourmet restaurant to eat dessert at a noisy street stall. The jarring change of gear seems to intensify the experience.
There are few greater contrasts than travelling from the pristine lakes and forests of Canada to the beating heart of New York City, as we found on our recent family holiday. After two nights at Sacacomie, a stunning log-built lakeside hotel in the wilds of Québec, we jumped on a train in Montreal and jumped off in central Manhattan.
Sacacomie is gloriously remote. It's a 15-minute drive from the nearest settlement, which is just big enough to justify one set of traffic lights. The hotel itself has 100 rooms but sits in 500 sq km of forest with 42km of lake front. That's a lot of space if you want to get away from other people.
I went kayaking from the beach with my daughter, Helena, and it didn't take us long before we found ourselves in pure wilderness: no sign of other human life, just trees and water and utter silence. It's amazing how rare such experiences have become in the 21st Century.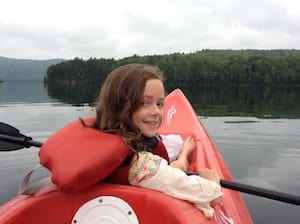 Sacacomie has a brief but interesting history. It was opened by a couple from Montreal in the 1990s, then burned down a week later after an electrical fire. Undeterred, the owners started again from scratch with a new design but sticking with the wood structure. The remodelled hotel opened in 1998, built using 250-year-old white pine. It's a beautiful building.
The rooms are comfortable but simple: guests are rightly encouraged to get outside and enjoy nature. There are 65km of marked hiking trails and private lakes where you spend an undisturbed morning fishing for rainbow trout. Even sitting on one of the many balconies you can see brown squirrels and chipmunks.
One of the resident guides, a former fur trapper called Gaspard, took us through the forest showing us how he would set traps for black bear, lynx and beaver. I asked if he'd eaten the animals. "Yes, of course," he replied in a thick French accent. "Lynx is very good, better than chicken."
One evening we joined a Bears and Beavers excursion. We sat quietly in a hide for an hour, but the bears didn't show up for their daily feed (the first no-show in a month, we were told). The beavers, at least, were more co-operative and our guide, Marie-Hélène, showed us how these resourceful creatures dam rivers and build lodges with air vents and escape routes.
The most fun we had was driving around the forest in a couple of Can-Am Commander off-road vehicles that negotiate the most difficult terrain at speeds of 40kph and more. Callum, 17, took a turn behind the wheel and decided that holidays with his parents weren't so boring after all.
Sacacomie also has a world-class spa and an excellent restaurant. Dining highlights included leg of elk, black "boudin" shepherd's pie and Appalachian venison.
For the quality of the experience, prices are reasonable. A two-night stay with breakfast, lunch and four-course dinner costs from CAN $353 (£215) per person. Under-4s stay free while under-13s sharing their parents' room pay CAN $102 (£62).
It's only a two-hour drive from this magical wilderness to downtown Montreal, a city we'd already fallen in love with.
The journey was seamless. We left our rental car at the central train station and took a lift upstairs to the Fairmont Queen Elizabeth, a large landmark hotel in Montreal built on concrete pillars above the rail tracks. In the morning we simply took the lift downstairs and boarded our train.
Amtrak 68 to New York City
There's nothing speedy about the train journey from Montreal to New York City. Amtrak 68 – known as the Adirondack – takes 11 hours as it shuffles across the border and edges slowing down the length of New York State, skirting lakes and stopping at small clapboard stations before following the picturesque Hudson Valley into Manhattan.
America's trains are prehistoric compared to the high-speed services found in Japan or France. On the Adirondack, the buffet car was basic and passengers do not have numbered seats. But it's much cheaper than flying, the seats are comfortable and the views are a constant delight.
At the border the train stops and US immigration officials come through the carriages checking the papers of each passenger. I'd been told this can take up to three hours but on this occasion it was quick and efficient, the officials were polite and friendly and we were off again in little more than an hour.
The one-way ticket costs just US $65 (under-16s US $32.50). You can book direct from Amtrak and collect tickets at the station, or if you're planning a longer trip go through the specialist tour operator, Railbookers. There is a large food court in Montreal station where you should stock up on food and drink.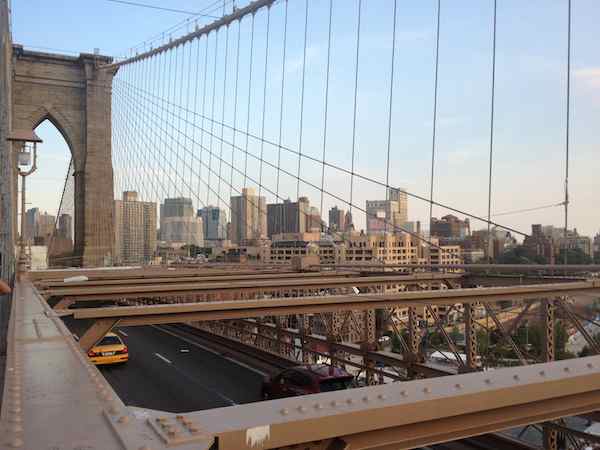 Arriving in New York
The train pulled into Penn Station almost exactly on time, so much easier than arriving at an airport and then having to negotiate a long taxi ride. We had booked a room at the Affinia Shelburne in Murray Hill, just five minutes away by cab. This is an excellent hotel in a great location: it's within easy walking distance of Times Square, Central Park and the Empire State Building, but it feels like a proper neighbourhood with corner shops, delis and diners. It's also just a few minutes walk from an East River Ferry terminal, by far the most civilised way to get around New York.
From splendid isolation in the wilderness of Québec to the heart of the world's most exciting city, via one of America's great train rides. That's the kind of contrast that gets my pulse racing.
* You can find out more about Québec from Bonjour Québec.
Don't miss out...