Great Ape! My treetop adventure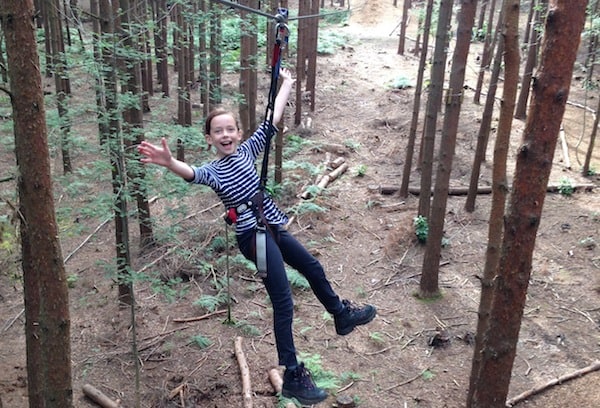 By Helena Hodson, age 10
Last weekend I visited Go Ape in Crawley with my mum and dad, and my friend Alex. We had a great day out. Luckily the weather was hot and sunny so we could make the most of our day.
Go Ape is a thrilling treetop adventure. You make your way along 34 exciting crossings and five zip wires (the longest is 142m) with your friends and family. Surrounded by the beautiful, scenic countryside, whilst up in the air, the views are fantastic.
Go Ape is loads of fun (especially climbing through the air and acting like monkeys) yet completely safe, as long as you listen to the instructors and follow the rules. It takes two to three hours to complete the course and there's a beautiful grassy area overlooking a lake where you can enjoy a picnic.
After going through the safety briefing, we were taken to a practice area close to the ground, to experience what Go Ape is like. Then we were left to do it ourselves.
When I first got in the treetops, I felt a buzz of excitement. The first zip line was exhilarating. I didn't hold on to the rope, knowing the harness would keep me safe.
Some of the bridges were harder than others, but the extremely challenging ones had easier alternatives, but I tried all the hard options, sometimes failing miserably!
As Go Ape is not the most glamorous activity, I advise that you wear old clothes and dress appropriately for the weather e.g. a waterproof if it's raining. Go Ape doesn't allow you to wear flip flops, sandals or open-toed shoes, and recommends you wear boots with ankle support. Also you do need a small amount of physical strength for some crossings.
Gradually the rope challenges get harder, but you'll be ready by then, as you will have practised with more simple crossings. Don't worry if you're afraid of heights, just try and go up there; maybe you'll surprise yourself.
I had a great day out with my friends and family. I hope to return soon. To find out more, please visit http://goape.co.uk/
Don't miss out...