Explore's Family Tuscan Active Adventure
By Mark Hodson
"Lie down here on the rocks. Keep your head down. Cross your hands across your chest." I did as I was told and Davide gave me a firm push. I slid down the rock, freefalling for a brief second, then splashed into a deep pool of icy river water.
After a few seconds my daughter came down behind me the same way. Spluttering for air, she grinned and yelled: "Omigod! That was amazing. Let's do it again!"
It was our first time canyoning. We were clambering our way down the Rio Penguino in a remote mountain valley in Northern Tuscany. Davide, our guide, had a mischievous grin and a strong handshake. Turns out he's mayor of one of the neighbouring villages.
The half-day canyoning was just part of a high-energy family activity week that neatly addresses the problem of where to go on holiday with children that are too old for kids clubs but too young for nightclubs. There was hiking, cycling, climbing, zip wiring, swimming – and a little bit of conventional sightseeing – plus endless opportunities to guzzle down pasta, pizza and gelato.
* See our tips for the best holiday destinations in Italy.
This is me jumping off a rock. Like you do
Helena may be a typical 12-year-old girl, happy to spend hours on Instagram and Snapchat, but I don't think she's happier than when she's flying between trees attached to a metal cable, or hurling herself off slippery rocks into freezing water. Acting her age, in other words.
While a couple of her school friends were touring churches and art galleries in another part of Tuscany (all very laudable, of course), we were based with two other families in Tuscany's Garfagnana Valley at a small farm run by Rupert, a British expat, and his Italian wife Angela.
Rupert and Angela's farm, our base for the week
The couple had restored the farm as part of Italy's excellent agriturismo programme and it's now an idyllic place to hang out. Helena and I slept in a remote cottage that was once a building used for drying sweet chestnuts. The farm has a solar-heated pool and sundeck with 180-degree views across the valley, and most evenings we ate on the vine-covered terrace, feasting on Angela's home-cooked food. Iced tea for the kids and red wine and limoncello for the adults, the latter both produced on the farm.
For all the bucolic charm of the setting, it was the programme of activities Rupert had organised that got the children excited. We spent the first morning on a high ropes course which boasted an impressive circuit of zip wires. Then it was off to the verdant shores of Lake Vagli where we ate a picnic lunch (proscuitto sandwiches and farra and tomato salad) before taking to the water on kayaks. After splashing up and down the lake we took turns leaping off a jetty into the crisp clear water. Then, gelatos. Better than your average Monday.
Trail walking signs in Orecchiella National Park
Next day we went for a walk. Not the most exciting prospect for action-hungry teenagers, you might think, but this was a proper climb into Orecchiella National Park and up to the 1,600m peak of the Pania del Corfino that towers over the valley below. When we first glimpsed the summit near the start of the walk, Helena said quietly: "You. Are. Kidding". Privately, I was thinking the same. But we made it. And despite the tired legs, we shared a real sense of confidence-building achievement. Plus it was an excuse for more gelato.
Views from the summit of the Pania del Corfino
The following day was canyoning followed, after another picnic lunch, by an introduction to via ferrata. After a steep climb into Parco Battiferro, we donned harnesses and helmets and dropped into the dry canyon, learning how to clip ourselves in and out of the fixed wires, hooks and hand holds. Having mastered the basics, we scaled a sheer 30 metre-high rock face then negotiated a high wire walk along a Tibetan suspension bridge and a high-speed zip wire. This was not just the best day of the holiday, but one of our best days on any holiday. Ever.
Don't look down! Helena on the Tibetan suspension bridge
On the fourth day we descended by train from the cool of the mountains into the beautiful – but scorching hot – city of Lucca. After wandering the cobbled streets and climbing its most famous tower, we rented bikes and did a couple of circuits of the city walls. Double gelatos were required to cool us down.
Another hot day followed as we took a train to the Cinque Terre, the collection of tiny pastel-painted fishing villages that cling to the rocky coast of Liguria. Now a UNESCO World Heritage Site, the Cinque Terre is something of a tourist honey pot and it was a culture shock to come across so many other foreign visitors after four days in the mountains.
We started in the one-street village of Corniglia which we were told had a famous gelato shop. It would have been rude not to, right? Helena had a scoop of strawberry and another of Nutella, and I had a scoop of dark chocolate and one of basil. Seriously, I cannot remember ever eating better ice cream.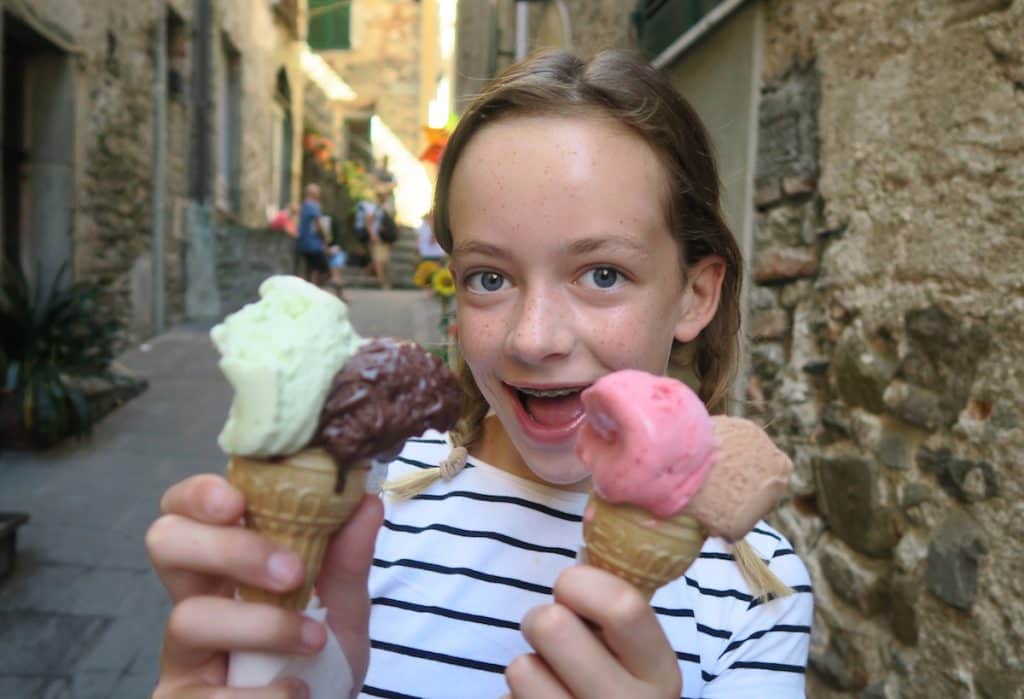 Possibly the world's best gelato
That set us up nicely for the precipitous two-hour walk following the coastal path to the pretty village of Vernazza where, after a quick swim and a lunch of spaghetti with seafood, we jumped in a water taxi to a third village, Monterosso, for some serious beach time.
The village of Vernazza in the Cinque Terre
On the final day we were fitted with bikes and driven high into the mountains for a 28km descent along twisting roads with spectacular views. It's a section of road sometimes used for the Tour d'Italia and can be very steep, as Helena found when she crashed into a barrier. Nothing more serious than a couple of bruises and scrapes. Anyway, what's a holiday if you don't have a couple of scars to show off at the start of school term?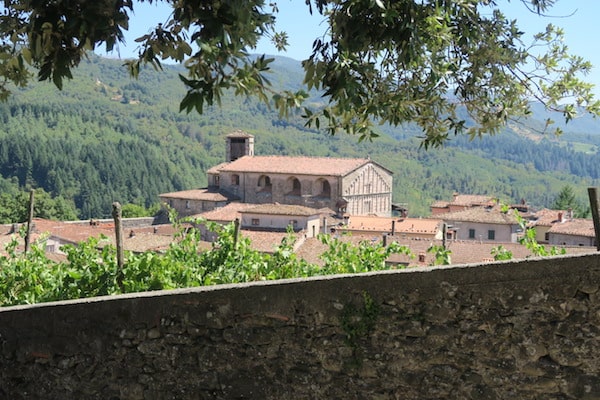 * We travelled with Explore on its Family Tuscan Active Adventure which has departures between 16 July and 20 August in 2017. It costs from £1,199 including flights, or £995 without flights. All photos by the author.