By Mark Hodson
I'd never been to Dartmoor. I'd thought of it as a desolate place of mists and mires, the Hounds of the Baskervilles, a prison that dates back to the Napoleonic Wars.
I was right, up to a point, and also hugely wrong.
One of the UK's oldest national parks, Dartmoor may be desolate at times but when I visited on a sun-drenched weekend in late spring, it was a glorious, wild, life-affirming place of long walking trails, endless horizons, rivers and streams and pretty stone villages with historic pubs.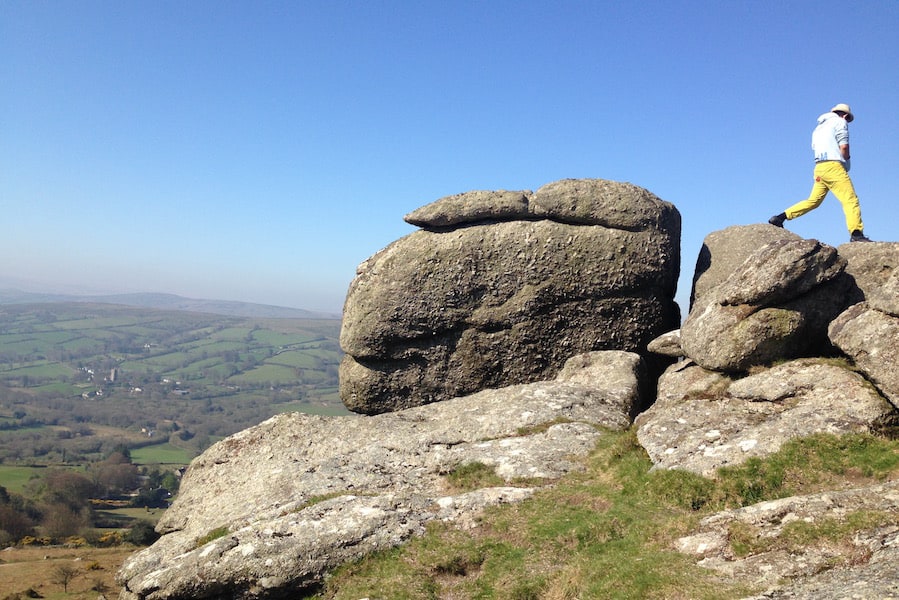 Dartmoor is also home to one of the UK's best cookery schools, in the market town of Ashburton. I took my daughter Helena to try out a new one-day course for teenagers, while I spent a day alone hiking between the dark granite tors that pockmark the surrounding moor.
We stayed at the charming family-owned Ilsington Country House Hotel set in eleven acres of grounds above the tiny village of Ilsington with views up to Haytor Rocks, one of the best known of the tors.
After four hours driving from London, we were keen to stretch our legs, so we headed directly up to Haytor. From the car park, it's a gently steepening climb to the rocky outcrop, 1,500ft above sea level. Scrambling to the top, buffeted by a cool breeze, we had our first sight of the vastness and – yes – the desolate beauty of the moor.
(* See our pick of the best UK holiday destinations.)
Helena, who recently turned 13, was itching to get down the hill to return to the hotel, which has a stylish spa. There's a heated swimming pool with time slots for young kids and a hydrotherapy pool, water jets and cannons, sauna and steam room.
The hotel is also renowned for its dining: the kitchen smokes its own meat and fish, and sources organic ingredients from local farms. There's a fancy-pants restaurant but we had dinner in the less formal Blue Tiger Inn where the catch of the day was outstanding.
I woke early, slipped out the room and watched the sun rise over the moor to a cacophonous dawn chorus. A thin mist rose and a curious sheep ambled up to a steel gate to watch my movements. There were no other people about.
After a cooked breakfast, I dropped Helena at the Ashburton Cookery School and headed for the trails. I left the car in an unmarked parking area with panoramic views of the moor and down to the pretty village of Widecombe-in-the-Moor.
I followed a path of foot-flattened grass past lichen and heather toward a cluster of dark peaks on the distant horizon. Cresting a hill, I caught sight of Bonehill Rocks, a popular spot with young climbers. Around the rocks, half a dozen Dartmoor ponies grazed beside a stream. These hardy animals, which are thought to have lived on the moor for 3,500 years, might appear to be wild but they are all owned by farmers and locals, who hold ancient grazing rights.
It's then a steep climb to the top of Bell Tor, which offers some of the best views of surrounding countryside and – on a clear day – the sea. From there, the walk is like a giant dot-to-dot drawing, to Chinkwell Tor and then Honeybag Tor, dipping and rising, passing ancient and modern cairns.
All that walking makes you hungry. Staff at the hotel recommended the Rugglestone Inn, a listed 19th-Century conversion a short walk from Widecombe in the Moor. It looks idyllic with a cosy bar, log fire and a pretty garden reached by crossing a small stream. The food was great, and there are half a dozen local ales served directly from the barrel.
What about the cookery school? I picked up Helena in the afternoon to find her fizzing with enthusiasm and carrying a bag of dishes she'd made from scratch: pizza, pesto, a ragu sauce, a tomato sauce and brownies made with dried cherries.
"It was amazing," she said. "There were just seven of us, aged 13 to 17, and the chef, who was called Phil, and a professional kitchen with all the equipment and ingredients lined up for us. I learned so much, not just how to make classic dishes like a perfect ragu, but professional kitchen tips and tricks, like how to perfectly slice an onion."
In the interests of editorial checks and balances, I tasted all of Helena's handiwork and I'm happy to confirm that it was impressive. I'd say "restaurant standard", but it was in fact better than a lot of food I've eaten at restaurants.
How to do it
A night's stay for two adults and two children under 16 in a family room at the Ilsington Country House Hotel costs from £220 per night with breakfast. The Teen Cuisine course at Ashburton Cookery School costs £135 and runs on 12 August and 20 August, though more dates may be added.
Photos by Mark Hodson, Ashburton Cookery School and Ilsington Country House Hotel.
Note: All the travel companies featured on this site are personally recommended by our editors. Companies pay us a flat annual fee; we don't get any additional payments if you click on their sites or make a booking. Those fees pay for the upkeep of our site, so we can keep it current and reliable. See more about how we work.
Copyright © 2020, 101 Holidays Ltd