The best part of Mallorca. Just don't call it posh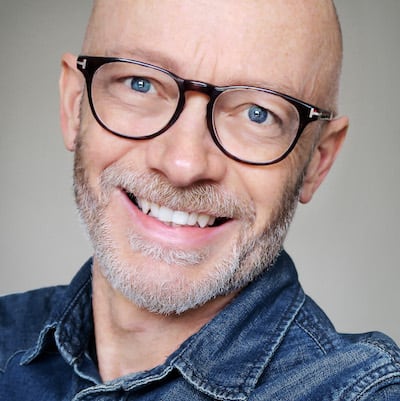 By Mark Hodson, Editor of 101 Holidays
In 1929 the artist Joan Miró took his new wife on honeymoon to Mallorca. They headed not to the elegant capital Palma, but to an isolated and little-known fishing village on the north coast of the island, Port de Pollença.
In the early part of the 20th Century, the village had barely 100 inhabitants, but early visitors – including the Catalan painter Hermen Anglada Camarasa and his disciples – discovered a place of rare beauty, a long sweeping horseshoe beach overlooking a glassy bay, flanked on three sides by rugged hills.
Before Instagram, before television, before even colour photography (which wasn't widely used until the 1960s), this was how tourism started. Artists would discover beauty spots, reproduce them in paint, and word would slowly spread.
Ametllers en flor (1917) by Hermen Anglada Camarasa
After the artists come the writers. Agatha Christie stayed at Port de Pollença during the 1930s in an epic journey that took her to Jerusalem, Luxor and Cairo. She is said to have headed to the island's north coast to escape the growing numbers of British and American tourists in Palma and fallen in love with this pine-scented bay.
The nascent growth of Mallorca's tourism industry was swiftly halted by the outbreak of the Spanish Civil War in 1936. The island was held by Franco's Nationalists and German seaplanes were based in the Bay of Pollença. Hotels were ordered to boot out their guests and hand their rooms over to Nazi airmen.
It wasn't until the 1960s that tourism to Mallorca really took off – and we know what happened then. But despite the growth of downmarket resorts such as Magaluf and Arenal, the north retained its looks, and the region around Pollença is now routinely – and lazily – referred to as the "posh" part of Mallorca.
This is misleading. Although a glance in the window of any estate agency will reveal a large number of lavish villas selling for seven figures, there is nothing opulent or ostentatious about the region. Most hotels are still family run and restaurants serve traditional Catalan dishes. English is widely spoken, but so is Mallorquin, alongside Spanish.
Nor is the area marred by overdevelopment. In Port de Pollença, a promenade stretches along the perimeter of the bay. The prettiest section is to the north where there is no road and the path ducks beneath sprawling pine trees alongside a row of elegant villas. There's a bronze bust of Camarasa, who lived on in Pollença until his death in 1959.
The promenade eventually reaches the hotel Illa d'Or where Miró and Christie both stayed. Although upgraded and expanded over the years, it retains many original features and has its own handsome charter boat, the Isabel Maria, on which I spent a gloriously lazy afternoon exploring the far reaches of the bay.
The Isabel Maria moored in front of the Hotel Illa d'Or
On my visit in the second week of October the sea was 25ºC and tourists were sunbathing until 6pm. While Pollença is popular with middle-class families in July and August, the autumn crowd is very different: retired couples soaking up the rays and groups of brightly-clad cyclists on high-spec road bikes.
Cycling has a rich heritage in Mallorca, and it has long been the winter base for several elite race teams. Those picturesque hills soon turn nasty when you're relying on pedal power and one ride – the Tramuntana Epic – starts and ends in Pollença and stretches for 168km with 2,700m of climbing.
Wherever I went in the area I saw groups of (mostly middle-aged male) bikers, sweating up hills and sipping espressos at pavement cafes. Not only does Mallorca have a well-maintained network of roads and cycle paths, but hotels and rental shops are well equipped. The Hoposa Hotel Uyal, where I stayed, had a laundry room especially for cyclists, along with a lavish breakfast buffet where budding Bradley Wiggins types could load up the carbs.
Biking isn't the only activity on offer. There are dozens of places in the north of Mallorca where you can go canyoning, coasteering, kayaking or caving, and hundreds of kilometres of well-marked footpaths, including the GR221, which follows the Tramuntana mountains from Andratx to Pollença for 120km and takes six days to walk. In spring and autumn, Mallorca is less about buckets and spades than helmets and hiking boots. The activity season is long: only the weather between the end of November and late February is unreliable.
Cala Molins, Cala Sant Vicenç
Just to the north of Port de Pollença, the small resort of Cala Sant Vicenç is wedged between two rocky headlands overlooking a crystalline bay. It's a great spot for kayaking and snorkelling but walkers are also well served, with five routes leading directly out of the village. No motorised transport required.
I took one of the routes, climbing through a small pine forest and high onto one of the two headlands. I was passed by a heavily-perspiring German tourist, Werner, who clutched an altitude meter and looked like he was competing in some kind of race. He slowed to chat for a few minutes, telling me that he was on the island for two weeks, hiking every day. Where was his wife today, I asked. "She's having a lazy day by the pool," he sniffed. As Werner marched determinedly ahead, I felt her pain.
It took an hour to reach the summit, by which time the path had given way to boulders and tufts of coarse grass, the way marked only by cairns. The sun was a scorching 27ºC but the views across to the open sea were spectacular and the walk along the ridge was relatively easy. At one point I peered down from the top of sheer cliffs to a group of kayakers that looked like specks on the cobalt water several hundred metres below.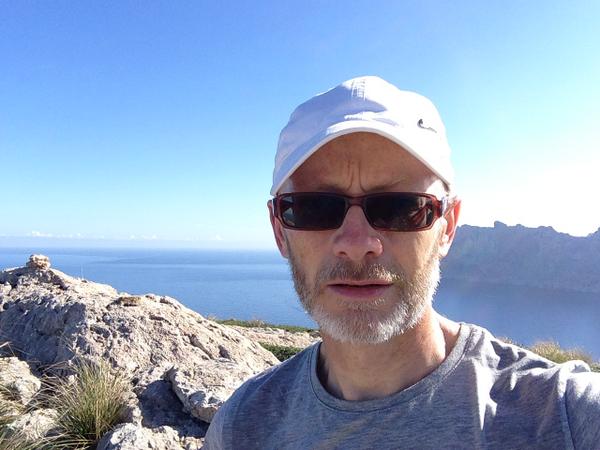 Your author hiking near Cala Sant Vicenç
I lunched on pan catalan, that ubiquitous deliciously simple dish of bread, tomato and olive oil. A local guide, Miguel, explained that it's all about the ingredients: a dense, brown, freshly-baked loaf, big ripe juicy tomatoes to smear over the bread, extra virgin oil and a generous sprinkling of salt. With a glass of red wine and a slice of sobrasada, it makes for a great meal.
If you like your cuisine more haute, there are plenty of appealing options. Among the best is Son Brull, a tastefully-converted 18th-century monastery set amongst vineyards and olive groves with just 23 rooms, a bar dominated by a huge olive press and a renowned restaurant, 3|65. The two-course dinner menu – with amuse bouche, sorbet, bread, oil and petit-fours – is good value at €49 and a bottle of cava from the estate grapes is attractively priced at €30.
On another evening I ate at Stay, a restaurant directly overlooking the bay where a three-course menu with wine, mineral water, coffee and chocolates was a snip at just €35.
On my last day I rented a bike. Alas, not one of those skinny lightweight road bikes, but a Boris-style banger, and I pootled the 6km to the town of Pollença, the whole centre of which is now a Unesco World Heritage site.
It was Sunday and the weekly market was in full swing: fruit and vegetable stalls, jamon and cheese vans, jewellery makers, chi-chi shops run by expats and, beside the door to the church, a pair of performing pigs. The streets were heaving and a band of buskers in the corner of the Plaza Mayor had drawn a crowd of around a hundred.
Considering this was the middle of October, and Spain is still mired in economic misery, the place was absurdly busy, both with locals and free-spending tourists. But spoilt? Overdeveloped? I didn't think so. If Camarasa were alive today he'd not only recognise his beloved island, he'd still be able to paint many of the exact same canvases.
How to do it
Three nights half-board at the Hoposa Hotel Uyal costs from £436 per person including flights from London Gatwick to Palma and private transfers with Classic Collection Holidays (0800 294 9318). A seven-night stay costs from £704 pp. Other UK departure airports are available.
Son Brull can be booked through i-escape. Other recommended restaurants include Stay in Port dePollença and Clivia in Pollença town.
Activities in the area can be booked through Mon d'Aventura. It charges €30 for 2.5 hours of kayaking, €35 for a 5.5 hour hiking tour and €45 for a 4.5 hour coasteering adventure and speedboat tour.
For more information on the region, visit Pollenca Tourism and the Pollenca Hotel Association. 
Don't miss out...