10 things I love about Montreal
By Mark Hodson, Editor of 101 Holidays
The French have an expression, "Bien dans sa peau," which roughly translates as "comfortable in its own skin". It could be used to describe Montreal, a city that effortlessly combines European flair with American openness.
It's been almost 12 days since we arrived here on our family summer holiday – we are staying in Montreal's leafy suburbs on a house swap – and we've all fallen for the city's gentle charms and the Quebecois way of life.
One of the things we enjoy about house swaps is the feeling that you are not so much a tourist, as stepping into somebody else's life. We eat at local restaurants, watch local TV and spend a good deal of time at food shops and markets, buying ingredients for picnics and evenings at home cooking for ourselves. If you want to learn about a foreign culture, don't visit a museum: go to a supermarket.
Of course ours is a limited view. I can't tell you anything about the nightlife of Montreal, or its wealth of hotels. But I can at least share some of the things that I've loved most about this fascinating city.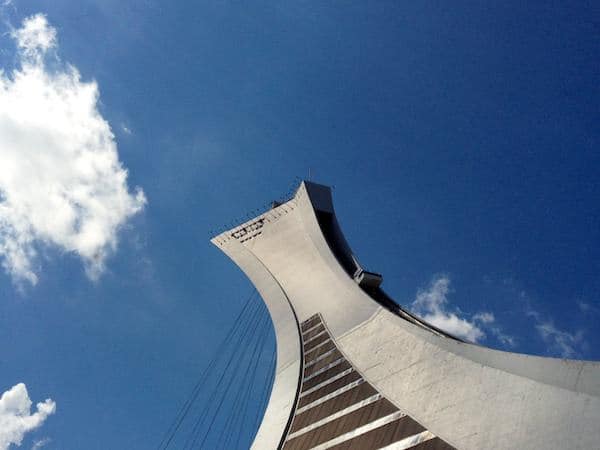 The Olympic Park
As I live in a city that has recently hosted a summer Olympics, I was interested to see what Montreal had done with the structures created for the 1976 Olympics. The iconic tower – the world's tallest leaning building – still looks remarkably futuristic almost 40 years on. The trip to the top on a funicular that clings to the outside is a thrilling ride and offers great views across the city. The velodrome next door has been turned into the Biodome, a walk-through simulation of four American ecosystems, from the Arctic to the Amazon, complete with penguins, macaws, beavers and Atlantic cod. As legacies go, it's mighty impressive.
Cycling
America may be a continent built for the car, but Montreal is a city dominated by bikes. It is said that in the Plateau neighbourhood (see below), 90% of residents own a bike. There is also a bike-share scheme that is widely used. Cycle lanes are clearly marked and respected by motorists. And it's easy to steer clear of roads altogether. At Ca Roule overlooking the Old Port, we rented bikes for half a day and cycled 30km along the Lachine Canal and back along the St-Lawrence River, barely straying onto the roads. Another option is to cycle around the 4.3km Formula One track.
Culture
It's not just the mix of European and American influences that gives Montreal an interesting cultural life. During the summer months the city lays on a seemingly non-stop calendar of festivals. Hang around downtown for any period of time and you can't miss them. Montreal also has a decent collection of museums, many of which have free admission. The Musee des Beaux Arts is a highlight. We were lucky enough to catch an exhibition by the American artist Dale Chihuly who had created several monumental works of his distinctive brightly coloured blown glass especially for this show.
The food
In spite of its French heritage, Montreal is not a city for gourmets. The food is mostly plain – tasty and filling – with lots of burgers, ribs, fried chicken and the peculiar local dish, poutine, which consists of chips doused in gravy and cheese curds (it's a lot better than it sounds, and is great for hangovers). Having said that, we found a lot of good, inexpensive places to eat in Montreal. There are plenty of attractive neighbourhood cafes and our favourite cheap eats included Burger de Ville and Pho Bang New York in Chinatown. If you like fresh fruit and vegetables, plus wonderful patisseries, check out the city's food markets. We particularly liked Atwater Market on the Lachine Canal.
The Metro
Montreal's underground system is clean, fast, efficient and cheap. The stations are attractive, some decorated with modern art, and we never waited more than a couple of minutes for a train. Built in the 1960s, the Metro has some interesting features. The trains run on rubber tyres, which cuts down noise and allows them to climb steep inclines. Between stations the track runs downhill, allowing the trains to accelerate easily, then uphill as they draw into the next station, so they decelerate naturally, making them more energy efficient. Clever, huh.
The Plateau
Montreal is a city of neighbourhoods, the most interesting of which is Le-Plateau-Mont-Royal, known locally as the Plateau. This is where you'll find those distinctive duplex and triplex buildings with outdoor steel staircases. It's one of the most obviously French parts of the city, but also an area made colourful by waves of immigrants, including Hassidic Jews, Portuguese, Vietnamese and Salvadoreans. The Plateau is also Montreal's principal hipster hangout. It's not achingly trendy, but you will find a good smattering of cool cafes, vintage clothes shops and interesting restaurants. One place you shouldn't miss is St-Viateur Bagel, where you can buy hand-rolled bagels fresh from the oven around the clock.
Beer
Another misconception: I had assumed that Qubecers would be wine drinkers. Not so. The locally-produced wine I tried was unremarkable and the selection of imported bottles in our local supermarket was unimaginative and overpriced. But never fear: that's just another reason to tuck into the excellent local beer. In addition to the familiar Molson and Moosehead, there are plenty of Belgian-style wheat beers and micro-brewed stouts, IPAs and Japanese-style red beers. My favourite was Cheval Blanc. (Another advantage of house swapping is that you pay supermarket prices: about 60p per bottle).
The Planetarium
Earlier this year a new visitor attraction was added to the Olympic site. Montreal's Planetarium consists of a small permanent exhibition – including an interesting collection of meteorites – and two large domed purpose-built theatres, each offering a different show. At the first show, Continuum, visitors lie on bean bags and gaze up at an immersive artistic "cosmic poem" set to the music of Philip Glass. If that sounds pretentious, it's not. It's truly stunning. The second show, From the Earth to the Stars, is a more conventional planetarium experience, showing the slow-turning night sky followed by a virtual journey from Earth into outer space. This is a world class attraction.
Jet boating
It might look like a cheesy tourist river excursion, but Jet Boating on the St-Lawrence River is an exhilarating and genuinely astonishing thrill ride. It was the Lachine Rapids that led to the birth of modern-day Montreal: so many ships floundered on the rocks that pilots were required to help them negotiate the white water, then a canal was built in the early 19th Century. Today you can experience the power of those rapids on a flatbed aluminium boat that speeds out of the Old Port. Even wearing full-body waterproofs, we were soaked to the skin. So huge are the waves that crash over your head that it feels as if the river is inside the boat. It took a long while to wipe the grins off our faces.
Walking
For a North American city, Montreal is remarkably good for strolling. The Old Town and downtown districts are sufficiently compact that you can easily spend a whole day sightseeing without resorting to motorised transport. Pedestrian-friendly traffic lights and careful and courteous motorists make walking an easy and fun option and, if the weather turns, you can always head below ground. The so-called Underground City is said to be the world's biggest network of covered and underground walking, stretching more than 33km and including shopping malls, cinemas, bowling alleys, skating rinks, museums and hotels. Not all are underground and some are bathed in natural light, making it possible to spend days on end without ever emerging into the street. If the weather is fine I'd recommend you stay in the open air, but it's a fascinating phenomenon and an intriguing idea.
* Thanks to Tourism Montreal for helping to organise our itinerary. Check out their website for more inspiration.
Don't miss out...