Twitter strategy for tour operators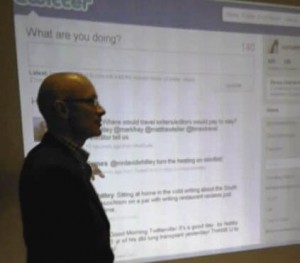 By Mark Hodson, editor of 101 Holidays
Should tour operators use Twitter as part of their marketing strategy? I think so – but only if they do it right. Yesterday I spoke on a panel about Twitter at a meeting of the Association of Independent Tour Operators (Aito). I was there in my capacity as chief Tweeter for 101 Holidays and founder of Travel SEO.
Here, I summarise and expand on the points I made.
• Twitter allows small fry to punch above their weight. It doesn't matter who you are, or the size of the company behind you, your influence on Twitter is dependent on the quality of your Tweets. If you're intelligent, interesting and engage with other people, you'll attract followers. This means Twitter favours individual experts rather than large corporations – a great fit for Aito, whose members include many small specialist tour operators with tremendous destination knowledge.
• Twitter is a social tool – it's not about forcing heavy-handed marketing messages on your followers. Tread gently, respect other people, engage, have fun.
• A lot of travel writers are on Twitter and they will follow you if you're interesting – not if you're churning out press releases. Travel writers tend to work from home and – though this may seem sad – many socialise online. I've made friends with a number of travel writers on Twitter, some of whom I've yet to meet in real life. Twitter allows travel companies to connect with journalists who might otherwise not even answer their emails.
• Before you launch a Twitter company account, think about your strategy. Do you want to use it to deal with customer relations issues, as Easyjet has done, or do you just want to build rapport with your customers, as Mr & Mrs Smith has done? What you don't want is to launch an account then leave it dormant. You're advertising the fact that you're clueless about social media, and – because you're not responding to the community – that as a company you're not listening to your customers. Flybe was guilty of this for a considerable time.
• You can also use Twitter as a listening device, rather than a broadcasting tool. Set up an account in your own name, or use an alias. Don't add a link to your company website (links from Twitter have no SEO value, anyway). Start following influential travel journalists (you could start with this collection of travel writers and editors), and just eavesdrop on their conversations. What are they chatting about? What information are they looking for? Can you spot an opportunity to step in and offer some useful help?
Also on the panel yesterday was Louise Newton, marketing manager at Somak Holidays. Louise talked eloquently about how she'd successfully used Twitter to engage with high-profile journalists, and by Tweeting about some of the unusual and interesting things her company does, managed to get them mentioned in newspapers such as The Times. It was an entertaining and convincing pitch.
The third panel member was Matt Illston, a director of Mr Zen, an online marketing company. Matt gave some interesting examples of how companies such as Exodus and Gap Adventures have used Twitter, although he concluded by saying: Get the basics right first, such as SEO and web analytics, before you invest time in Twitter.
Interestingly, Aito itself doesn't have a Twitter account, although there are plans in the pipeline. "When we do it, we want to do it properly and have a proper strategy," says a spokesman.
Do you have any thoughts about how travel companies can use Twitter? How should Aito use it? Please leave a comment below.
Don't miss out...