Would you try a home exchange?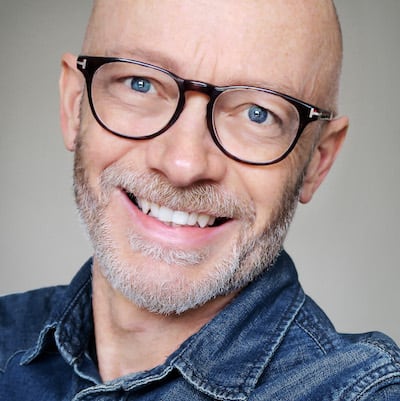 By Mark Hodson, Sunday Times Travel Writer
You've probably heard about home exchanges, but would you give it a try? Would you take the chance of staying in a stranger's house and – more to the point – trust them with yours?
I'm a fan of the sharing of the economy. Living in London I don't see much point in owning a car and instead use Zipcar for short journeys and weekend rentals if we are going away for a few days. So home exchanging didn't seem such a radical idea.
Yesterday I returned from our family summer holiday where we did a house swap in Canada followed by a few days in New York City. We lucked out with a big detached house (pictured above) in the suburbs of Montreal that has a large garden and heated pool. We arrived home to find our own house spotless. The protocol is simple: leave it as you found it, and just leave the pile of used towels and bed linen in the bathroom.
Aside from the obvious advantage of saving money on accommodation, we value the space, privacy and independence of a house swap. Separate bedrooms for the kids is particularly important if you have teenagers. I also enjoy the experience of living as locals do: shopping for food, eating in local restaurants and chatting with the neighbours. Most swappers leave detailed recommendations on the best places to eat locally. The Canadian family that stayed in our house loved our local Indian restaurants in Tooting, and we enjoyed their favourite fried chicken and ribs places.
Of course, home exchanging isn't for everyone. Things can go wrong and some people will want more reassurance than being told they will find the house keys in the mailbox (as we were). Others may worry that their own home isn't up to scratch, or dislike the thought of cleaning and tidying it in preparation for guests. Certainly this is the biggest pain in the butt: preparing your own house in the frantic hours before setting off on holiday, and having to clean theirs before you leave. For this reason, I don't think it would be worth the effort if you were only going away for a few days.
Overall, though, I like the idea and I think the chart below fairly summarises the plus and minus points.
Would you try it?

Home swap holidays have exploded in popularity in recent years, but they remain less well known among many holidaymakers and travellers who continue to rely on hotels for travel accommodation. How do the two compete? Here we weigh up the pros and cons.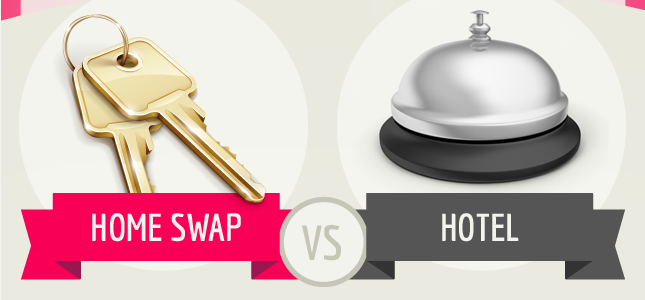 No money ever changes hands between home-swappers. It's a process based simply on mutual trust. The only fees are the ones you pay for membership.
Even the cheapest hotels will set you back a substantial amount of money. Costs increase exponentially when you factor in extra dates or extra rooms for your family (factors that cost nothing more in a home).
Average amount of money saved by home swappers per holiday
Cost of hotels in the average travel budget
Average cost of a hotel room outside the US, per night
WINNER
In today's world of smartphones, netbooks, tablets and e-readers, every traveller expects a certain level of connectivity. Most house swap homes will have a dedicated personal broadband connection as standard, so your emails and social networks are never far away.
It's a common bugbear – a huge number of hotels still refuse to offer WiFi as part of the package. Many charge exorbitant fees to add to your bill – and even then the connection can still be shaky.
Travellers who say free WiFi is their number 1 must-have when travelling
US hotels not offering free WiFi to guests (a trend seen around the world)
WINNER
HOME SWAP
With access to a fully furnished personal kitchen, home swappers are free to self-cater for as much of their holiday as they'd like. Self-catering allows you to budget your food, and frees you from the restrictions of timetables – especially useful if you fancy a lie-in before a relaxed brunch. But the downside is that you have to do all the cooking yourself and there's no room service to fall back on.
Many hotels have big name chefs dictating the menu, and in-house hotel restaurants are often of an extremely high standard. Hotels also force you to eat out for all meals, which can encourage a variety of different meals (though at a greater expense).
– Proportion of Brits planning a self-catered holiday of some sort this year
Food – The biggest disappointment for most budget hotel guests
WINNER
HOTEL
With home swapping, you're staying at a house that's already been lived in. It's set up with all the 'mod cons' you'd expect from your home. And if you're swapping with a family home, you'll handily have provisions available for young children or babies, too.
Hotels often offer en suite bathrooms and a kitchenette with a kettle. But youíre unlikely to find luxuries such as washing machines or DVD players.
WINNER
HOME SWAP
You might not realise just how widespread home-swap holidays have become – options are available in more than 150 countries, meaning you can holiday in any climate or culture and only worry about the cost of travel.
Hotels often benefit from a handy city centre location, which will suit many individual travellers and couples but fewer families. Also look out for parking fees.
ìLiving like a localî
Third most attractive reason for home-swapping according to a 2012 survey
ìGreat locationî
2nd most popular form of praise from hotel guests, according to internet commenters
WINNER
DRAW
Every home is unique. Home-swappers arrive at their holiday home to find it tailored to a specific owner's taste, comforts and requirements. The good news is, if it's good enough for one family to live in, chances are it'll be good enough for yours.
Hotel rooms offer varying degrees of comfort in relation to price. There's less choice of decor, with most offering modern and minimalist designs, but more quirky ones do exist if that's your thing.
WINNER
HOME SWAP
Sources
http://www.telegraph.co.uk/travel/travel-advice/9885747/House-swap-holidays-advice-and-tips.html
http://www.timetravel-britain.com/articles/travel/swap.shtml
http://www.businesstravelnews.com/Hotel-News/The-average-U-S–hotel-cost-per-night-in-the-second-quarter-among-Travel-Leaders-Corporate-clients-rose-slightly-from-the-same-period-last-year/?a=proc
http://press.hotels.com/en-us/news-releases/global-travelers-want-to-stay-connected-and-comfy/
http://www.cnbc.com/id/47730582
http://www.travelsupermarket.com/blog/holidays-all-inclusive-versus-self-catering/
http://www.bighospitality.co.uk/Trends-Reports/Food-most-disappointing-budget-hotel-experience-finds-survey
http://www.telegraph.co.uk/travel/travelnews/8855561/Home-swapping-on-the-rise-as-Britons-tighten-belts.html
http://www.tnooz.com/2012/11/02/how-to/2012-traveler-rants-raves/
Don't miss out...